Father's Day in Hollywood: Kids who have joined their dads in blockbuster movies and hit TV shows
Many kids growing up with A-list celebrities as parents step into the spotlight themselves at some point in their lives. Some even take on screen roles alongside their famous parents. 
Some kids have small cameos from when they were extremely young, like Shiloh Jolie-Pitt in "The Curious Case of Benjamin Button." Other roles played by celebrity kids have been much larger ones, like Jaden Smith and Will Smith playing a father-son duo in "The Pursuit of Happyness."   
With Father's Day near, here is a look at some A-list dads who have had big screen and television roles with their real-life children. 
Tom and Colin Hanks
Johnny and Lily-Rose Depp
Martin and Charlie Sheen, Emilio and Ramon Estevez
Brad Pitt and Shiloh Jolie-Pitt
Jerry and Ben Stiller
Will and Jaden Smith
Billy Ray and Miley Cyrus
Kurt Russell and Kate Hudson
Chris Hemsworth and the whole family
Ralph and Julia Macchio
Sean and Dylan Penn
Eugene and Dan Levy
Clint and Scott Eastwood
Donald and Kiefer Sutherland
Bruce and Rumer Willis
Brendan and Domhnall Gleeson
1. Tom and Colin Hanks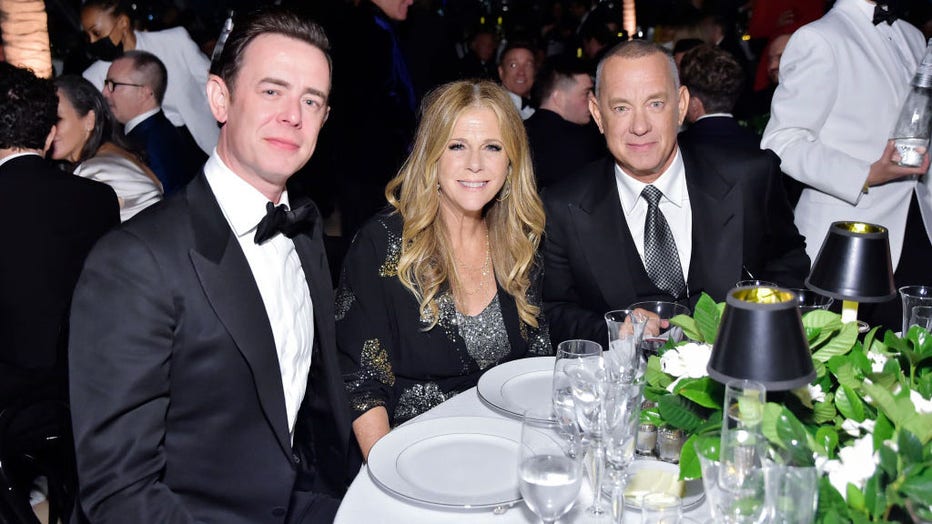 (L-R) Colin Hanks, Rita Wilson and Tom Hanks attend the Academy Museum of Motion Pictures: Opening Gala honoring Haile Gerima and Sophia Loren, and Museum Campaign Leadership Bob Iger, Annette Bening, and Tom Hanks; Gala Co-Chairs Jason Blum, Ava DuV
Tom and his son Colin have shared the screen on a couple of occasions. Colin had a leading role in "The Great Buck Howard," a movie released in 2008. Colin was also in "That Thing You Do!," a movie directed by his father in which he had a much smaller role.
2. Johnny and Lily-Rose Depp 
Johnny Depp's daughter Lily-Rose has been making a name for herself in the film industry with movies like "The King," "Voyagers," "Silent Night" and "Wolf." 
She has also worked alongside her famous father in the movies "Tusk" in 2014 and "Yoga Hosers" in 2016.  
KATE HUDSON, LILY-ROSE DEPP AND MORE STARS FIRE BACK AT THE 'NEPO BABY' LABEL 
3. Martin and Charlie Sheen, Emilio and Ramon Estevez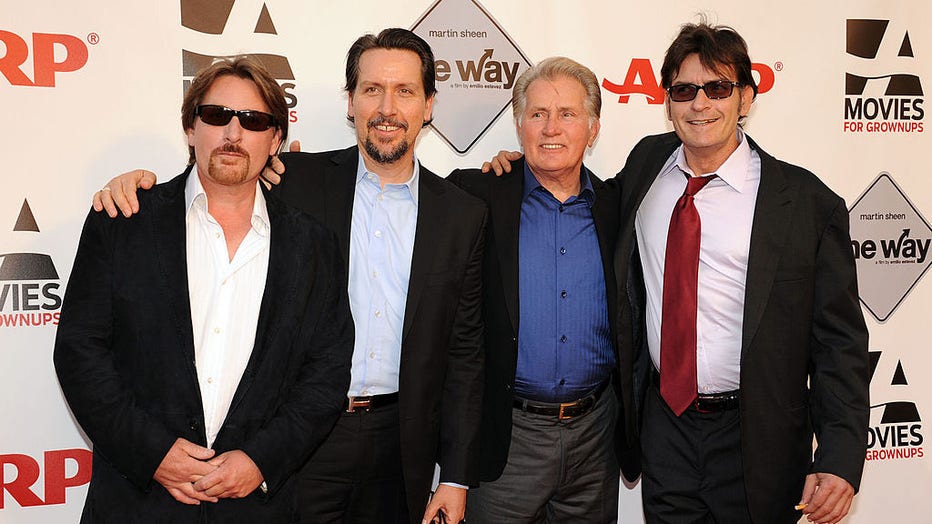 (L-R) Emilio Estevez, Ramon Estevez, Martin Sheen and Charlie Sheen attend AARP's Movies For Grown Ups Film Festival screening of "The Way" at Nokia Theatre L.A. Live on September 23, 2011 in Los Angeles, California. (Photo by Mark Sullivan/WireImage
Charlie, son of Martin Sheen, is known for his roles in the popular TV shows "Two and a Half Men" and "Anger Management." 
Martin Sheen, whose real name is Ramon Estevez, is known for his roles in such movies as "Apocalypse Now" and "The Departed." 
Martin Sheen is the father of four children, Charlie, Emilio, Renée and Ramon. One of the films he acted in with his sons Charlie and Ramon was in the 1990 movie he directed called "Cadence."
Martin and Charlie also were in the '80s movie "Wall Street" together. Martin starred in the movie "The Way," which was directed by his son Emilio. Renée also had a role in this film. 
EMILIO ESTEVEZ'S FATHER MARTIN SHEEN WARNED ACTOR NOT TO MAKE THE ONE 'MISTAKE' HE DID
4. Brad Pitt and Shiloh Jolie-Pitt 
In the 2008 release of "The Curious Case of Benjamin Button," Shiloh Jolie-Pitt, daughter of Brad Pitt and Angelina Jolie, makes a small appearance. 
Shiloh isn't the only Jolie-Pitt baby to get in on the spotlight. Brad and Angelina's daughter Vivienne was in the movie "Maleficent," playing young Aurora. 
5. Jerry and Ben Stiller
Perhaps the most popular movie the Stillers were in was "Zoolander." This was far from the only appearance the two had together. 
Some of the earlier times they shared on the screen were in "Hot Pursuit," "Highway to Hell" and "Heavyweights." They also both were in "The Heartbreak Kid" in 2007. 
Jerry passed on May 11, 2020, when he was 92 years old. 
6. Will and Jaden Smith 
WILL SMITH AND JOHNNY DEPP LEAD CELEBRITY COMEBACKS AFTER BEING CANCELED 
Jaden Smith's role alongside his father Will Smith in the 2006 drama "The Pursuit of Happyness" brought a lot a fame to the young actor. 
Another movie you can find Jaden in with his dad is the 2002 movie "Men in Black II," but don't blink, because Jaden has a very small cameo that only lasts a couple of seconds. 
"After Earth" is a 2013 sci-fi movie that also stars the father-son duo.
7. Billy Ray and Miley Cyrus 
In the Disney Channel series "Hannah Montana," Miley Cyrus plays the titular role of Miley Stewart, who is a normal girl by day and rock star (Hannah Montana) by night. Her real life dad Billy Ray also plays her dad, Robby Stewart, in the TV show.
In 2009, "Hannah Montana: The Movie" released featuring both Miley and Billy Ray in the same roles they played in the television series. 
MILEY CYRUS: THE EVOLUTION OF THE DISNEY CHANNEL STAR
8. Kurt Russell and Kate Hudson 
Kate is the daughter of Goldie Hawn and Bill Hudson. She joined her stepfather, Kurt Russell, in the 2016 movie "Deepwater Horizon."
9. Chris Hemsworth and the whole family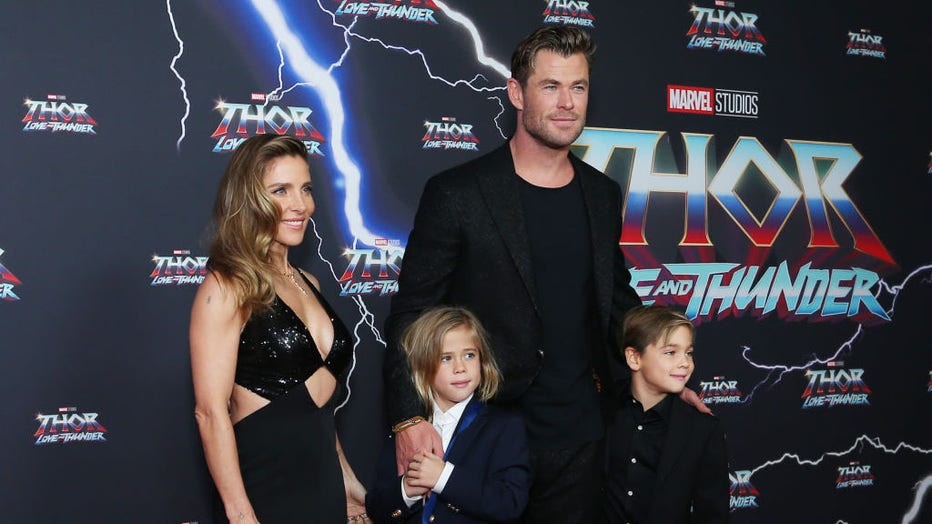 Elsa Pataky, Chris Hemsworth and their children Sasha and Tristan attend the Sydney premiere of Thor: Love And Thunder at Hoyts Entertainment Quarter on June 27, 2022 in Sydney, Australia. (Photo by Lisa Maree Williams/Getty Images)
Chris Hemsworth plays superhero Thor in a number of movies, but with the 2022 movie "Thor: Love and Thunder," some more members of the Hemsworth family joined the Marvel Universe. 
Chris and his wife Elsa Pataky have three children together. They have a daughter, India Rose and twin boys Sasha and Tristan. 
In the newest "Thor" movie, India plays the character Love, while both of the twins play a younger version of Thor.  
Even Elsa Pataky has a small cameo in the movie when she is seen kissing her real-life husband as a wolf woman. This was not the only time she's been in a "Thor" movie though. She also took the place of Natalie Portman, who plays Jane Foster, for a kissing scene in "Thor: The Dark World."
'COBRA KAI' STAR RALPH MACCHIO EXPLAINS WHY HE TURNED DOWN WILL SMITH'S 'KARATE KID' REMAKE: 'DOOR WAS OPEN'
10. Ralph and Julia Macchio 
Ralph Macchio reprised his role as Daniel LaRusso from "The Karate Kid" for the television series "Cobra Kai." During a later season of the show, one of his real-life family members joined the LaRusso family. 
In season four of "Cobra Kai," Ralph's daughter Julia plays Vanessa LaRusso, a cousin of Ralph's character. 
11. Sean and Dylan Penn 
Sean Penn starred in and directed the 2021 movie "Flag Day," in which his daughter Dylan Penn also starred. 
12. Eugene and Dan Levy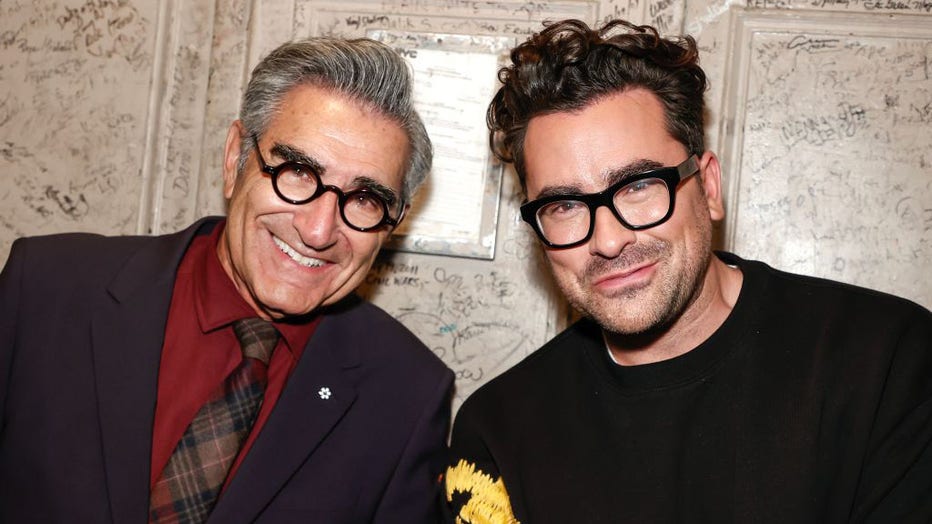 Eugene Levy and Dan Levy are seen during the "Best Wishes, Warmest Regards" book launch at The Beacon Theatre on October 25, 2021 in New York City. (Photo by Arturo Holmes/Getty Images)
Eugene and Dan Levy play a hilarious father-son duo in the television series "Schitt's Creek."
The show where Dan played David Rose and Eugene played Johnny Rose went on for six seasons and won multiple Emmy Awards.
CLINT EASTWOOD ALWAYS SPENT TIME WITH KIDS DURING HIS BUSY CAREER 
13. Clint and Scott Eastwood 
The extremely successful Hollywood father-son duo have been in tons of movies together. 
The first time they worked together was in the 2006 movie "Flags of Our Fathers" a movie directed by Clint. Scott had a very small role in this film. 
In 2008, they shared the screen again for another Clint Eastwood directed work, "Gran Torino." In 2009, Clint directed "Invictus," with Scott also having role. 
In 2012, the two were in "Trouble with the Curve."
14. Donald and Kiefer Sutherland 
Donald and Kiefer Sutherland shared the screen with their roles as a father and son in the 2015 movie "Forsaken." 
15. Bruce and Rumer Willis 
Rumer has acted alongside her dad in three movies. She was in "The Whole Nine Yards" in 2000, a movie her two sisters Tallulah and Scout also make an appearance in, followed by "Hostage" in 2005 and the 2018 release "Air Strike."
16. Brendan and Domhnall Gleeson 
Brendan and Domhnall Gleeson both play roles in the "Harry Potter" franchise, although they didn't often work together since they played two very different characters. 
Domhnall Gleeson was a late join in the "Harry Potter" series, as he just appeared in the last two films "Harry Potter and the Deathly Hallows," parts one and two. He played the oldest of the Weasley brothers, Bill, a role that was previously held by Richard Fish in the third movie of the franchise. 
Domhnall 's father Brendan joined the cast a bit sooner than his son. His first appearance as Mad-Eye Moody was in "Harry Potter and the Goblet of Fire." He was also in "Harry Potter and the Order of the Phoenix" and "Harry Potter and the Deathly Hallows: Part 1," the one he was in with his son.