Father of slain student Kaylee Goncalves comments on suspected Idaho murderer: 'Looked like a normal guy'
MOSCOW, Idaho - The father of one of the four college students that were stabbed to death in Moscow, Idaho, said he did not imagine suspected murderer Bryan Kohberger to look the way he does.
Kaylee Goncalves's father Steve said he thought Kohberger, the 28-year-old criminology student who is the lone suspect in the quadruple homicide of University of Idaho students Goncalves, Madison Mogen, Xana Kernodle, and Ethan Chapin, would look more menacing and monstrous.
"No, I thought he would be much bigger and more of a monster, ya know obviously have those key looks of somebody who could not get along with girls and this was like his only option or something," Gonclaves told host Chris Cuomo during an interview on NewsNation.
RELATED: Idaho murders: Bryan Kohberger's former friend speaks out on social behavior, alleged drug use
"He just looked like a normal guy that would not stand out in any room or any party," the deceased 21-year-old's father added. "Just by the looks of him, you would not know he had that going through his head."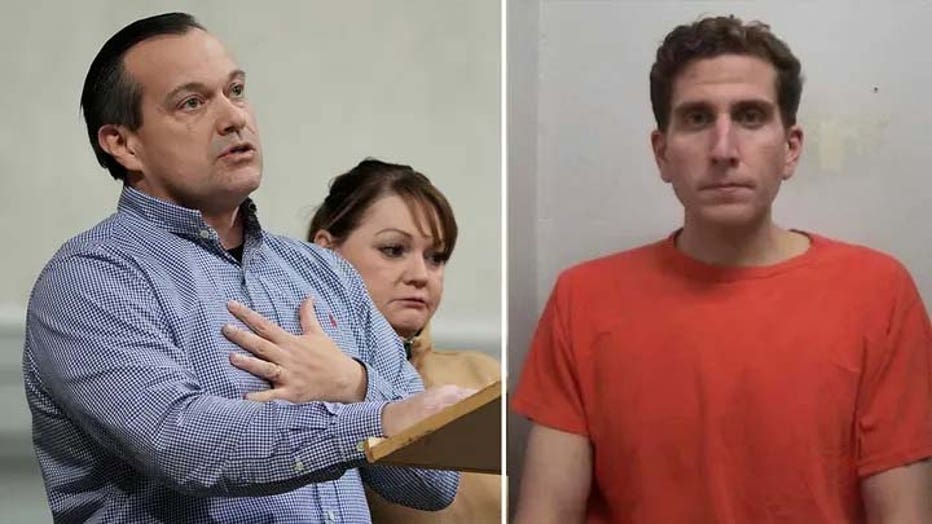 A side by side of Steve and Kristi Goncalves and Bryan Kohberger, who is accused of murdering their daughter and three other students. (Ted Warren via AP/Latah County Sheriff's Office )
Kohberger is believed to have entered the rental home of Goncalves and Mogen, both 21, and Kernodle, 20, before stabbing them to death in their beds during the early morning hours of Nov. 13. Chapin, also 20, who was staying with his girlfriend Kernodle that night, was also found stabbed to death.
Police believe Kohberger carried out the attack between 4:00 a.m. and 4:25 a.m.
Steve Goncalves's comments come as more is being learned about Kohberger, who was a Ph.D. student at the Department of Criminal Justice and Criminology at Washington State University in Pullman, which is located less than 10 miles from Moscow, Idaho.
Investigators found multiple pieces of evidence tying Kohberger to the crime scene, including a knife sheath with his DNA as well as seeing Kohberger's white Hyundai Elantra in the area, according to a probable cause affidavit that was released Thursday.
Moscow Police Department Cpl. Brett Payne noticed "what appeared to be a tan leather knife sheath laying on the bed next to Mogen's right side," according to the affidavit.
"I think that's where the attack initiated, and that's important," Joseph Scott Morgan, a distinguished scholar of applied forensics at Jacksonville State University in Alabama, told Fox News Digital "[It] goes to progression, and it goes to who the target was. That was perhaps the specific location he was bound for."
The Idaho State Police lab later identified Kohberger's DNA on the sheath.
PREVIOUS COVERAGE: Bryan Kohberger case: Knife sheath points to possible target, experts say
Kohberger was ultimately arrested in late December at his parents' home in Albrightsville, Pennsylvania — more than 2,500 miles away from the school. He was on winter break at the time of the arrest. The white Hyundai Elantra was at the family's home.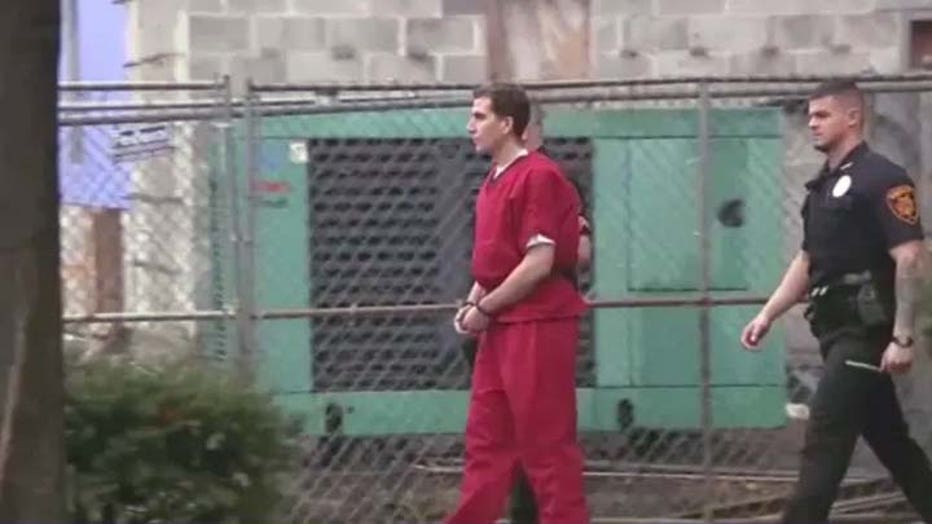 Accused killer in the Idaho slayings, Bryan Kohberger, is taken from prison to the courthouse on January 1, 2023. Kohberger has waived his right to extradition and will be transported back to Moscow, Idaho to stand trial. (Fox News)
Investigators also recovered trash at the home that matched a DNA profile found at the crime scene. An analysis determined the DNA from the piece of the garbage belonged to the biological father of the DNA profile found on the sheath, the affidavit says.
His DNA also matched a DNA sample in a public database and his phone also pinged several times at his Pullman residence, just before the murders took place, and again near the crime scene several hours later.
Kohberger has been extradited to face charges in Idaho, including four counts of murder and felony burglary.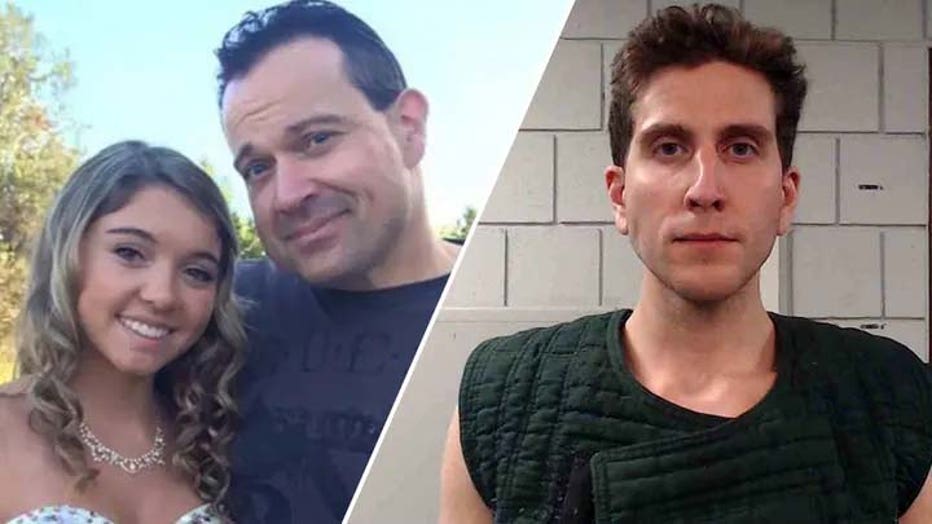 A split photo of slain Idaho college student Kaylee Goncalves with her dad, Steve Goncalves, and the suspected murderer Bryan Kohberger. (Instagram/Monroe County (Pa.) Correctional Facility via AP)
Legal experts have commented the prosecution's inclusion of the burglary charge could be key in court as it suggests the suspect and victims shared no previous relationship that would have warranted Kohberger to have been in the home that evening.
Get breaking news alerts in the FREE FOX 13 Seattle app. Download for Apple iOS or Android. And sign up for BREAKING NEWS emails delivered straight to your inbox.
Police have not disclosed a possible motive for the murders. Any connection between the suspect and the victims is not known at this time.
The Moscow Police Department continues to urge the public to submit any images or information that they think could be important or useful to their investigation. They can do so by calling 208-883-7180, submitting tips through tipline@ci.moscow.id.us and sending digital media here.