Extra SNAP benefits that began due to COVID set to end next month in 32 states
WASHINGTON - Extra benefits to the federal food stamp program that were enacted as part of the COVID-19 pandemic are set to end soon in dozens of U.S. states. 
Some 40 million Americans get help to buy groceries each month through the federal program, known as SNAP. 
The pandemic-era SNAP benefits, also known as "emergency allotments," have been funded by the federal government like regular SNAP benefits and given to low-income individuals and families to use at stores to buy food.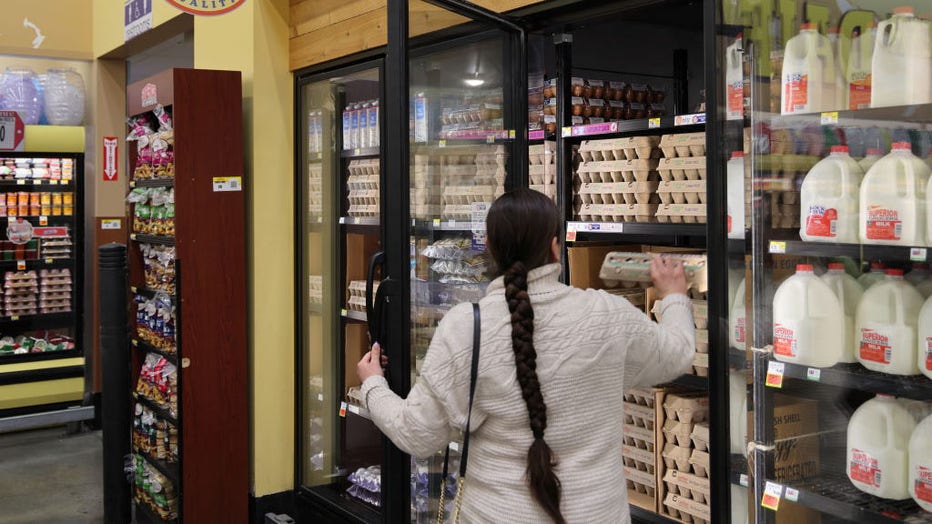 FILE - A customer purchases eggs at a supermarket on Jan. 8, 2023, in Los Angeles, California. (Photo by I RYU/VCG via Getty Images)
Since the onset of the pandemic, many households have been receiving an additional $95 or more per month in addition to their normal SNAP benefit. But those extra benefits will soon end next month for people in 32 states. 
Here's what to know:
How are SNAP benefits calculated and what changed during the pandemic?
SNAP, which stands for Supplemental Nutrition Assistance Program, calculates the benefit amount based on household size and the monthly net income minus 30%. The percentage is based on how much the government expects families receiving benefits to spend of their net income on food. 
Families with no net income receive the maximum SNAP benefit. 
For example, if a family of three had no income, it would receive the maximum benefit of $740 per month. If the same family had $600 in net monthly income, it would receive the maximum benefit ($740) minus 30% of its net income (30% of $600 is $180) — or $560 per month.
But the U.S. Department of Agriculture began offering an increased monthly benefit in April 2020 in response to surging unemployment related to the pandemic. The extra COVID SNAP benefits are the difference between a family's normal benefit amount and the maximum amount for their household size, with a minimum amount of at least $95 extra a month. 
These extra payments have been put on EBT cards each month.
The Consolidated Appropriations Act 2023 passed by Congress and signed into law in December ended the emergency allotments after February 2023, according to the USDA.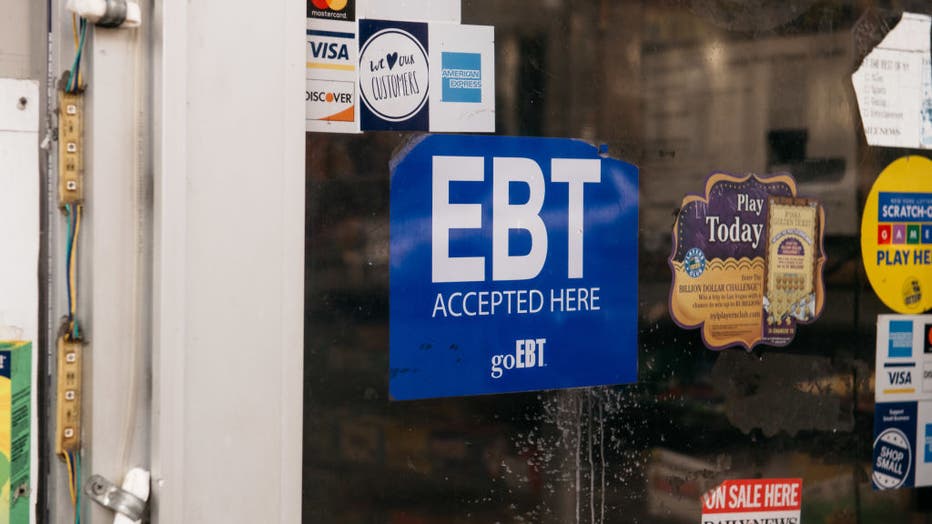 FILE - A sign alerting customers about SNAP food stamps benefits is displayed at a Brooklyn grocery store on Dec. 5, 2019 in New York City. (Photo by Scott Heins/Getty Images)
When and where are the extra COVID SNAP benefits ending?
In 17 states, the emergency benefits have already ended: Alaska, Arizona, Arkansas, Florida, Georgia, Idaho, Indiana, Iowa, Kentucky, Mississippi, Missouri, Montana, Nebraska, North Dakota, South Dakota, Tennessee, and Wyoming.
For those in South Carolina, which is ending emergency allotments after January 2023, SNAP benefits will return to normal amounts starting in February, according to the USDA. 
In the remaining 32 states, as well as DC, Guam, and the U.S. Virgin Islands, the COVID-era SNAP benefits will return to normal amounts starting in March 2023.
This story was reported from Cincinnati.