Exclusive, behind-the-scenes tour of SoFi Stadium, new home of LA Rams and Chargers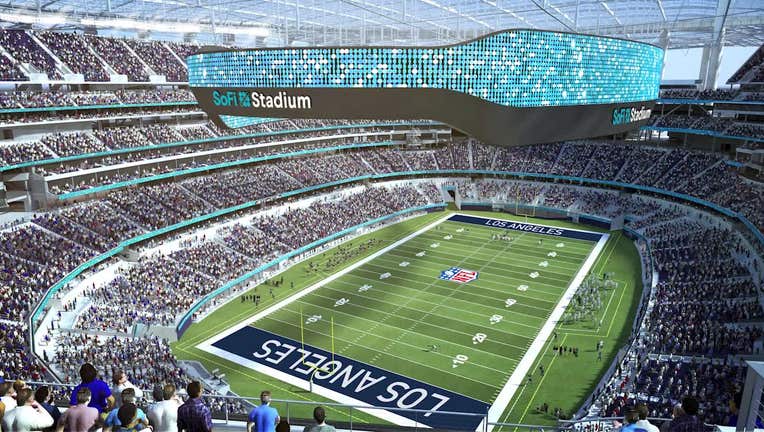 article
LOS ANGELES - It is the biggest stadium in the world and it's in our backyard. SoFi Stadium, the new home of the LA Rams and Chargers, is scheduled to open in Inglewood in summer of next year. Just one station got an exclusive, behind-the-scenes tour of the stadium under construction.
Fox 11's Hailey Winslow strapped on a hard hat with one of the biggest names in sports, LA Rams Chief Operating Officer Kevin Demoff. "This is going to be a stadium people will remember for decades to come," Demoff told Winslow from the field.
Called the world's greatest sports entertainment complex, at 3.1 million square feet, SoFi is also the biggest stadium in the NFL and the first indoor-outdoor stadium ever built. It will soon have a clear canopy. "No walls on this building so as you look around, streaming sunlight in, it's basically a 22-acre covered patio," says Demoff.
Partially underground to accommodate air traffic, SoFi has a seating capacity of about 70,000, expandable up to 100,000, and under the same canopy, a two-and-a-half-acre open-air American Airlines Plaza and performance venue. 
Located on the old Hollywood Park racetrack in Inglewood, 3,000 construction workers are on site daily to finish it in time. 
The first event at SoFi Stadium will be a Taylor Swift concert on July 25th, 2020. SoFi will be home to the first NFL stadium in LA, but it will also host Super Bowl LVI in 2022, which will be the largest tourism event in LA since the 1984 Olympics. SoFi will also host the College Football National Championship in 2023, and the Olympic Games in 2028. 
At nearly 300 acres, Hollywood Park is three and a half times the size of Disneyland, with California-style architecture, and every tree native to the Golden State except the Redwood on site. SoFi paid $30 million for naming rights, for the $5 billion privately-funded venue. 
Patio club seat members can enter through the canyon and right into their suites. "It's more around the way you would watch a game at home than it is kind of a traditional suite," says Demoff. "And you're 70 feet closer to the action than a typical stadium. When we designed it, we wanted to be the closest stadium from the top row on the upper deck to the field."
When fans walk in on the ground level, they're on the 6th floor of the 300-foot tall stadium. A 4K, double-sided scoreboard hangs from the canopy, visible from any vantage point. "It's the largest video board of its kind in the world, with technology you really can't even get in your home right now," says Demoff. It is action experienced only in LA at SoFi stadium.
Pointing to the tunnel on the eastside of the stadium, the Rams homeside, Demoff says smiling, "2020, that's where Jared Goff, Aaron Donald and Todd Gurley are going to run out and start us a new!" 
For information on tickets to Rams and Chargers games, you can go to www.sofistadium.com