Evacuations issued as firefighters battle fast-moving 'Dam Fire' in Angeles National Forest near Azusa
AZUZA, Calif. - Evacuations were issued as firefighters were working to contain a fire, dubbed the "Dam Fire," that sparked in the Angeles National Forest Thursday afternoon near the Morris Dam in Azusa.
Fire officials said that the blaze torched at least 217 acres and as of 8 a.m. Friday, it was 40 percent contained.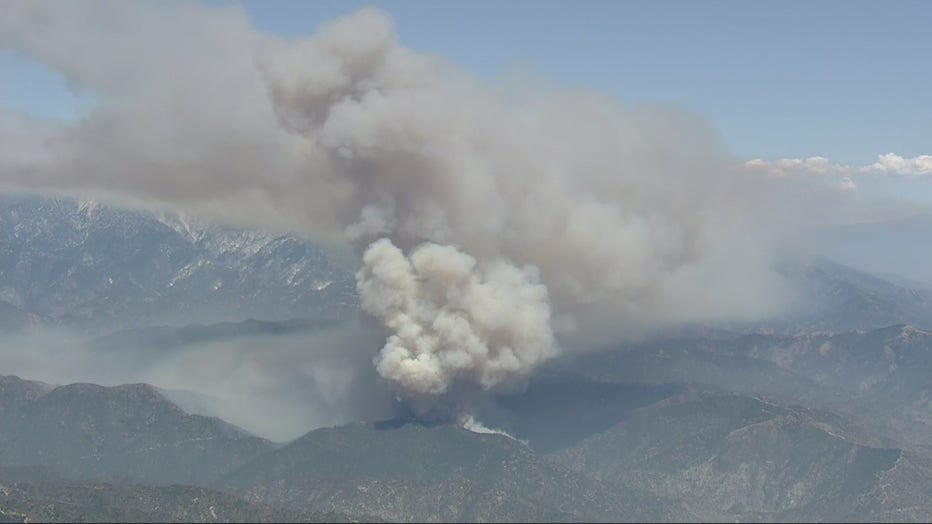 Mandatory evacuations were ordered for residents north of Morris Dam to Crystal Lake. Forest officials said residents should take East Fork to Glendora Mountain Road as an evacuation route.
Glendora Police said that as a precaution, campers in the West Fork area of the forest were evacuated. At this time, there are no evacuation orders in Azusa, San Dimas, Glendora or Claremont.
Highway 39 was closed in both directions at East Fork Road shortly before 2:45 p.m., forest officials and Caltrans said. Authorities asked motorists to keep the roadways clear and to pull over for emergency vehicles.
Police said that only residents of Mountain Cove and Rainbow Ranch would be allowed access to Highway 39.
Residents of the Mt. Cove Community as well as residents who live near Highway 39 were urged to "be prepared" to evacuate.
The fire erupted sometime after 1 p.m. near the 9500 block of N San Gabriel Canyon Road. The Los Angeles County Fire Department said the fire was burning uphill in heavy brush. The agency sent 100 firefighters and two water-dropping helicopters to assist in battling the blaze.
RELATED: Fire weather, hazardous conditions threaten Southern California amid heat wave
Smoke from the fire could be seen across many parts of Southern California.
Smoke could be seen as far south as Anaheim.
The cause of the fire remained under investigation.