El Nino slashes world blueberry crop leading to skyrocketing supermarket prices as holidays near
Get ready to shell out more cash for blueberries, as the world's top producer, Peru, produced only a fraction of the crop, and analysts say the record heat that shriveled the berries can be blamed on El Niño. And with a possible super El Nino predicted, there isn't much relief for the popular fruit, especially as the holidays approach.
"The current irregular weather and environmental conditions are causing considerable stress on the plants," wrote an analyst with the Seashore Fruit and Produce Company. "This is causing the leaves to drop prematurely, and the fruit begins to shrivel."
Record heat toasted much of South America, especially during the blueberry flowering season, according to the agricultural website EastFruit.
STRONG EL NINO WINTER: WHAT KIND OF WEATHER YOU CAN EXPECT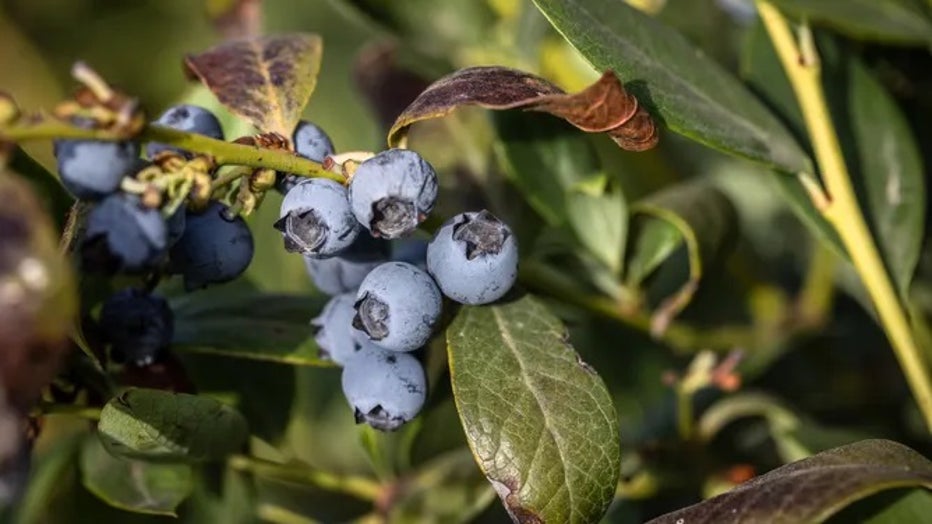 Blueberries growing on a farm. (Angel Garcia/Bloomberg / Getty Images)
Record heat damaged crop
"We have recorded a temperature of 27.6 Celsius (82F) on a winter day," Yuri Escajadillo told Reuters in August, a weather forecaster for Peru's National Meteorological and Hydrology Service, Senamhi. "You don't get this in winter; this is record-breaking and has exceeded all historical values for this season."
South America has the reverse of seasons in the U.S. July, August and September are usually the coldest months. But the El Nino pattern brought warmer water to Peru's Pacific coast. Escajadillo said water temperatures off Lima that would normally be 61-63 degrees Fahrenheit were 68-70 degrees. Globally, July was the hottest global month on record. 
The heat continued into September, breaking more records across Peru, where the average high for Lima for the month is 65 degrees. September's highs hovered around 90 and one day broke the all-time record high for the city with 95 degrees, according to the Washington Post and Trip Advisor.
SCIENTISTS FEAR HEAT, DROUGHT KILLED AT LEAST 120 RARE DOLPHINS IN AMAZON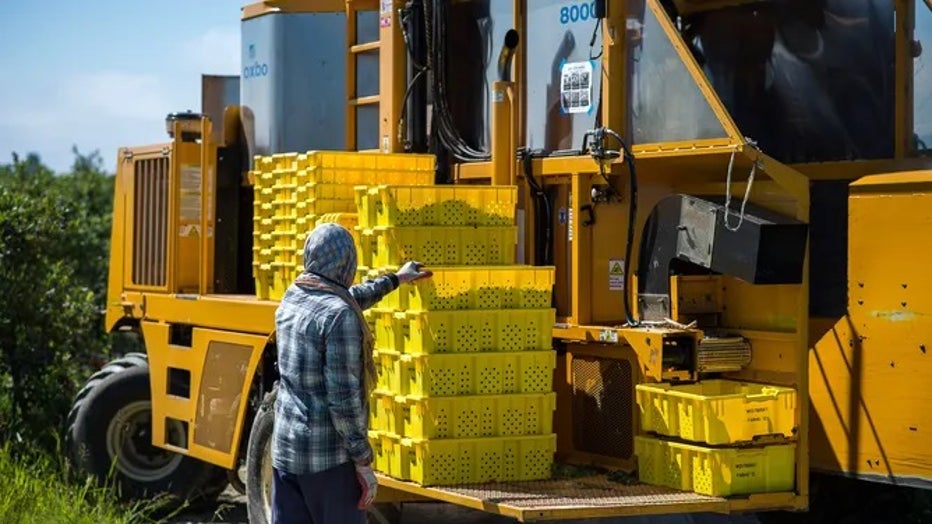 Blueberry harvest.( James MacDonald/Bloomberg / Getty Images)
Too much sun
The fruit also suffered from too much sun.
"Ultraviolet (UV) light radiation levels have been elevated to 11 and 12 UV, significantly higher than the optimal range of 3 to 4 UV for normal plant production rates," wrote Seashore East. "This UV surge, in combination with high temperatures, has delayed the bloom of the plants by up to 60 days on certain varieties."
WEATHER HAS NAPA WINEMAKERS WALKING FINE LINE BETWEEN SPECTACULAR VINTAGE AND ROT WITH LATE HARVEST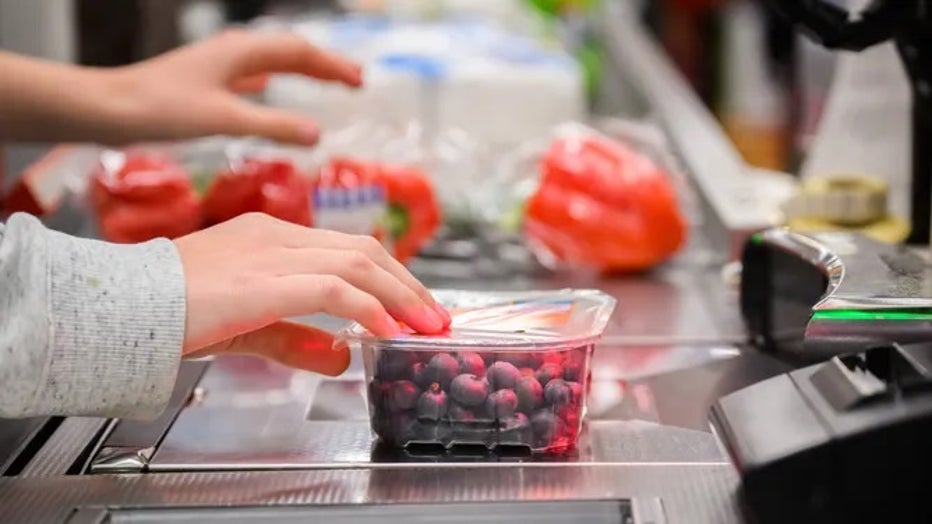 Checking out with blueberries. (Julian Stratenschulte/picture alliance / Getty Images)
Exports drop, driving up prices in grocery stores
Peru's blueberry exports dropped by more than half this year, wrote an analyst for EastFruit. Forbes stated production dropped by up to 70%. In 2022, Peru exported 273,000 tons of fresh blueberries worth $1.35 billion. Top importers are only getting a fraction of the fruit from last year.
The United States buys 56% of the fruit , which is about a 60% drop
The Netherlands sees a 67% drop
China will see an 85% drop
"Consumers will notice because blueberries are more and more on the weekly shopping list," Stefan Spanjaard, CEO of a worldwide agricultural producer, told Blueberries Magazine about prices in the Netherlands. "Prices are skyrocketing. In the free market, prices fluctuate between 9 and 11 euros, and up to 12 euros or more are paid for special varieties."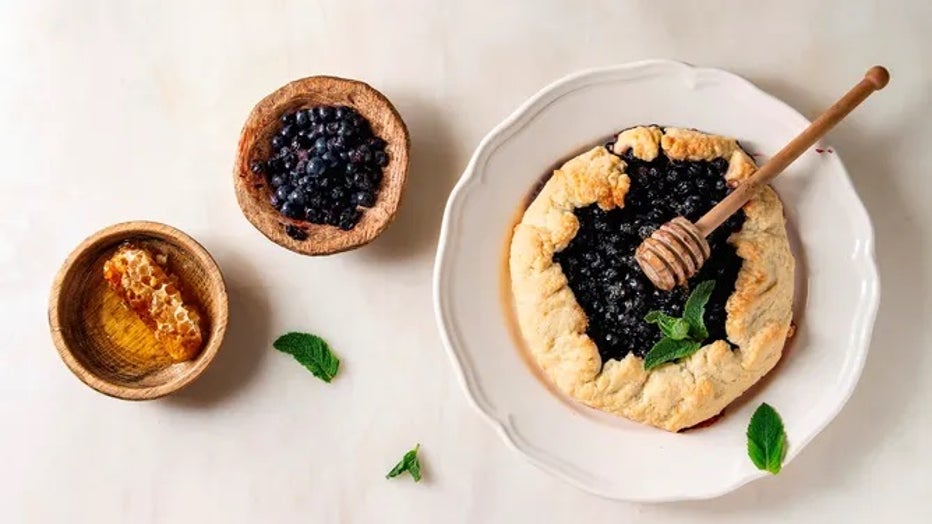 Home baking summer berry biscuit pie with blueberries. served in plate with bowl of blueberry and honey over white marble background. Flat lay. space. (Photo by: Natasha Breen/REDA&CO/Universal Images Group via Getty Images)
Retail prices in the U.S., since the beginning of September, rose by 60% to about $6 per pound, according to Forbes and Fresh Plaza, an agricultural news service. The Euro is worth about $1.07. Analysts argue that the high prices are turning customers off to blueberries, which could become a long-term problem.
"Naturally, production increases cannot be expected this season. Also, no country can replace Peru on the global market since the world's second-largest blueberry exporter, Chile, exports almost three times less blueberries, and there has been a continuing downward trend in production volumes there," stated EastFruit.
TROPICAL STORM HILARY'S MARCH THROUGH CALIFORNIA COULD LEAD TO GRAPE SHORTAGE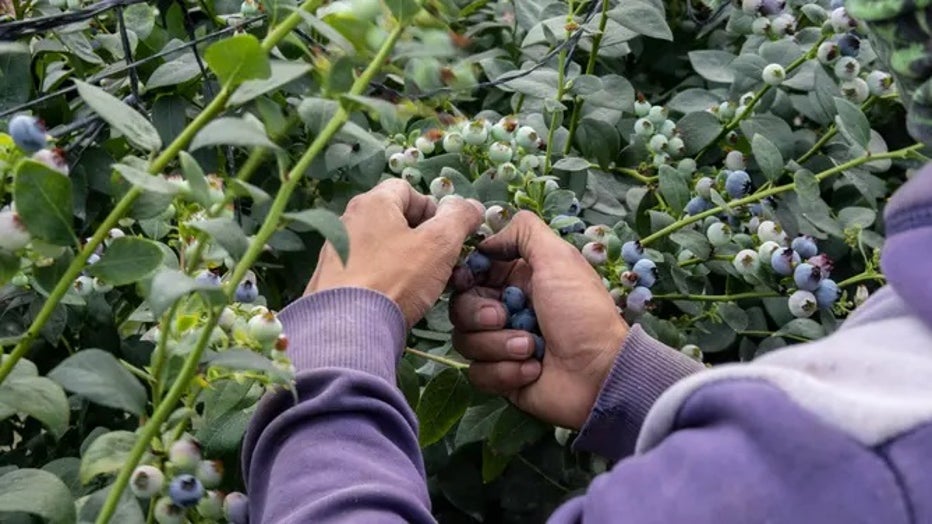 A worker picks blueberries during a harvest at a farm. (Cesar Rodriguez/Bloomberg / Getty Images)
Analysts say that we can expect to see more berries on store shelves in December at a more reasonable price. Arrivals from Chile and Central Mexico should take the edge off supply and demand.
HOLIDAY SHOPPING MAY FACE SHIPPING DELAYS AS DROUGHT CUTS CRUCIAL PANAMA CANAL SHIPPING LANE ACCES
However, many companies have concerns that go beyond this El Nino season.
"After all, the profitability of blueberry cultivation in Peru is already at a fairly low level due to continued price pressure," stated EastFruit. "Therefore, sudden changes in blueberry yields, such as in 2023, could lead to significant losses for farmers. Accordingly, in the coming years, this industry will be reviewing the varietal composition of blueberries grown and looking for ways to adapt to climate change."