'Don't go driving to other beaches': LA County Public Health urges residents to stay home
LOS ANGELES - As warmer weather hits Southern California, health officials are asking Los Angeles County residents to stay vigilant in their social distancing practices and to avoid traveling to other areas where restrictions are beginning to be lifted.
"Please don't go driving to other beaches," pleaded Los Angeles County Public Health Director Dr. Barbara Ferrer during Wednesday afternoon's press briefing.
Neighboring counties, such as Orange and Ventura, recently announced they would be reopening county beaches to their residents. 
However, Ferrer says that the current status of L.A. County's COVID-19 outbreak is not at a place where the same can be done for the county's beaches.
Get breaking news alerts in the FOX 11 News app. Download for iOS or Android.
"We have a lot of illness in our county, and we have high rates of people who are dying and we know that it's best right now for us Angelinos to stay home," she said.
On Wednesday, the number of confirmed coronavirus cases in L.A. County rose to 16,435 with 729 COVID-19 deaths.
"When you go, you run the risk of running into people who are asymptomatic but they're able to infect you, and then you'll bring that infection back to L.A. County," Ferrer said. "And we absolutely don't need that."
She added that other counties are opening their beaches strictly for their own residents, and by flocking to those areas, individuals would be putting residents of both counties at a much higher risk.
RELATED: Stay up to date on all coronavirus-related information 
During Wednesday's press conference, the county's director of medical services, Dr. Christina Ghalay, stressed that residents need to stay-at-home and continue physical distancing measures because the number of "new infections are not yet decreasing.''
She said the current data indicates that a lifting of physical distancing requirements would likely lead to another spike in COVID-19 cases.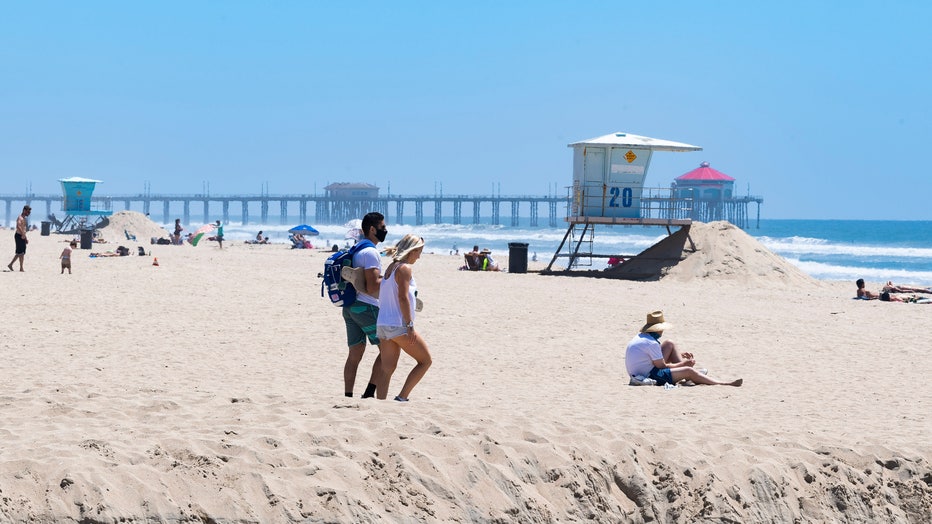 HUNTINGTON BEACH, CA - APRIL 16: People spread out on the beach near 22nd Street in Huntington Beach, CA on Thursday, April 16, 2020. Huntington Beach is one of the few that have stayed open since the stay at home orders for COVID-19 (coronavirus). ( (Getty Images)
Lifting "physical distancing measures very suddenly would negate and reverse all of that progress we've made to date,'' Ghalay said.
She added that if physical distancing is reduced to the levels it was at before the county implemented its safer-at-home order, then approximately 96% of the county's residents will be infected by August 1.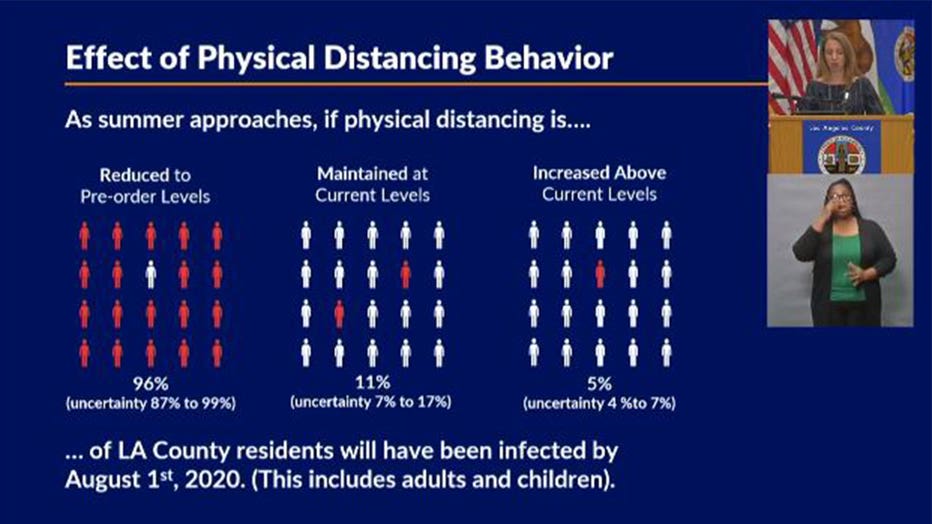 On April 10, the county's safer-at-home order was extended through May 15.