Some dog food products recalled nationwide due to possible salmonella risk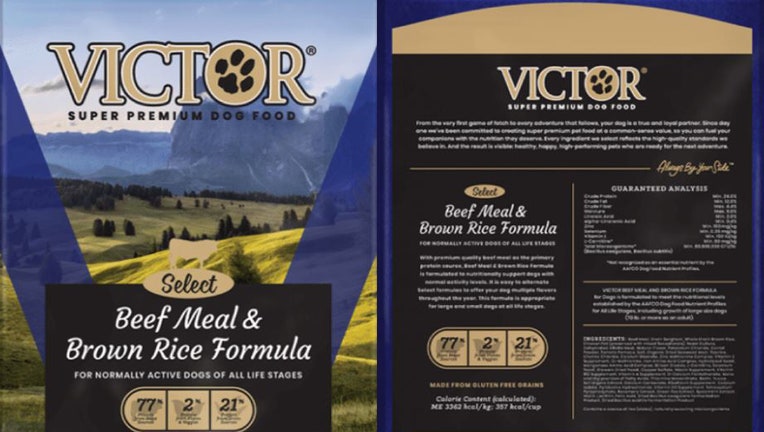 article
A brand of dog food products potentially linked to a salmonella risk is part of a recall. 
Mid America Pet Food based in Texas launched a voluntary recall of three lots of Victor Super Premium Dog Food, Select Beef Meal & Brown Rice Formula produced at its Mount Pleasant, Texas facility.
Sampling of the products by a third-party detected that the three lots tested positive for salmonella, the Food and Drug Administration shared in a release. 
No human or pet illnesses have been reported to date, the FDA shared. 
RELATED: Dog food recalled after sample tests positive for salmonella
Lot code information for Victor Super Premium Dog Food, Select Beef Meal & Brown Rice Formula is located on the back of the bag. 
The FDA says no other dog food products are part of this recall which is separate and unrelated to the Mid America Pet Food recall for salmonella announced on Sept. 3. 
Pets should not eat this product, and owners should throw it away immediately. Separately, the FDA notes that retailers and distributors should immediately remove the recalled lots from their store shelves. 
According to the FDA, salmonella can affect animals eating the products, and there is a risk to humans from handling contaminated pet products, especially if they have not thoroughly washed their hands after having contact with the dog food products or any surfaces exposed to the items. 
Pets suffering from salmonella infections could be lethargic and have diarrhea or bloody diarrhea, fever, and vomiting, the FDA noted. 
Moreover, some pets can have a decreased appetite, fever and abdominal pain. Infected and healthy pets can be carriers and infect other animals or humans. 
Pet owners should call their veterinarian if your dog consumed the recalled dog food and experiences symptoms, the FDA offered.  
Salmonella is an organism that can cause severe illnesses in children younger than 5, and adults 65 years and older, and individuals with weak immune systems.
According to the CDC, most people infected with salmonella experience diarrhea, fever, and stomach cramps. Symptoms usually start six hours to six days after swallowing the bacteria. 
Most people recover without treatment after four to seven days.
This story was reported from Washington, D.C.