Grady Judd: Toddler suffers 'torturous' death in hot car as parents test positive for alcohol, drugs
WINTER HAVEN, Fla. - An 18-month-old is dead and her parents are behind bars after deputies say they left the child in a hot car for hours after drinking and doing drugs at a Fourth of July party. 
According to Polk County Sheriff Grady Judd, Joel Rondon, 33, and his wife Jazmine, 33, went to the party and took their 6-year-old, 8-year-old and an 18-month-old.
Sheriff Judd says they left the downtown Lakeland party around 2 a.m. on July 5. When they got home, investigators say Jazmine Rondon took the 6-year-old and the 8-year-old into the house and said she was going to get them something to eat and put them to bed. 
Sheriff Judd says Jazmine Rondon told her husband to bring the baby into the house.
According to Sheriff Judd, Joel Rondon was taking food trays into the house while his wife fed the 6 and the 8-year-old and put them to bed before going to bed herself. 
READ: HCSO: Toddler hit, killed by vehicle after wandering outside home: 'Heartbreaking tragedy'
As Joel Rondon was taking food trays inside the home, investigators say he noticed the right rear door was open and when he finished bringing everything inside, he noticed the door was closed, so, according to deputies, he thought his wife grabbed the toddler from the car.    
According to PCSO, Joel Rondon went to bed at 3 a.m. Deputies say he woke up at 10 a.m. and got ready to go to work. At 11 a.m., according to Sheriff Judd, he asks the 8-year-old where the 18-month-old girl is, but the child said she didn't know.  
The 8-year-old and Joel Rondon looked around for the child, but couldn't find her. 
"He goes to the car and there is the baby still strapped in the child carrier in the car with a heat index of 105 degrees on that day," stated Sheriff Judd. 
According to deputies, Joel Rondon grabbed the infant in the child carrier and runs inside screaming. Sheriff Judd says Jazmine told authorities that she has medical training and said she knew the baby was dead. 
Despite believing the toddler was dead, they rushed her to Lakeland Regional Medical Center. 
READ: Grandparents of 7-year-old killed on Courtney Campbell Causeway plead for justice: 'These people have to pay'
"Even though it is painfully evident that this child has suffered a torturous death, an absolute torturous death, Lakeland Regional still worked on the baby to try to save its life, but it was, in fact, deceased," Sheriff Judd explained. 
Medical staff tried to life-saving measures, but she was dead. 
Sheriff Judd says both Rondons are given a test to determine if there is alcohol or drugs in their systems. 
Though it was 17 hours after they arrived home from the party, Sheriff Judd says Jazmine Rondon tested positive for alcohol and marijuana, while Joel Rondon tested positive for alcohol, marijuana and methamphetamine. Sheriff Judd says they also admitted to drinking alcohol and smoking marijuana.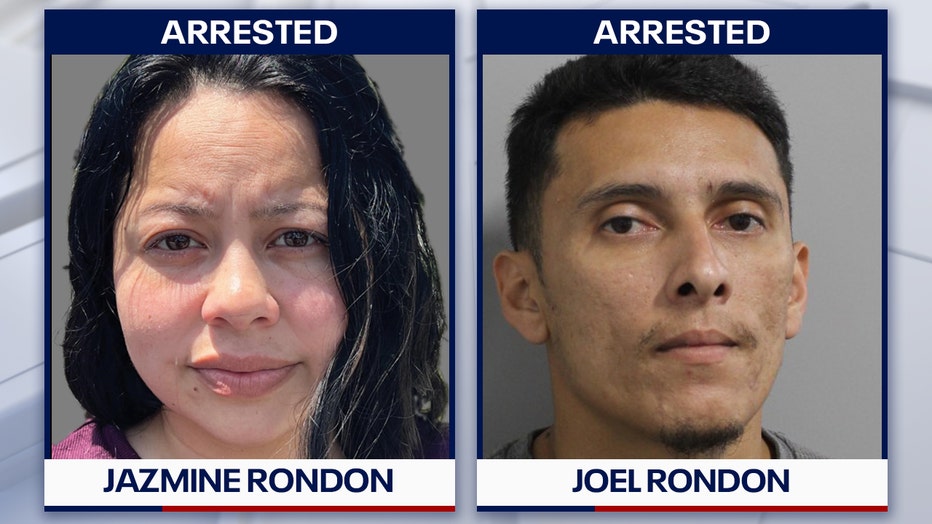 Mugshots of Joel and Jazmine Rondon courtesy of the Polk County Sheriff's Office. 
"You can imagine what kind of shape they were in when they got home from the party and left this child harnessed in the baby seat in the back of the car," Sheriff Judd said. "This child is 18 months old. She is not old enough to let herself out of the harness, but she certainly is old enough to realize she is suffering a torturous death at the negligence of Joel and Jazmine." 
According to Sheriff Judd, Joel Rondon has a criminal history. He was arrested when he was 15 and 18 years old. Sheriff Judd says he was a documented gang member at that time. Sheriff Judd went on to say that Joel Rondon also has pending charges against him for methamphetamine and a concealed firearm. According to PCSO, Joel Rondon also has a history of resisting arrest. 
READ: Tampa mother accused of killing 2-year-old son after confining him to booster seat for hours: Prosecutors
Sheriff Judd says he's now being charged with aggravated manslaughter of a child, which is a first-degree felony. 
Jazmine Rondon is also being charged with aggravated manslaughter of a child.
When deputies started their investigation around 2:30 p.m., the baby's core temperature was 104 degrees, three hours after the baby was taken out of the hot car and the hospital tried to cool the baby down. 
According to PCSO, overnight temperatures were in the high 70s and into the 90s by mid-morning. Investigators say the car was outside, not in a garage or under any shade. 
"This rips your heart out," said Sheriff Judd. "There's no other way to explain it…"This child from 3 a.m. until she was discovered was harnessed and could not get away from this."
Sheriff Judd says the baby was otherwise healthy. 
"This was not an accident. This is pure negligence and I suggest to you that the core of this negligence is the abuse of drugs and who died? The 18-month-old baby," stated Sheriff Judd. 
READ: How to make sure your A/C system runs efficiently in extreme Florida heat
Sheriff Judd says the parents are remorseful that the child is dead. 
"I think the real remorse will be tonight when they're sitting in the county jail in an air-conditioned environment by themselves, thinking it's nice and cool in here and my baby baked to death because of my negligence and my use of drugs. They will and have to be held accountable," Sheriff Judd stated. 
Sheriff Judd says the Rondon's other children are with relatives. 
The Department of Children and Families is investigating as the PCSO investigation continues.