Deputies find alleged catalytic converter thief asleep at the wheel
HESPERIA, Calif. - Deputies in San Bernardino County arrested an alleged catalytic converter thief after he apparently fell asleep at the wheel of his car.
Deputies were called to the intersection of Brookstone Avenue and Pleasant View Street in Hesperia around 7:45 a.m. Sunday for reports that someone was sleeping in the driver's seat.
When deputies arrived they found a BMW in the road, with Cristhian Salgado Gutierrez asleep in the driver's seat, with the engine on. Salgado Gutierrez was detained. When deputies searched the car, they found an unregistered handgun between the driver's seat and the center console; a battery-powered saw with extra blades; and a catalytic converter that "appeared to have been recently cut from a vehicle," according to deputies.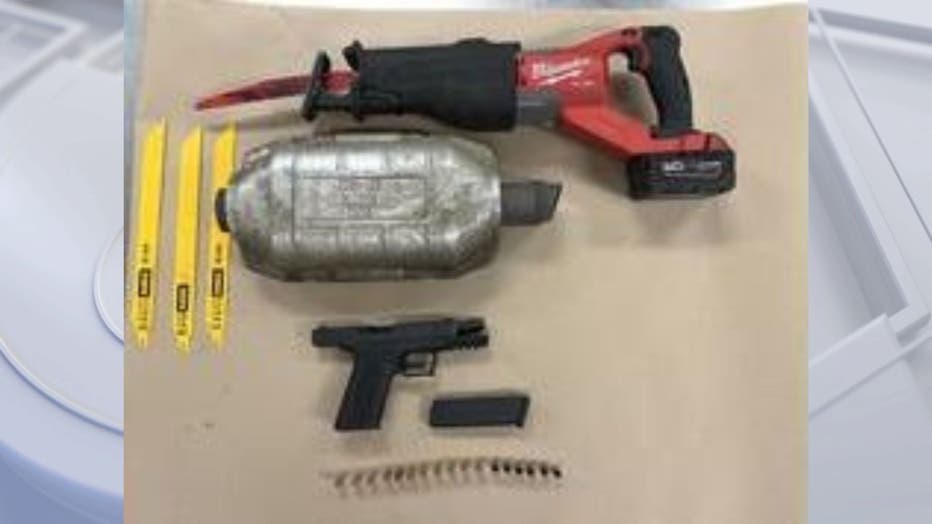 Items confiscated from a man who had fallen asleep at the wheel of a car in Hesperia (Courtesy of San Bernardino County Sheriff's Department)
Salgado Gutierrez was arrested and faces charges of possessing a loaded, unregistered handgun, possessing stolen property and possessing burglary tools.