Dating in quarantine: Monique Kelley gives virtual dating advice
LOS ANGELES - Dating expert Monique Kelley shares tips for singles going on virtual dates after making connections while navigating the dating world in midst of the pandemic.
Kelley says there is a difference between a FaceTime phone conversation and a virtual date.
She explains that FaceTime phone conversations have probably already happened if you are connecting with someone. Along with texting, those are very informal and are about getting to know each other. A virtual date is a planned virtual activity. 
Here are some examples:
• Cooking a dinner together
• Watching a movie together
• Doing a wine tasting
• Playing a card game
• Do a virtual workout
Next, she says to "dress for success."  
Instead of rocking the elastic waistbands such as leggings or sweatpants,  dress up like you did during pre-social distancing for a first date.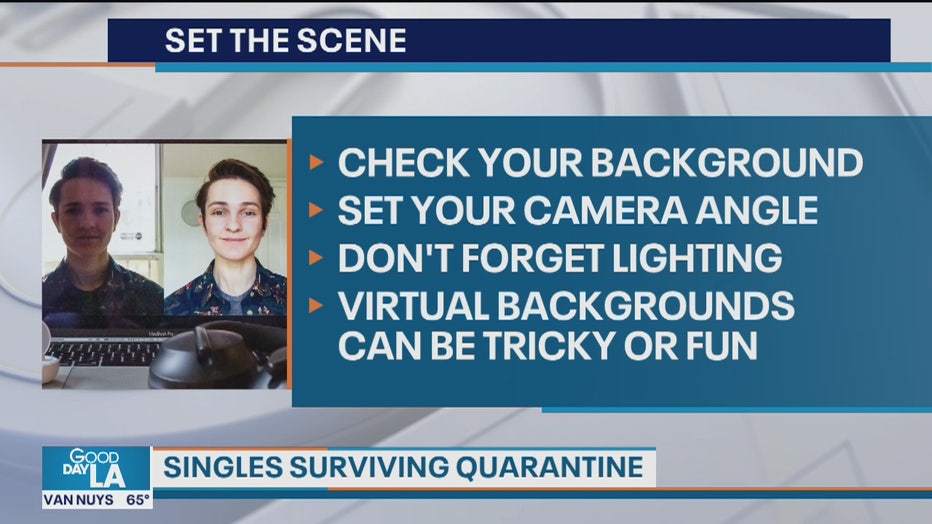 RELATED: Dating over Zoom? Don't be surprised if those online sparks fizzle in person
She suggests putting in the effort, even by wearing your good shoes.
"When you are dressed for the occasion you carry yourself a little differently.  It increases your 'date swag' and confidence," said Kelley.
She also recommends doing your hair, putting on some make-up and shaving. By doing this, you're giving your virtual date the opportunity to see what they have to look forward to once quarantine life is over. 
Next, set the scene.
Make sure you find an area of your house that is clean. No one wants to be on a virtual date and realize their date lives in a pigsty or is a hoarder.  People are checking out your background, so make sure your surrounding looks presentable. Check the lighting, camera angle and even experiment with virtual backgrounds.
And remember to say no to virtual hookups. Do not put yourself in a position where there can be compromising pics of you floating around the internet. 
Bottom line: Kelley says to "Make the best of it!"
Dating under normal conditions is challenging, and never in a million years did we think dating would have to come to this.  Just remember, this is temporary and regular dating life will resume and singles will have something to look forward to.