DA's office reopens triple fatal DUI crash case after FOX 11 report
LOS ANGELES - As of Tuesday, LA County DA Jackie Lacey's office tells FOX 11 that after viewing our story from Monday night, they have decided to assign a special unit that handles difficult DUI  with cannabis cases to re-examine the evidence in this case and reconsider it for possible prosecution.
Here is the email sent from DA Jackie Lacey's office: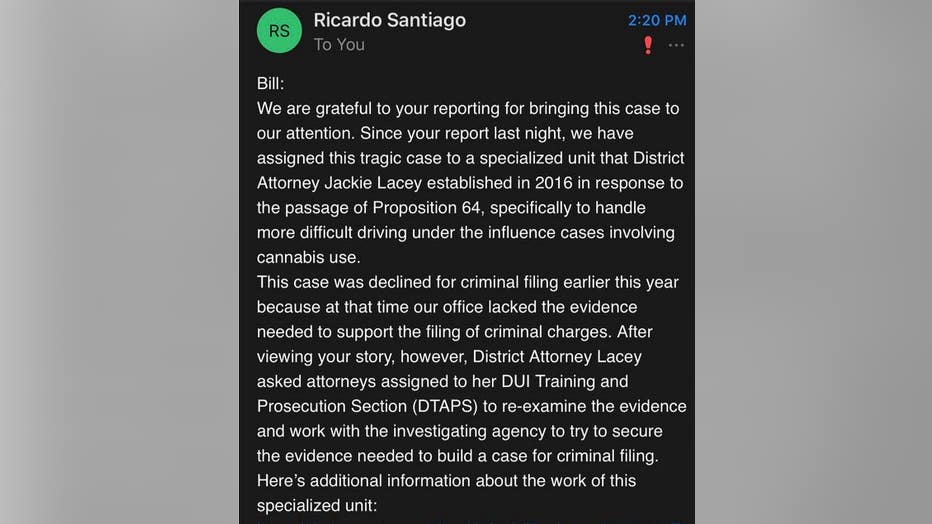 Report from Monday night:
The family of a local Uber driver and his two passengers who died in a collision with a suspected DUI driver in 2017 is outraged after they say they just found out on their own that the case against the suspect was declined, and they were never informed.
On November 4, 2017, Uber driver David Aguilar and his two passengers, a mother and son, were all killed after a speeding driver under the influence of marijuana crashed his blue Ford Mustang into Aguilar's vehicle near Venice Blvd and the 10 Freeway on-ramp.
Get breaking news alerts in the FOX 11 News app. Download for iOS or Android.
On Monday, Aguilar's family contacted FOX 11 reporter Bill Melugin and met with him at the crash site, telling him they had just found out from a third party that the DA's office had dropped the charges against the suspect, and were never told about it.
Aguilar left behind a wife and two sons.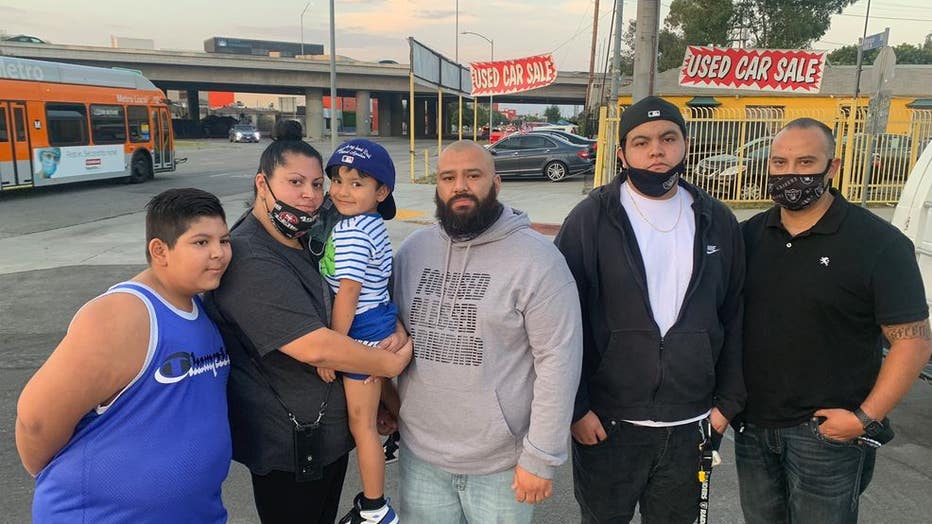 "We never received a call from the district attorney's office, from LAPD, we just found out this week and we had to find out through our own," said Josue Guzman, a friend of Aguilar's who considered him a brother. "I want to be the voice for this little boy who now is not gonna have his father to take him to school on his first day, who will not have his father to teach him how to drive and I just want justice that's all I want."
At the time of the crash, a witness told media stringer organization LoudLabs what she saw.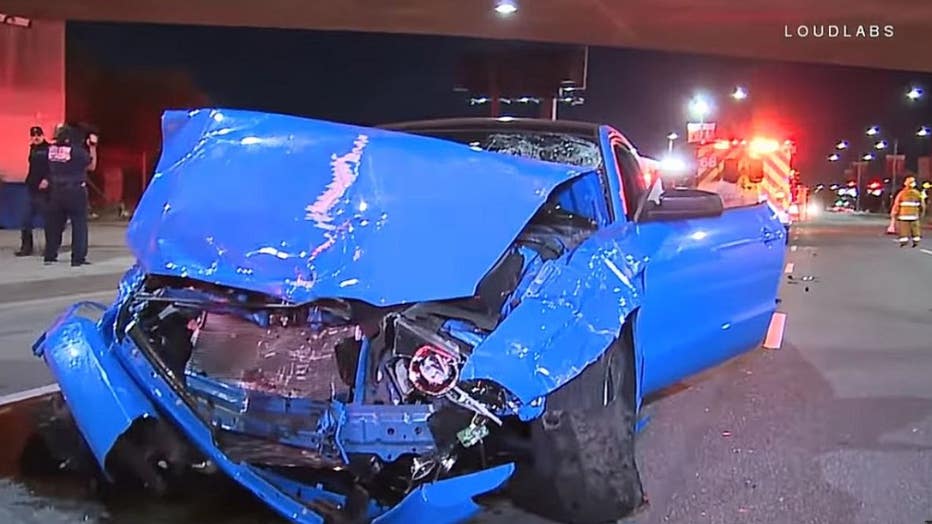 "The guy that was driving the blue car, he ran the light, he was going at a high speed, so he cut them off," she said.
The witness added that she saw the driver fleeing from the scene on foot.
But her testimony is nowhere to be found in the 19 page LAPD incident report, obtained by FOX 11, and it's unclear if police ever spoke to her.
According to the report, the suspect was later arrested on charges of vehicular manslaughter with gross negligence, DUI involved.
The report states that officers detained the suspect was under the influence of marijuana at the time of the collision.
But today, he's a free man.
FOX 11 sent the police report to retired LAPD detective Moses Castillo.
"The physical evidence speaks for itself, so I'm really shocked," Castillo said.  "I can't even wrap my mind around that that he's out there right now, it's heartbreaking and i can't even imagine what the family must be going through."
Castillo expressed concerns that the witness was not included in the police report.
"For some reason they didn't follow up with her, I don't know why, but she's key, she saw the whole thing, she saw him run the red light speeding," he said.
Former deputy district attorney Sam Dordulian also said he was stunned.
"I'm kinda shocked too cause I just saw the police report you sent over and you have so many factors involved, the use of cannabis, the speeding, and the guy running away which is the consciousness of guilt," he said.
The LA County DA's office confirmed to FOX 11 that the case was declined, but provided no explanation as to why that decision was made.
"I haven't been here, it's my first time being here seeing this," said Jonathan Quintanilla, Aguilar's son.
"He was so inspirational to me,  he was number one in my life...when I first found out, I couldn't believe it."
"We're here and were his voice," said Chris Chavez, Aguilar's cousin. "We're not gonna stop, we're not gonna stop until [the driver] is behind bars and you better believe that," he said.
Castillo told FOX 11 he personally called over to DA Jackie Lacey's office Monday night to urge them to take another look at the case.
FOX 11's Shelly Insheiwat contributed to this report