Damar Hamlin asked who won Bills-Bengals game after waking up in ICU, doctors say
CINCINNATI, Ohio - Buffalo Bills safety Damar Hamlin has shown what physicians treating him are calling "remarkable improvement over the past 24 hours," the team announced Thursday, three days after the player went into cardiac arrest and had to be resuscitated on the field.
"While still critically ill, he has demonstrated that he appears to be neurologically intact," the Bills said in a statement. "His lungs continue to heal and he is making steady progress."
Hamlin's agent, Ronald Butler, told The Associated Press that Hamlin was awake and has been able to grip the hands of family members at his hospital bedside.
The developments came as the Bills were scheduled to return to practice on Thursday for the first time since Hamlin collapsed when his heart stopped after making a tackle and was rushed to the University of Cincinnati Medical Center during the first quarter of Buffalo's game against the Bengals on Monday night. The second-year player spent the past two days sedated and listed in critical condition.
RELATED: Buffalo Bills safety Damar Hamlin awake, showing 'remarkable improvement,' doctors say
Dr. Timothy Pritts said in a conference call that neurological signs of improvement began Wednesday night as Hamlin gradually woke up, with the rest of his body healing. Hamlin was able to communicate by writing; he cannot speak because of a breathing tube in his throat.
"Last night he was able to emerge and follow commands and even asked who had won the game," Pritts said.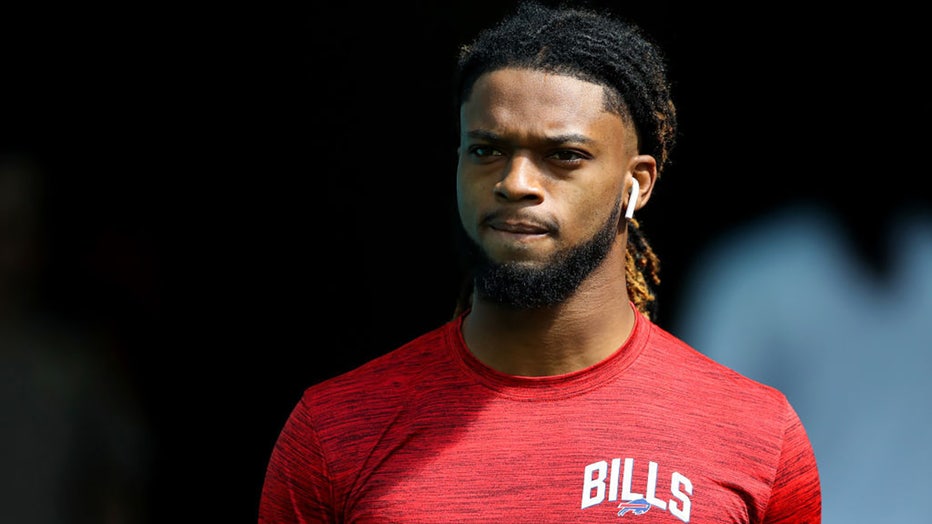 Damar Hamlin #3 of the Buffalo Bills looks on prior to a game against the Miami Dolphins at Hard Rock Stadium on September 25, 2022 in Miami Gardens, Florida. (Photo by Megan Briggs/Getty Images)
"The answer is yes, Damar, you won the game of life," Pritts said.
The game was suspended after Hamlin collapsed and it hasn't been determined if or when it will resume – though sources inside the NFL tell the Associated Press that the league will not resume the game.
RELATED: Donations pour into Buffalo Bills Damar Hamlin's toy drive fundraiser
Dr. William Knight credited the quick medical response with saving Hamlin's life.
He said a physician was within Hamlin's side within a minute of him collapsing and recognized that the defensive back did not have a pulse. Knight said Hamlin required CPR and resuscitation on the field.
"It's been a long and difficult road for the last three days ... he has made a pretty remarkable improvement," Knight said.
The good news came as the Bills prepare to play a home game against the New England Patriots, and with the team still dealing with the shock of seeing their teammate collapse on the field.
RELATED: Explainer: What happened to Buffalo Bills safety Damar Hamlin?
Patriots coach Bill Belichick called the update on Hamlin's health encouraging.
"Life is bigger than this game. And I think this is one of those humbling moments for all of us," Belichick said.
As to how his players were dealing with preparations for the game scheduled for Sunday, he said they are navigating it by the moment. 
"I think we're all doing the best that we can," Belichick said. "All of those questions are out of our control. I'm not going to worry about any of those. We're trying to control what we can control.
That's what we're doing here and how we're doing it. And we're doing the best we can."
RELATED: Players around NFL say Damar Hamlin's injury was not Tee Higgins' fault
After returning home early Tuesday once the game was suspended, the Bills held meetings and a walkthrough practice without any media availability on Wednesday. On Thursday, players were spotted arriving at the facility, though the team has not yet released a practice schedule.
Numerous players across the league - former teammates and those who didn't know Hamlin until Monday - voiced their support, while saying they were shaken by what unfolded in front of a North American TV audience.
Colts safety Rodney Thomas made the two-hour drive from Indianapolis to Cincinnati on Tuesday just to be by the side of his former high school teammate.
"He's a fighter. I know he's a fighter and there's no other thought in my mind other than him walking out under his own power," Thomas said Wednesday.
RELATED: Blue for Damar Hamlin: Tributes pour in for injured Buffalo Bills player
Minnesota Vikings defensive tackle Harrison Phillips, who spent the previous four seasons playing for Buffalo, had dinner delivered to the hospital for Hamlin's family and medical staff.
Hamlin's marketing representative, Jordon Rooney, said Wednesday that the player's family was buoyed by the words and acts of kindness.
"They are elated right now," Rooney said. "Damar is still their first concern. But for them, they always look at how they can turn a somewhat troubling situation into a good one. The bounce back from this, for him and his family is going to be incredible."
What remains unclear is whether the NFL will reschedule the Bills' game against the Bengals, which has major implications in determining the top spot in the AFC. The playoffs are set to open on Jan. 14.
RELATED: NFL will not resume Bills-Bengals game, AP reports
The Chiefs (13-3) have a half-game lead over Buffalo (12-3), with the Bills owning the tiebreaker after beating Kansas City this season. The Bengals (11-4) are currently the third seed and have also defeated the Chiefs.
Hamlin was hurt in the first quarter when he was struck squarely in the chest while making what appeared to be a routine tackle of Bengals receiver Tee Higgins. Hamlin briefly got up and adjusted his facemask before collapsing backward.
Hamlin was selected by Buffalo in the sixth round of the 2021 draft out of Pitt. He spent his rookie season limited to special teams roles, and took over the starting safety job in Week 3 in place of veteran Micah Hyde, who remains sidelined by a neck injury.
Fans, team owners and players - including Tom Brady and Russell Wilson - have made donations to Hamlin's Chasing M's Foundation, which had raised more than $7 million by Thursday morning.