Crews battling vegetation fire near Sycamore Canyon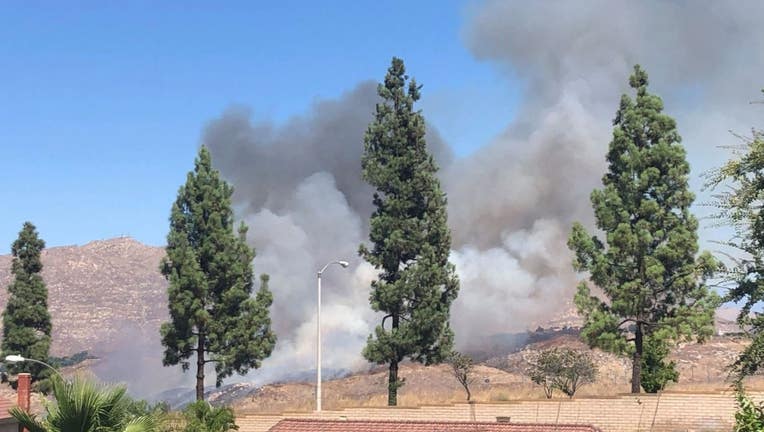 RIVERSIDE, Calif. (FOX 11) - Firefighters are battling a three-alarm vegetation fire in Riverside. 
The fire has so far burned 250 acres near Sycamore Canyon. The Riverside Fire Department says the fire is burning close to the area where a previous fire burned in July. 
Road closures are in effect at Speyside Rd. and Perthshire Place. Police say some residents in the area are self-evacuating.
Many residents say they saw a 60 foot wall of flame approaching their homes. 
Jeff Werner has lived in his home overlooking the Sycamore Canyon wilderness park for seven years but on Saturday when the fire broke he thought he might lose his home. 
"If you were watching the flames literally the wind was throwing 60 foot flames forward and it could have burned my house," said Werner.  
The Sycamore Canyon fire broke out in the park around 3 p.m. and jumped from 15 to 250 acres in a matter of hours burning north to south. 
"We were fortunate, we had a previous fire in this area earlier in July so we were able to benefit from one of our flanks due to the old burn scar from earlier," said Capt. Brian Guzzeta with the Riverside Fire Department. 
The old burn scar is what may have saved Jeff Werner's home from a wildfire...a scenario that has played out in his mind before. 
"This is our third one since we've been here. There was one a month ago which probably helped this one. They kind of let it burn through the canyon," Werner added. 
Over 100 firefighters are battling the blaze, luckily no injuries or damage has been reported. 
FOX 11's Alexi Chidbachian contributed to this report