COVID-19-themed murals bring hope to LA
HOLLYWOOD, Calif. - A handful of COVID-19-themed murals have been popping up around LA with messages of hope along with orders to stay home.
Corie Mattie, 30, was one of many muralists who paid tribute to legend Kobe Bryant. She had some yellow paint leftover and decided to do something to spread optimism amidst a lot of darkness. Her brother is also a local doctor on the front lines of the pandemic and she wanted to find a creative way to bring him and others hope. "No one at this time has experienced something like this, any age group, anyone," says Mattie.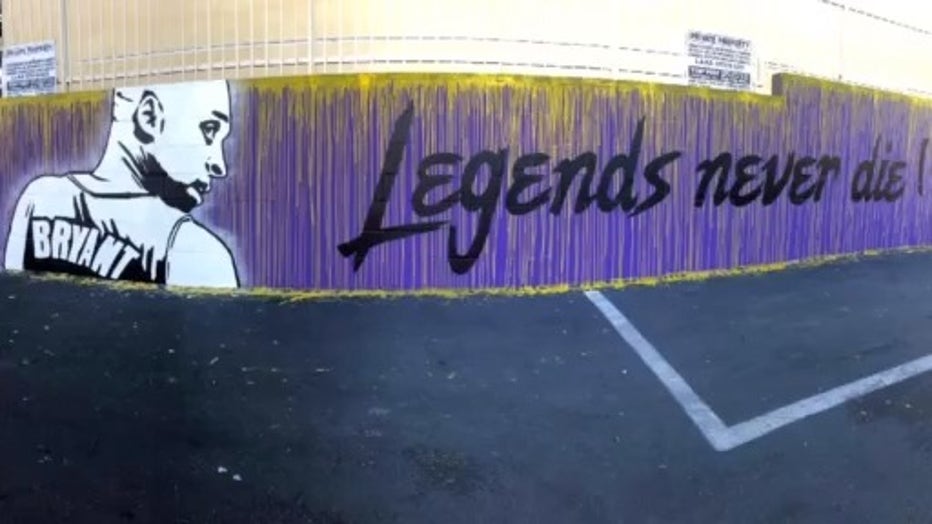 Get breaking news alerts in the FOX 11 News app. Download for iOS or Android.​​​​​​​
"So, I think it's a unique situation where the community is global now. We're all facing this together and I really wanted something to symbolize a beacon of hope." Mattie spent 20 hours painting a wall on the corner of Doheny and Rangely in West Hollywood, on the back of a building home to another Kobe and Gigi mural. Matthew Lavi owns the building and helped Mattie with the vision of her in a mask and white coat with "hope" inscribed on her inner pocket. In big letters, the mural reads, "Cancel Plans. Not Humanity."
"I think it's taking us down to our bottom shell and our real vulnerable place where health, who we really are and the people we love, that's all that really matters," says Lavi. Another pandemic-centric mural is located on the corner of San Vicente and La Brea by artist Mr. Brainwash reads, "Stay Home, Life is Beautiful" in white letters on a red backdrop.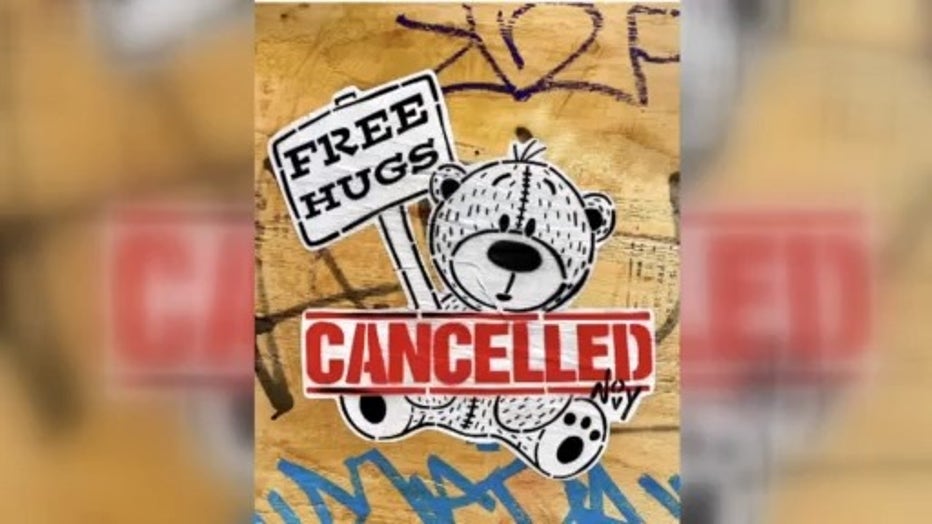 Jeremy Novy debuts a mural in the Arts District of a bear holding a sign that says, "Free Hugs" with "cancelled" stamped across the front of it. Muralist Ponywave painted a masked couple kissing in Venice Beach.
RELATED: CoronavirusNOW.com, FOX launches national hub for COVID-19 news and updates.
Denmark artist, Rasmus Balstrom's, "Stay Safe" masterpiece is in the 3400 block of Union Pacific in Boyle Heights.
And on Pico Boulevard and Reeves Street in Pico-Robertson, artist HIJACK painted two people armed with hand sanitizer, a vacuum and a backpack full of toilet paper. Mattie, known as the "LA Hope Dealer," also put out canvases on major intersections that say, "if you're reading this, go home!" She hopes to hang an 11-foot tarp that says, "flatten the curve" at the Silverlake Reservoir.
For those going to the grocery store, pharmacy and running other essential errands, Mattie and other local muralists want their art to serve as a bright spot and escape from the isolation that brings the community together. "I hope everyone comes out anew and can really be a loving, better world after this is done," says Lavi. 
"I think it just unites people, I really do," says Mattie. "It's cool, fun and impressive and I think people just really take to it." Mattie is also talking to a company about making artsy masks.