City of Lancaster issues response after deputy admitted to making up shooting story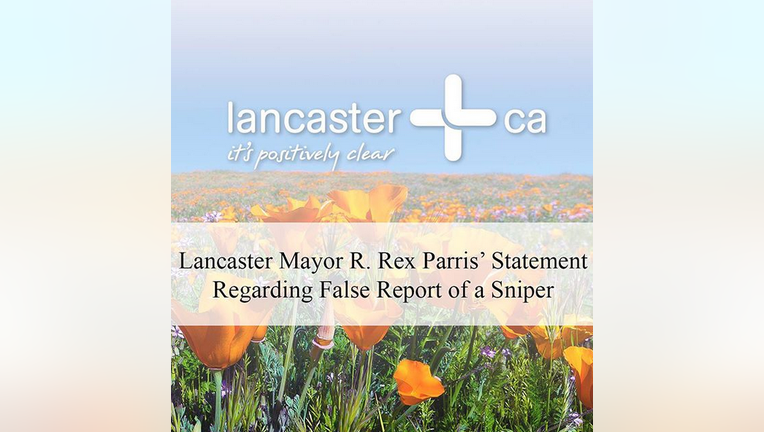 LANCASTER, Calif. - The shooting report prompted Lancaster Mayor R. Rex Parris to express concern about the location of the apartment complex that houses mentally ill people to be so close to the sheriff's station.
"Of course it's insanity," Parris said. "It's outrageous to have that population in that location. Thank God we don't have a funeral."
Lancaster Mayor R. Rex Parris' statement:
RELATED:  Los Angeles County deputy "fabricated'' claim that he was shot
On Saturday, the LASD's Lancaster Station made the following post on Facebook:
"Angry. Embarrassed. Furious. Unbelievable. Ashamed. These are some of the words circulating our station's hallways since last night as our deputies try to wrap their minds around last night's press conference surrounding the incident that occurred in our parking lot on Wednesday, August 21, 2019.
"Our deputies responded to a cry for help and did exactly what they have been trained to do to protect our civilian staff, residents and community.
Our community and other first responder partners worked side by side with us to move quickly, effectively and efficiently. There is no shame in that.
"We are saddened by the outcome of the investigation, but are so grateful to our community for their cooperation on Wednesday and your ongoing support everyday.
The actions of one individual are not indicative of who Lancaster Sheriff's Station Deputies are. And we know most people know that. But just in case some of our incredible men and women in tan and green are feeling "embarrassed/angry/ashamed" today, let us remind you of who you really are.
One moment does not leave your legacy, the work you do, day in, day out does.
"My hero wears a badge."
Southland civil rights activist Najee Ali called for Los Angeles County Sheriff Alex Villanueva to order Reinosa's immediate arrest. "There shouldn't be a double standard of justice," Ali, director of Project Islamic Hope, told City News Service. "Reinosa should be arrested and prosecuted immediately.
There were several people who were detained by the deputies while they were investigating a fabricated shooting. He endangered the lives of everyone in that building.
The waste of taxpayers dollars and manpower hours are inexcusable."
A motive has not yet been determined.