Following cry for change, LA launches unarmed response to non-violent 911 calls involving homeless
LOS ANGELES - A first-of-its-kind initiative is diverting non-violent 911 calls involving the homeless away from law enforcement – and to trained, unarmed, professionals.
The city of Los Angeles is expanding the program that it says ensures unhoused neighbors are met with compassion and care, with the hope to end homelessness.
The program began under Mayor Eric Garcetti and is now going to be integrated into the plan led by Mayor Karen Bass. The strategy and the concept is pretty simple: Instead of sending law enforcement to non-emergency nonviolent 911 calls, you have professionally trained outreach workers and mental health counselors that rove the city responding to those calls instead of the police.
On the front lines of the daily battle to impact homelessness in L.A., is a 24-7 crisis response team ready in mobile vans, meeting people where they are. Outreach workers are themselves survivors of the streets and addiction like Ronda Briggs.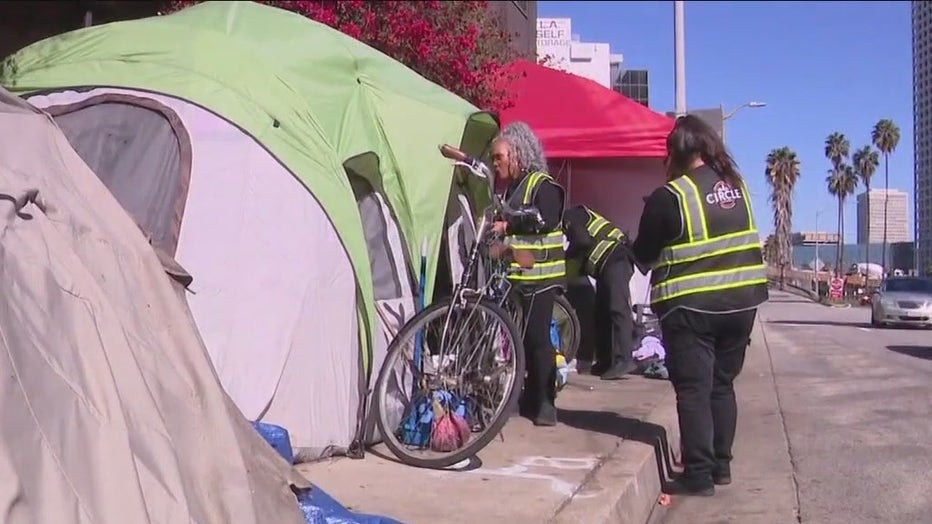 "Just real hopeful," Briggs told FOX 11's Phil Shuman.
"But hope isn't necessarily help," Shuman replied.
RELATED: LA Council Council votes unanimously to create unarmed crisis response teams for nonviolent calls
"No, hope is not help. But it… it gives me the initiative. Motivation lights a fire under my feet to do more," Briggs explained. 
FOX 11 was there when the outreach group helped a man get a new I.D., a referral for medical care, and also housing. This happens multiple times per day. The program is called the CIRCLE Program Crisis, an incident response through community-led engagement. 
One team was made up of two outreach workers and one mental health counselor, and what you don't see, by design, are the police.  
"Over the past number of years, what we've seen is a consistent cry nationally for community-based interventions that use the folks that are from neighborhoods to resolve issues that are not violent crimes," explained Kirkpatrick Tyler, with Urban Alchemy. 
Every month, hundreds of 911 homeless complaint calls that come to police are routed to Circle's own dispatch center, which sends teams out for now to nine different areas of the city.
The basic concept is freeing police from answering nonviolent homeless calls.
"Success would be, find someone who's never been enrolled before in the system, and they've been in for quite some time. No one has came to actually outreach to them and meet them," explained mental health counselor Chuck Colton.