ChatGPT ranks the top 10 Lakers players of all time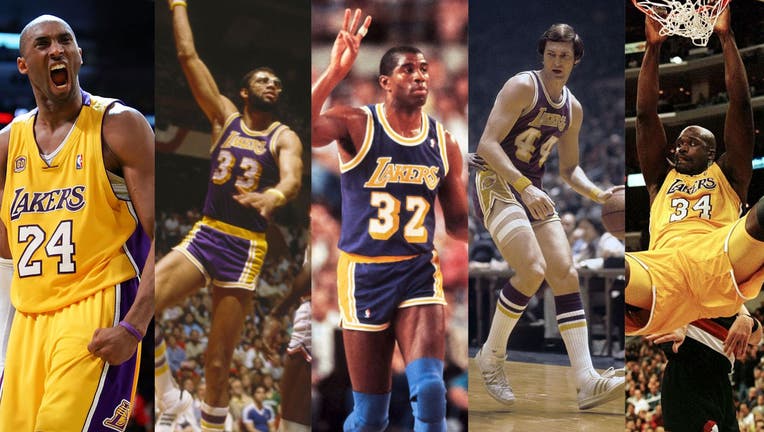 article
LOS ANGELES - The Los Angeles Lakers are one of the most storied franchises in the National Basketball Association. They're tied with their rival the Boston Celtics for the most championships of all time, with 17; they have the second-most hall of farmers of any NBA team (behind the Celtics); and they're one of the oldest franchises in basketball, dating back to their founding in the 1940s in Minneapolis. 
With all the incredible players to don the purple and gold over the last 70 plus years, it may be hard to pick a top 10. Instead, FOX 11 asked ChatGPT, the AI model to pick its top 10 Lakers.
An important thing to note about ChatGPT, is that its knowledge base only goes up until September 2021, so there are some gaps. For instance, ChatGPT still thinks Kareem Abdul-Jabbar is the NBA's all-time leading scorer, when in fact LeBron James passed him on Feb. 7 against the Oklahoma City Thunder at Crypto.com Arena.
That being said, here's who ChatGPT ranked as the top 10 Lakers of all time:
10. George Mikan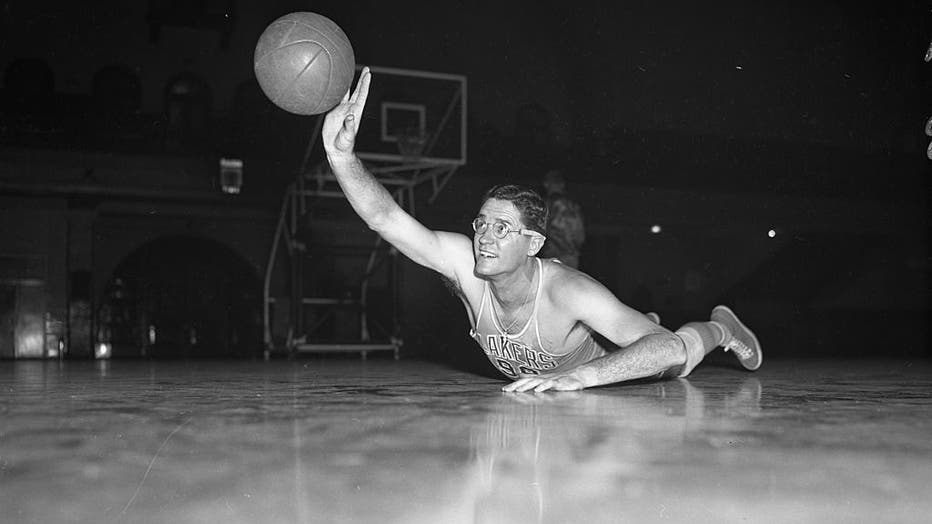 George Mikan of the Minneapolis Lakers (Photo by Seymour Wally/NY Daily News via Getty Images)
George Mikan was one of the NBA's first big men. He played seven seasons for the then-Minneapolis Lakers, including before they were even in the NBA. He was a five-time champion, including the 1949 Basketball Association of America Championship, and a three-time scoring champ. 
ChatGPT described Mikan as "one of the pioneers of the game," who "was a force to be reckoned with in his era."
9. Gail Goodrich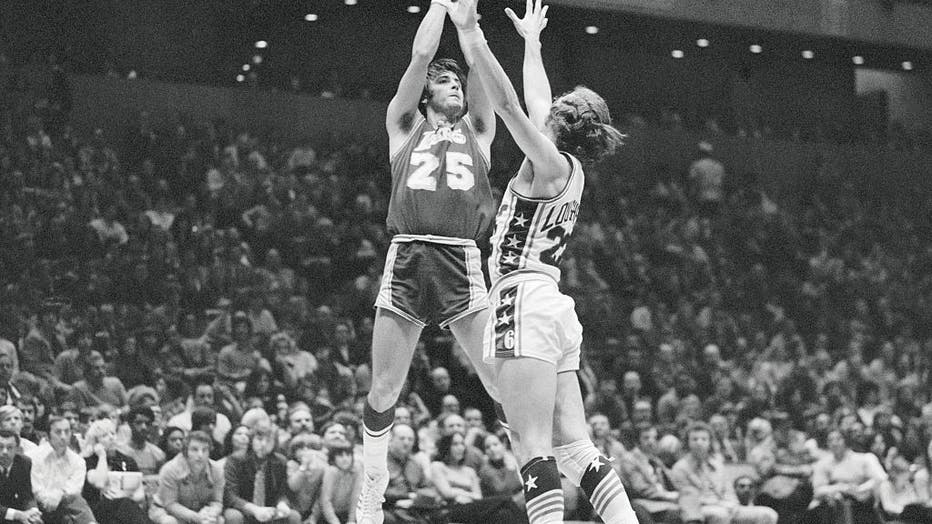 (Original Caption) Gail Goodrich (25) of Los Angeles shoots over Kevin Loughry of Philadelphia.
Gail Goodrich spent nine of his 14 NBA seasons with the Lakers, including the majority of his prime in the late '60s and early '70s. Goodrich was a big part of the Lakers' 1972 championship team. In 15 games that postseason, Goodrich averaged 23.8 points per game, and averaged 25.6 points per game in the championship series against the New York Knicks. 
ChatGPT said "Goodrich played a significant role in the Lakers' success during the 1970s."
8. James Worthy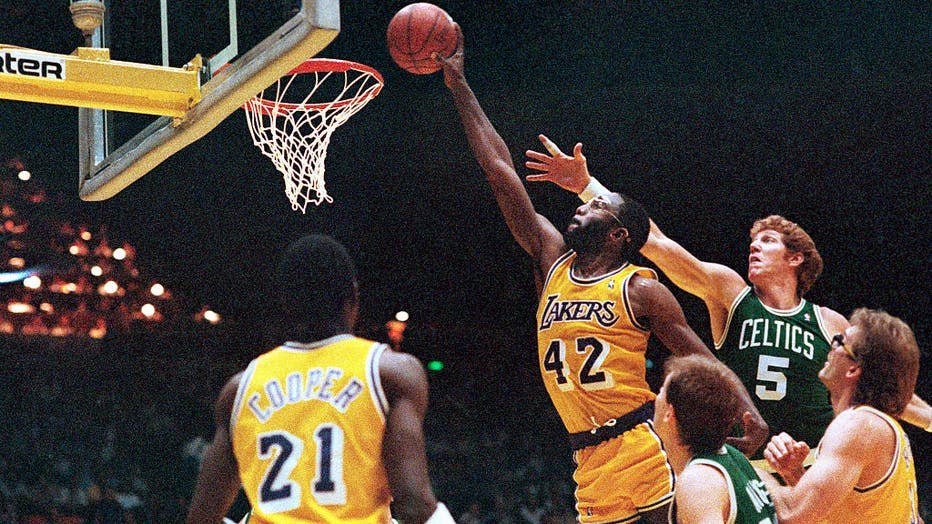 Laker forward James Worthy (#42) goes up for a 2-point dunk as Celtic Bill Walton (#5) tries to block the shot.
Worthy spent his entire 12-year career with the Lakers, averaging 17.6 points and 5.1 rebounds per game from 1982 to 1994. The forward was a seven-time All-Star and three-time champ with the "Showtime Lakers." Worthy came particularly alive in the playoffs, averaging more than 20 points per game in 143 playoff contests. Over his career, Worthy actually averaged more points per game the deeper the Lakers got in the playoffs.
"He was a versatile forward known for his clutch performances in the playoffs and earned the nickname 'Big Game James,'" ChatGPT said.
7. Wilt Chamberlain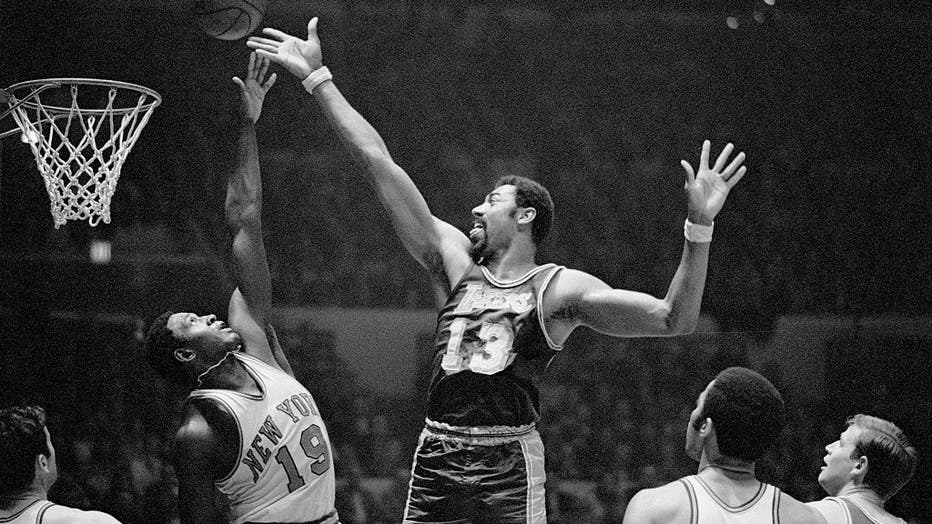 Wilt Chamberlain (#13) of the Los Angeles Lakers and Willis Reed of the New York Knickerbockers go after a rebound.
He's most known for his 100-point game as part of the Philadelphia Warriors in 1962, but Wilt 'The Stilt' Chamberlain spent his last five seasons as part of the Lakers. Chamberlain wasn't nearly the same scorer he was with the Warriors with the Lakers, yet he still averaged more than 17 points and 19 rebounds per game in his five seasons with the Lakers, making the All-Star team in all but one of those years (the 1969-1970 season was the only season of Wilt's 15-year career where he didn't make the squad). Chamberlain also was the Finals MVP of the 1972 NBA Finals, when the Lakers beat the Knicks.
ChatGPT said that "Chamberlain's impact on the game cannot be overlooked."
6. Elgin Baylor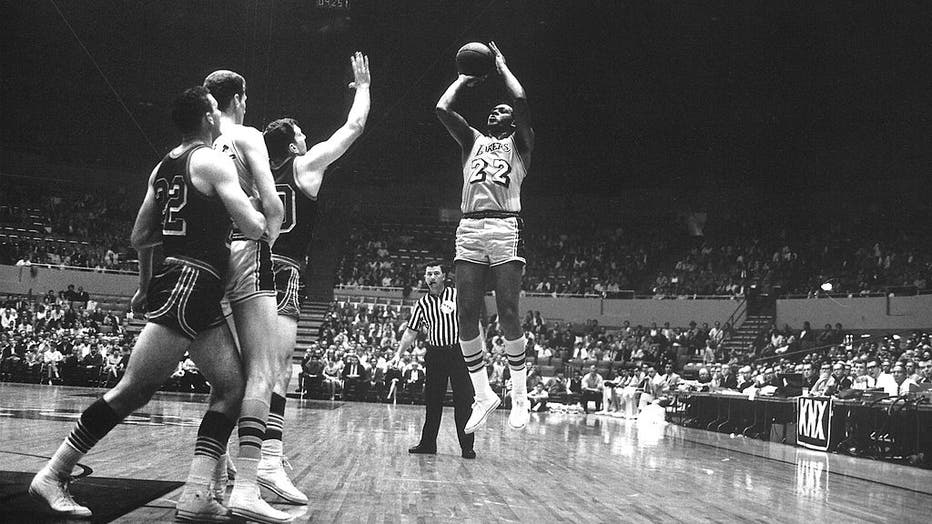 Elgin Baylor in action, taking shot vs Detroit Pistons, Inglewood, CA 11/23/1967 (Photo by George Long/Sports Illustrated via Getty Images)
Elgin Baylor was another player whose Lakers history predates Los Angeles. Baylor began his career with the Minneapolis Lakers in 1958, and he spent his entire 14-season career with the Lakers. Baylor was an 11-time All-Star and made eight NBA Finals appearances. Known for his scoring, Baylor averaged 27.4 points in over 840 career games with the Lakers.  
Baylor played just nine games in 1972 before announcing his retirement after rupturing his Achilles tendon. The Lakers beat the Knicks for their sixth championship that season.
5. Jerry West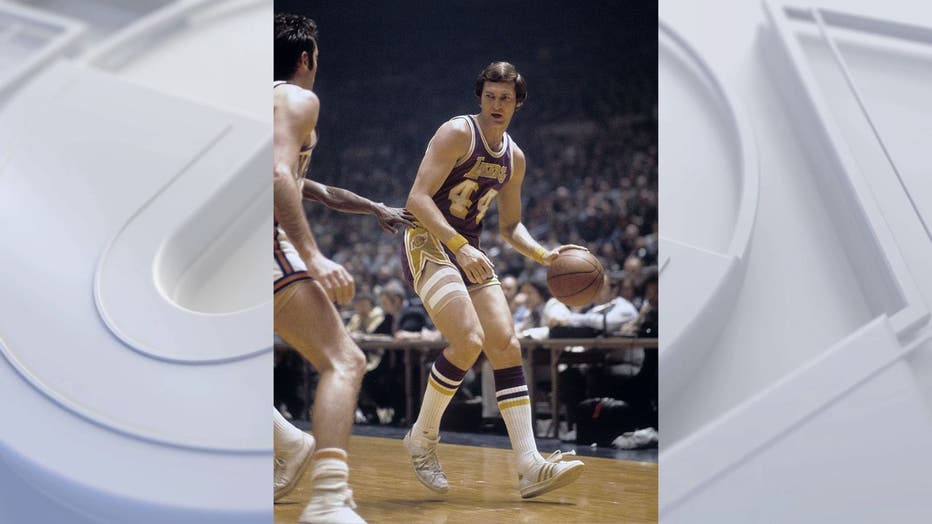 Jerry West #44 of the Los Angeles Lakers dribbles towards the base-line against the New York Knicks. (Photo by Focus on Sport/Getty Images)
It would've been difficult to make this list without including the man the NBA logo is literally modeled off of. West spent his entire 14-year career in LA, making the All-Star Team every season. West won one championship in 1972, and averaged just under 30 points a game in over 150 playoff games. 
ChatGPT selected West for his "excellence and clutch performances" against "tough competition."
4. Shaquille O'Neal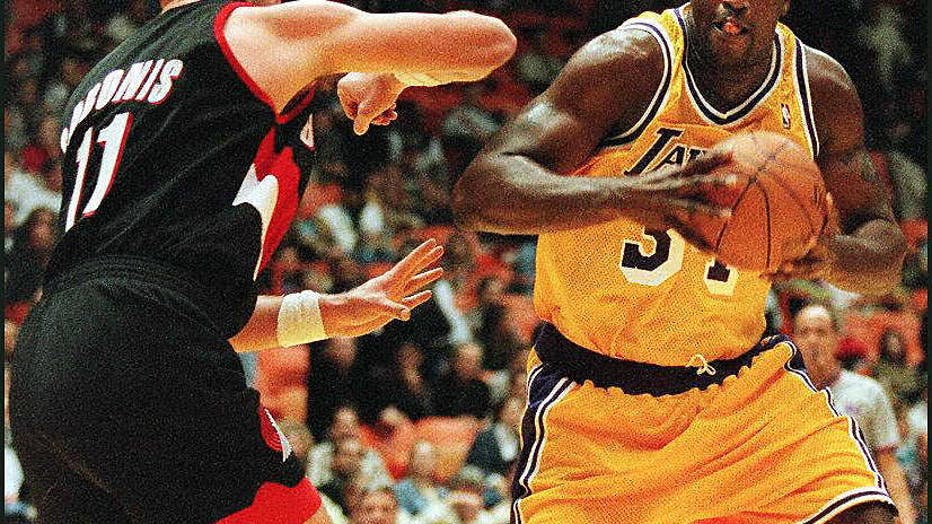 Shaquille O'Neal of the Los Angeles Lakers drives to the basket past Arvydas Sabonis of the Portland Trail Blazers. (Photo credit should read Vince Bucci/AFP via Getty Images)
Shaq, Diesel, The Big Aristotle, whatever you want to call him Shaquille O'Neal is a Laker icon. O'Neal spent two decades in the Association with eight of those seasons coming in LA. Shaq was selected to seven of his 15 All-Star teams in his time with the Lakers. He was part of the Lakers' three-peat from 2000 to 2002, averaging 28.6 points, 12.4 rebounds and 3.4 assists per game over those three seasons. Shaq later went on to win a fourth ring with the Miami Heat in 2006.
ChatGPT called Shaq "a dominant force in the paint… known for his strength, athleticism and dominance on both ends of the court."
3. Kareem Abdul-Jabbar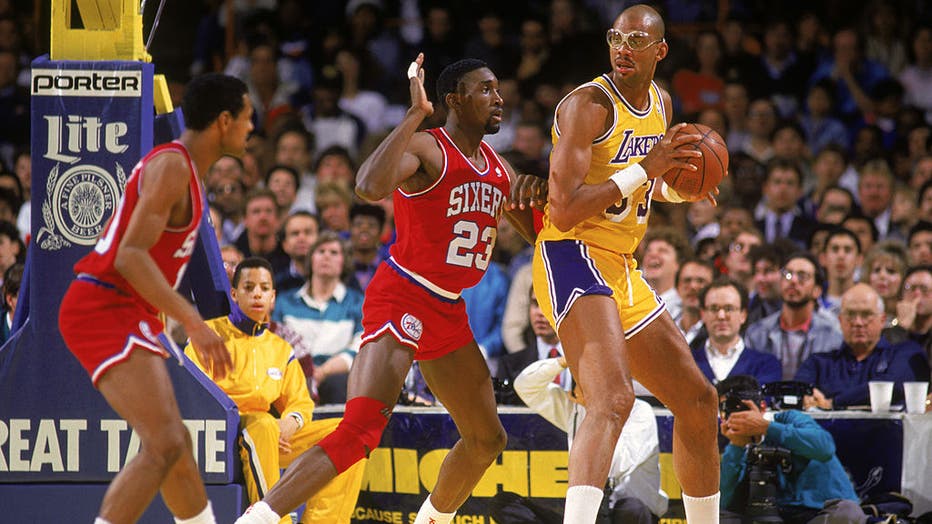 Kareem Abdul-Jabbar of the Los Angeles Lakers holds the ball in the post. (Photo by: Mike Powell/Getty Images)
Kareem Abdul-Jabbar's all-time NBA scoring record stood for nearly 40 years, breaking a record held by another former Laker, Wilt Chamberlain on April 5, 1984. Abdul-Jabbar spent 14 seasons in LA, scoring 24,176 of his 38,387 points with the Lakers. The six-time NBA MVP and two-time Finals MVP was a force on both sides of the court, winning the scoring title twice in 1971 and 1972, and the blocking title four times in 1975, 1976, 1979 and 1980.
"Kareem's unstoppable skyhook shot and longevity in the game were remarkable," ChatGPT wrote.
2. Kobe Bryant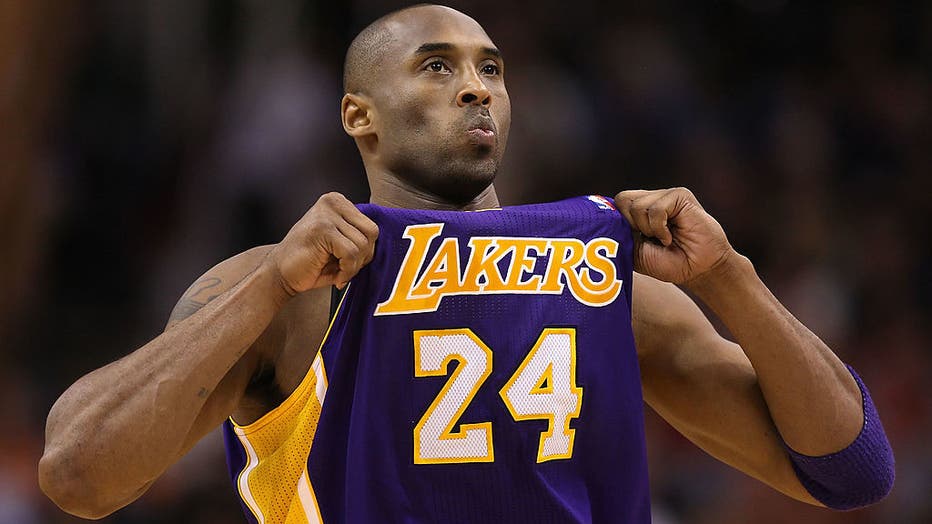 Kobe Bryant of the Los Angeles Lakers adjusts his jersey. (Photo by Christian Petersen/Getty Images)
What is there to say about Kobe Bryant that hasn't already been said. The five-time NBA champion, 18-time All-Star and two-time scoring champ spent his entire career with the Lakers. Known for his "Mamba Mentality," Kobe averaged an even 25 points per game in his career, and like many on this list, got even better come playoff time. Alongside Shaq, Kobe won three championships between 2000 and 2002, and then went back-to-back in 2009 and 2010 with Pau Gasol. Bryant's 220 playoff games are tied for seventh-most all-time.
"Kobe's scoring ability, competitiveness and work ethic made him an iconic figure in Lakers history," ChatGPT said.
1. Magic Johnson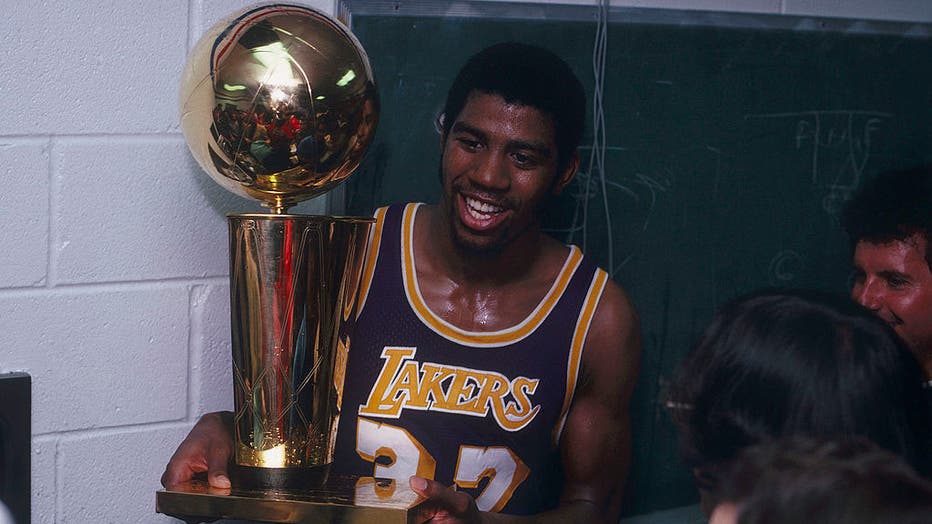 Magic Johnson #32 of the Los Angeles Lakers celebrates with the Walter A. Brown championship trophy. (Photo by Focus on Sport via Getty Images
Topping ChatGPT's list of the Top 10 Lakers of all time is none other than Earvin "Magic" Johnson. He's widely considered to be one of if not the best point guards of all time. Johnson was the first overall pick in the 1979 NBA Draft for the Lakers, and went on to become a five-time NBA champion, three-time Finals MVP and three-time regular season MVP and much, much more, all with LA. Johnson retired 
ChatGPT called Magic "A legendary point guard… known for his exceptional court vision and leadership skills."
It's worth noting that all 10 of the men on ChatGPT's list have had their numbers retired by the Lakers, including both Kobe Bryant's numbers, 8 and 24.
Where's LeBron?
Now you may be asking where LeBron James ranks, according to ChatGPT. As mentioned earlier, the chatbot's knowledge base only goes up to September 2021. With LeBron still being active in the NBA, ChatGPT said that Lebron's "complete impact and legacy with the franchise may not be fully assessed."
However, when asked if LeBron were to be included, ChatGPT ranked him tenth, replacing George Mikan.
To recap, here's ChatGPT's top 10 list with James included:
Magic Johnson
Kobe Bryant
Kareem Abdul-Jabbar
Shaquille O'Neal
Jerry West
Elgin Baylor
Wilt Chamberlain
James Worthy
Gail Goodrich
LeBron James
Editor's Note: Aside from instances in which ChatGPT was directly quoted, this story was completely written by humans.