Celebrity Cruises norovirus outbreak leaves more than 175 sick, CDC says
More than 175 people reported feeling sick with norovirus during a recent Celebrity Summit cruise to Bermuda, the Centers for Disease Control and Prevention (CDC) says. 
The outbreak, which happened on the voyage from May 15 to 25, affected 152 of the 2,144 passengers onboard and 25 crew members, according to the CDC. 
Those who became ill suffered symptoms such as diarrhea, abdominal cramps, vomiting and headaches. 
The CDC said that in response to the outbreak, the Summit's crew "Increased cleaning and disinfection procedures according to the ship's outbreak prevention and response plan" and "Notified current guests of the situation onboard and encouraged illness reporting and good hand hygiene." 
CARNIVAL CRUISE SHIP ROCKED BY ROUGH SEAS, SEVERE WEATHER, SHAKING SOME PASSENGERS 
It also "Collected and sent stool specimens from gastrointestinal illness cases to the CDC laboratory." 
A Celebrity Cruises spokesperson told FOX Business in a statement Tuesday that "The health and safety of our guests, crew and communities we visit are our top priority.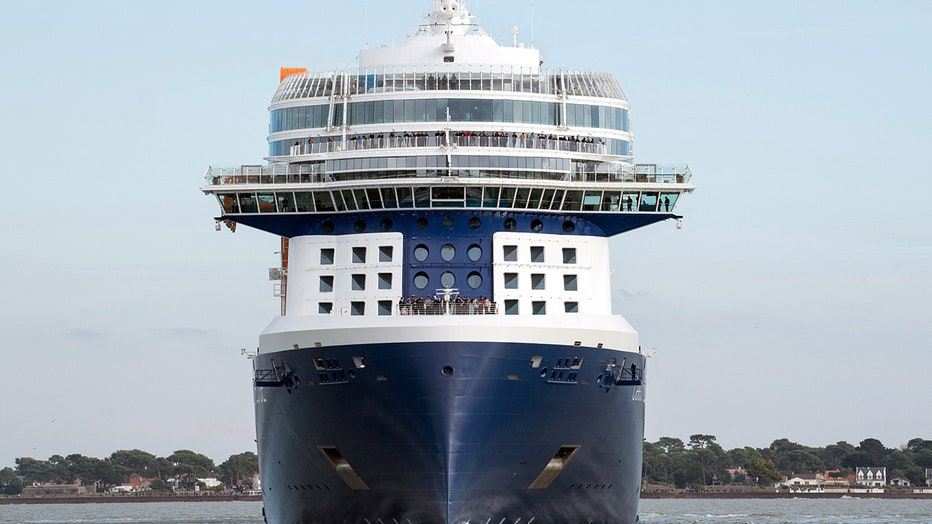 The French-made cruise ship "Celebrity Edge" of the US company of tourism cruise, Celebrity Cruise, leaves the shipyards of Saint-Nazaire to go to Miami, United States, on November 4, 2018 in Saint-Nazaire, western France. (Photo by SEBASTIEN SALOM G
"To maintain the highest levels of health onboard our ships, we implement rigorous safety and cleaning procedures, many far exceeding public health guidelines," the spokesperson added. "Combined, these efforts allow us to maintain some of the lowest levels of community spread." 
The Summit's round-trip voyage, according to the website CruiseMapper, left Bayonne, New Jersey, before making stops in Bermuda, Charleston, South Carolina, Newport, Rhode Island, and Martha's Vineyard, Massachusetts. 
It was the third norovirus outbreak aboard a Celebrity Cruises ship this year, CDC data shows. 
MAN'S BODY STORED IN DRINK COOLER AFTER HE DIES ON CELEBRITY CRUISE: LAWSUIT 
During two weeks in March, norovirus outbreaks were reported on Celebrity's Equinox and Constellation ships. 
In the Equinox outbreak, 122 of its 2,579 passengers and 14 crew members reported experiencing "vomiting and diarrhea" during a voyage from March 9 to 18, according to the CDC. 
RELATED: Sick workers linked to 40% of restaurant food poisoning outbreaks, CDC says
That ship departed from Fort Lauderdale, Florida, and made stops in the Cayman Islands, Aruba, Curacao and Bonaire. 
In the Constellation outbreak, 87 of its 2,062 passengers and nine crew members suffered the same norovirus symptoms during a voyage from March 6 to 17. 
That ship left Tampa, Florida, and made stops in Key West, Cartagena, Colombia, Panama, Costa Rica and Mexico.
The CDC says on its website that norovirus outbreaks can happen anytime, but occur "most often from November to April." 
"Norovirus is the leading cause of vomiting and diarrhea, and foodborne illness in the United States," it adds. "People of all ages can get infected and sick with norovirus, which spreads very easily and quickly."