California Lottery player wins $500 on Scratchers ticket, tries luck again and wins $1 million
LOS ANGELES - How lucky do you have to be to strike it rich twice in one day? 
Just ask Vang Cha, who is the most recent California Lottery millionaire thanks to two very lucky scratchers tickets. 
Cha, who told lottery officials he rarely plays scratchers because he prefers playing games with bigger jackpots like the Powerball and Mega Million, spent $30 on a ticket and instantly won a cool $500.
"I looked at the odds of winning and found it's better odds than (the) SuperLotto Plus (game), so I figured I might as well give it a shot," he said.
Cha said he spent the $500 to buy 30 of the $10 Xtreme Multiplier Scratchers tickets at a Sacramento liquor store.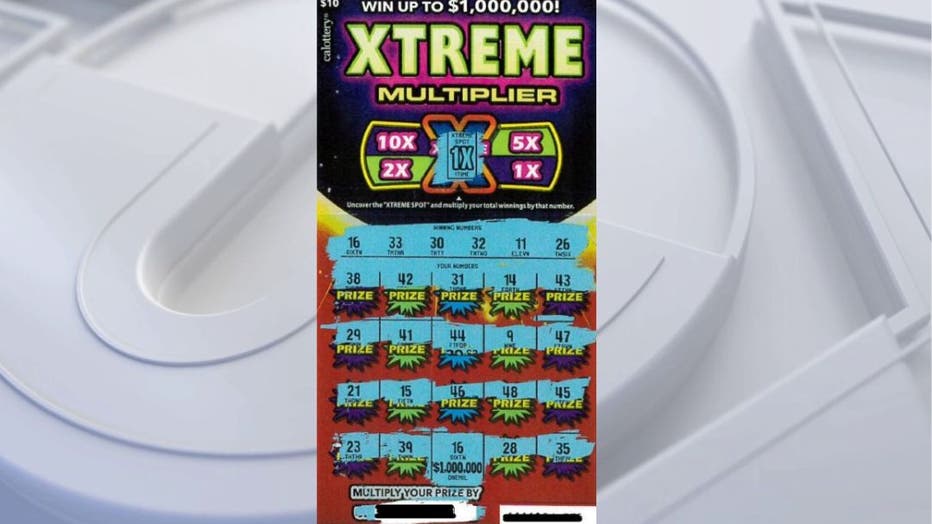 Photo courtesy California Lottery
"I decided to just go all in and buy an entire book of the ten-dollar games," Cha said. "I went to work and scratched probably about 20 of them, went home and scratched the rest."
He revealed lucky number 16 on the fourth and final row of a ticket and was "stunned," he told lottery officials.
He won $1 million.
"I scanned it on the lottery app to make sure it was true, and it was," said Cha who plans to invest his winnings.
SUGGESTED:
In addition to Cha, five other lucky people scored some big prizes with winning scratchers. 
In Los Angeles, Jay Inkhothavong scored $2 million on an Instant Prize Crossword game. He bought his lucky ticket at Dragon Gate Inn on North Hill Street.
The four other lucky winners all purchased their tickets in the Bay Area.  John Garcia pooled his money with another player and hit it big on a Set For Life Scratchers. He and another player will split the top prize of $20 million. This lucky ticket was sold at Westlake Arco on Southgate Avenue in Daly City.  
Muhammad Ali won $1 million playing a Winter Riches ticket he bought at Smoke Stop on Sandcreek Road in Brentwood. Maria Rios also won $2 million playing an Instant Prize Crossword scratchers ticket she bought at Golden Gate Donut on Telegraph Avenue in Oakland. Javier Pena won the top million-dollar prize on a Show Me $1,000,000 scratchers ticket he got at the Beacon Gas on West Harder Road in Hayward.
Congrats to all the winners!