Cal State LA students discuss the impact of missed graduation ceremonies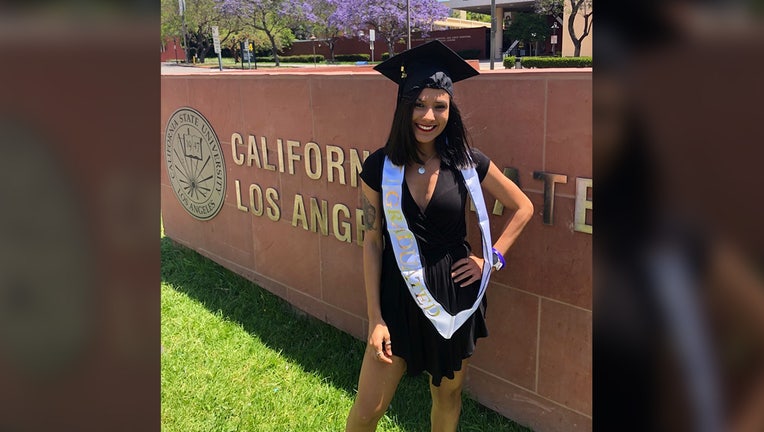 article
LOS ANGELES - It was a party of one for Cal State Los Angeles grad Valerie Sanchez. On this day she should have been walking in graduation ceremonies. Due to the coronavirus pandemic commencement services for the Class of 2020 are, per the university to be scheduled "for a later time when we can gather safely."
When Sanchez heard the news there would be no graduation ceremony she says she cried. 
Still, Sanchez popped by campus Wednesday, May 20 with her cap to pose for a picture. She celebrated later on Facetime with family, cake included. Sanchez is graduating from the School of Social Work with her Masters Degree. She is a first-generation college grad and a champion marathon runner.  
In February she competed in the marathon trials for the U.S. Olympic team.
Her professor is Dr. William Wong, Ph.D. He says many of the students at Cal State LA are the first in their families to go to college. Many come from immigrant families. He feels that a graduation ceremony represents validation and "their piece of the American Dream.
He says his students have to work extra hard to get their degree. Some work full-time jobs, others are raising children as well or supporting family.
Dr. Wong is helping to shape a new generation of social workers. Sanchez would like to work in underserved populations as a social worker. 
Wong is also an LA County Social Worker and coordinator of the long-running Wednesday's Child adoption segment on Fox 11 News. Wong is the first man in his family to graduate from college and to get a Ph.D.
Wong is hoping his grads will still one day get to celebrate in a ceremony amongst their classmates, family and friends.
The President of Cal State LA, William A. Covino, posted words of encouragement.
"This is still a very special time for you and your family and we want to acknowledge it. Later this month, we will publish our Class of 2020 Recognition website."