Burger King unleashes Spider-Man Whoppers to celebrate upcoming movie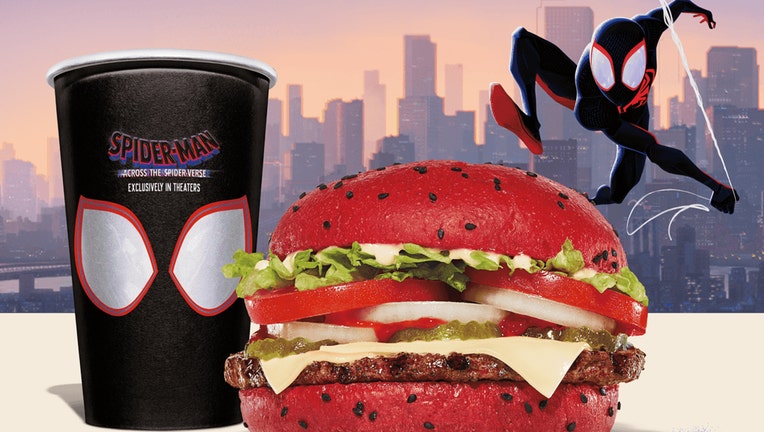 article
MIAMI - Burger King is entering the Spider-Verse! 
On Monday, the global fast-food giant revealed a limited-time take on the brand's iconic Whopper sandwich in celebration of the forthcoming theatrical release of "Spider-Man: Across the Spider-Verse." The next chapter in the film franchise is scheduled for release in theatres worldwide on June 2. 
Burger King's newest Whopper features a red bun with black sesame seeds, along with melted Swiss cheese and all of the traditional Whopper toppings. Customers and fans can also enjoy a Spider-Verse-themed sundae featuring soft-serve ice cream topped with black and red chocolate popping candies.
Of course, as BK points out, you can customize your order and "have it your way."
"Like the infinite number of universes that can be explored in the next installment of the award-winning Spider-Man franchise, Burger King fans can discover new and exciting ways to customize the Spider-Verse menu items," Pat O'Toole, Burger King's chief marketing officer said in a statement. "This co-promotion allows us to bring the best of both worlds together, creating countless possibilities for guests to have it their way and rule their Spider-Verse."
The new Spidey-themed menu items will be available at participating restaurants nationwide from May 15 through June 21. 
RELATED: Viral Burger King employee who never missed a day of work in 27 years receives over $270K in donations
In addition to the menu items, the Spider-Verse will also be taking over select Burger King restaurant locations across the globe. The stores will feature interactive designs, including "Instagram-able" areas where guests can immerse themselves in the Spider-Verse. The transformed restaurants can be found in New York City, France, United Arab Emirates, Brazil, and others.
"Burger King is an iconic and global brand, making them the perfect partner for our 'Spider-Verse' film. Their passion for great creative has led them to come up with fun and imaginative activations that will allow fans to be able to swing into select local Burger King restaurants and immerse themselves in the 'Spider-Verse,'" Jeffrey Godsick, the EVP of global partnerships and brand management at Sony Pictures Entertainment, said.
And this isn't the first time that Burger King has dyed their buns. Previous Whoppers have been dyed a variety of colors including black, white, orange and green for the Halloween season.
RELATED: Burger King is offering free fries for the next 6 months — how to get the deal
In January, Burger King also announced it was giving out free French fries every week for six months. The fast food giant extended its Frequent Fry'er promotion, a deal for its Royal Perks members, when they make any purchase on the Burger King app or BK.com.
The free fry promotion is now available once a week through June 30, 2023, the company confirmed to FOX Television Stations.
This story was reported from Los Angeles.