Boyfriend charged with capital murder in suspected death of missing Monrovia woman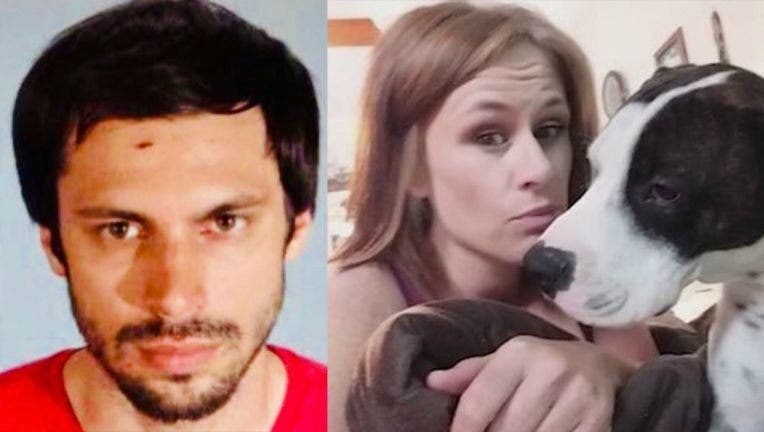 LOS ANGELES - A Monrovia man was charged Wednesday with the capital murder of his girlfriend, who disappeared just over a month ago and whose body has not been found.
Robert Anthony Camou, 27, is set to be arraigned Oct. 10 at the Pasadena courthouse in connection with the killing of Amanda Kathleen Custer, whom sheriff's homicide investigators believe was taken by Camou against her will the morning of July 29.
The murder charge includes the special circumstance allegation of killing a witness, along with an allegation that he was out on bail when he committed the crime.
Prosecutors will decide later whether to seek the death penalty against Camou, who was initially charged May 29 with one felony count each of first-degree burglary with a person present, injuring a girlfriend and assault by means of force likely to produce great bodily injury, and one misdemeanor count of battery.
Those charges stemmed from an April 22 attack in which Camou allegedly tried to strangle Custer and threatened her with a Taser, according to Deputy District Attorney Melanie Drew. Camou allegedly chased the woman inside a nearby residence where she had sought help, and battered an elderly man who tried to intervene.
Camou was free on bail in connection with the earlier charges at the time of the woman's killing, according to the District Attorney's Office.
Related: 
Witnesses said they saw Camou load Custer's "lifeless'' body into the trunk of his Toyota Prius, said sheriff's homicide Lt. Scott Hoglund.
Sheriff's detectives said blood was found in the Monrovia residence, and blood drops were found in the cargo hatch of the Prius, along with a digging tool.
Camou was taken into custody in downtown Los Angeles on July 30, following a nearly five-hour standoff, but there was no sign of Custer.
At a news conference last month, Hoglund displayed a map of areas in the Mt. Baldy and Lytle Creek areas where the suspect was believed to have driven the gray 2017 Prius between the time of the alleged abduction and his capture.
"It is such a broad area that we desperately need the community's assistance in trying to pinpoint a location of where this Prius may have been,'' Hoglund said then.
Detectives were able to piece together some of Camou's movements after the alleged abduction because he was wearing an electronic monitoring device in connection with the assault case, according to the sheriff's lieutenant.
Camou went to a Del Taco on Foothill Boulevard in Glendora about 8:30 a.m., and a few minutes later, he visited a Shell gas station on Foothill Boulevard, where he bought cigarettes. Shortly before 9 a.m., Camou was seen in the Claremont area on Baseline Road and Padua Avenue, and then he went east to an Arco station on Sierra Avenue in Fontana about 9:30 a.m., where he was shown on security video.
About that time, Camou apparently removed the electronic monitoring device, and there is about a five-hour gap in his known whereabouts until he visited a Chase bank ATM on Foothill Boulevard in Azusa about 2:40 p.m., Hoglund said.
The woman's father appealed last month for anyone with information to call authorities.
"This is basically a plea to anybody out there -- especially on Monday the 29th of July -- that was hunting, or fishing, or mountain biking, that might have seen anything out of the ordinary,'' Rick Custer said. "It might not have seemed important at that time, but it does now.''
Custer said he had been to the area in search of his daughter, the single mother of an 8-year-old son, as had other family members.
Sheriff's investigators expanded their search to include the area of Lytle Creek because Camou is believed to have great knowledge of the area, which is in the San Gabriel Mountains about 16 miles northwest of San Bernardino. They said Camou's car was spotted -- shortly after the alleged kidnapping -- traveling north on Padua Road in Claremont toward Mount Baldy.
Sheriff's officials previously asked to hear from anyone who may have seen Camou in a downtown Los Angeles bar the night of July 29. Cellphone video from the bar shows Camou during an open-mic event, singing an expletive-laden rap about killing a woman.
"I killed my (expletive) and buried that (expletive) in the (expletive) dirt,'' he is heard rapping. He goes on to claim he is being sought by police, before someone takes the microphone from him.
It was just hours after the video was taken that Camou was found in the back seat of the parked Prius in downtown Los Angeles and was eventually taken into custody after being flushed out with tear gas.
Camou and Custer had a tumultuous two-year relationship that included "numerous domestic violence incidents,'' Hoglund said. The pair lived down the street from one another.
Custer filed court papers in February seeking a restraining order against Camou, claiming he showed up uninvited at her home and broke a double-pane window with a hatchet. Custer obtained the restraining order on April 22.