Who is Ketanji Brown Jackson? Biden taps 1st Black woman to Supreme Court
WASHINGTON - Judge Ketanji Brown Jackson was tapped on Friday as President Joe Biden's nominee to the U.S. Supreme Court.
The nomination makes Jackson, currently a federal appeals court judge, the first Black woman selected to serve on the high court that once declared her race unworthy of citizenship and endorsed segregation.
"For too long, our government and our courts haven't looked like America, and I believe it's time we have a court that reflects the full talents and greatness of our nation," Biden said in remarks from the White House during an event to introduce Jackson. 
Biden's selection follows a "rigorous process" to identify a replacement for Justice Stephen Breyer, 83, who is retiring at the end of the term this summer. It also delivers on his campaign promise to make the historic appointment and to further diversify a court that was made up entirely of White men for almost two centuries. 
Biden has chosen an attorney who would be the high court's first former public defender, though Jackson also possesses the elite legal background of other justices.
Jackson, 51, would be the current court's second Black justice — Justice Clarence Thomas, a conservative, is the other — and just the third in history. In her own remarks, Jackson noted how she shares a birthday with the late U.S. District Judge Constance Baker Motley — the first African American woman to argue a case before the Supreme Court, and the first to serve as a federal judge.
"Today I proudly stand on Judge Motley's shoulders, sharing not only her birthday but also her steadfast and courageous commitment to equal justice under law," Jackson said.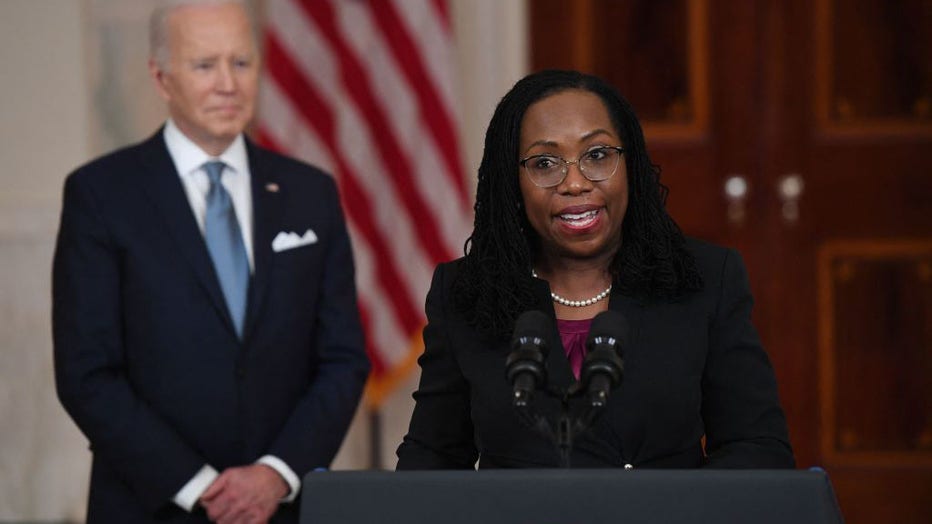 Judge Ketanji Brown Jackson, with President Joe Biden, speaks after she was nominated for Associate Justice of the US Supreme Court, in the Cross Hall of the White House in Washington, D.C., on Feb. 25, 2022. (Photo by SAUL LOEB/AFP via Getty Images)
Jackson would also be only the sixth woman to serve on the court, and her confirmation would mean that for the first time four women would sit together on the nine-member, conservative-dominated court. The current court includes three women, one of whom is the court's first Latina, Justice Sonia Sotomayor.
Jackson's nomination is subject to confirmation by the Senate, where Democrats hold the majority by a razor-thin 50-50 margin with Vice President Kamala Harris as the tie-breaker. Party leaders have promised swift but deliberate consideration of the president's nominee.
Who is Ketanji Brown Jackson?
Judge Ketanji Brown Jackson was confirmed in 2021 to the D.C.-based appellate court as a U.S. Circuit Judge, a position Biden elevated her to from her previous job as a federal trial court judge. Three current justices — Thomas, Brett Kavanaugh and John Roberts, the chief justice — previously served on the same appeals court.
Jackson was confirmed to the appeals court by a 53-44 vote in June, winning the backing of three Republicans: South Carolina's Lindsey Graham, Maine's Susan Collins and Alaska's Lisa Murkowski. That could be important to Biden, who has reached out for GOP support during the Supreme Court nominee search. 
Another interesting GOP connection: Jackson is related by marriage to former House Speaker Paul Ryan, R-Wis. Jackson's husband, Dr. Patrick Jackson, is the brother of William Jackson, who married Ryan's wife's sister, Dana.
Jackson was born in Washington, D.C., but grew up in Miami. She has said that her parents, Johnny and Ellery Brown, chose her name to express their pride in her family's African ancestry. They asked an aunt who was in the Peace Corps in Africa at the time to send a list of African girls' names and they picked Ketanji Onyika, which they were told meant "lovely one."
She traces her interest in the law to when she was in preschool and her father was in law school and they would sit together at the dining room table, she with coloring books and he with law books. Her father became an attorney for the county school board and her mom was a high school principal. She has a brother who is nine years younger who served in the Army, including in Iraq, and is now a lawyer.
In high school, she was the president of her public high school class and a debate champion. Richard B. Rosenthal, a lawyer who has known her since junior high, said there was no question she would rise to the top of whatever field she chose, describing her as "destined for greatness." His older brother, Stephen F. Rosenthal, a classmate and friend from Miami who also went to college and law school with her, called her a "natural leader" and someone with "penetrating intelligence."
Jackson attended Harvard, where she studied government but also was involved in drama and musical theater and part of an improv group called On Thin Ice. At one point she was assigned actor Matt Damon as a drama class partner, she has said, acknowledging he probably wouldn't remember her. He does not, Damon previously confirmed through a representative, but added: "That's so cool!"
Also at Harvard, she met her husband, who is a surgeon at Georgetown University Hospital, and the couple has two daughters.
From 1999 to 2000, Jackson was a law clerk for Breyer on the Supreme Court. Deborah Pearlstein, a law clerk to Justice John Paul Stevens the same year Jackson worked for Breyer, recalled Jackson as funny, insightful and "incredibly good at her job."
"I don't know anybody there at the time who didn't get along with Ketanji," Pearlstein said.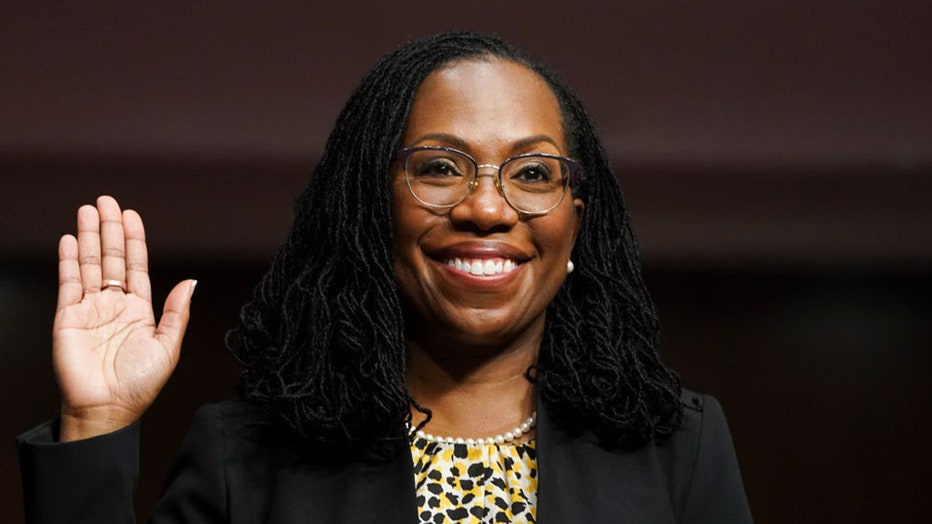 Photo of Ketanji Brown Jackson (Credit: Getty Images)
Jackson has since worked for large law firms over the course of her career but also was a public defender. After she was nominated to serve on the U.S. Sentencing Commission, the agency that develops federal sentencing policy, she taught herself to knit to deal with the stress of the nomination and confirmation process, she has said.
As a commissioner, she was part of a unanimous vote to allow thousands of people already in federal prison for crack-related crimes get their sentences reduced as a result of a new law.
And Jackson's work on the Sentencing Commission paved the way for her to become a federal trial court judge, where one of the things she displayed in her office was a copy of a famous, handwritten petition to the Supreme Court from a Florida prisoner, Clarence Gideon. The Supreme Court took his case and issued a landmark decision guaranteeing a lawyer for criminal defendants who are too poor to afford one.
Jackson had served as a federal trial court judge since 2013, nominated by former President Barack Obama.
Jackson is currently a member of the Judicial Conference Committee on Defender Services, as well as the Board of Overseers of Harvard University and the Council of the American Law Institute. She also currently serves on the board of Georgetown Day School and the United States Supreme Court Fellows Commission.
Other potential finalists for the vacancy included: 
Leondra Kruger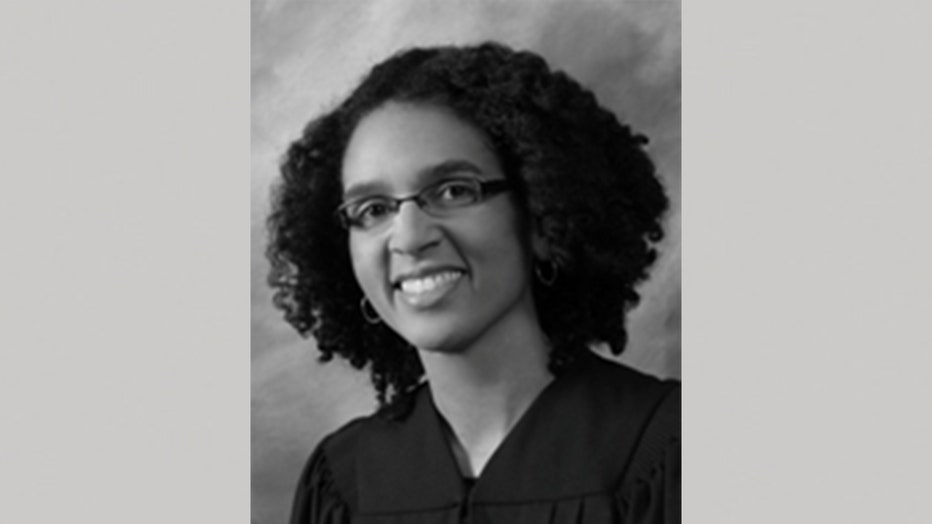 (Credit: California Courts: The Judicial Branch of California)
Leondra Kruger serves as a justice on the California Supreme Court. She is also a veteran of the U.S. Solicitor General's office.
Kruger, 45, graduated from Harvard and Yale's law school, where she served as a law clerk on the high court, before serving in the department as an assistant to the solicitor general and as acting deputy solicitor general. During her tenure in the Office of the Solicitor General, she argued 12 cases in the U.S. Supreme Court's behalf of the federal government. In 2013 and in 2014, she received the Attorney General's Award for Exceptional Service, the department's highest award for employee performance.
Immediately before joining the court, Kruger served in the United States Department of Justice as a deputy assistant attorney general for the Office of Legal Counsel. 
From 2007 to 2013, Kruger had previously been in private practice, where she specialized in appellate and Supreme Court litigation, and taught as a visiting assistant professor at the University of Chicago Law School.
A native of the Los Angeles area, Justice Kruger attended high school in Pasadena.
Holly Thomas
Holly Thomas was confirmed as a judge on the 9th U.S. Circuit Court of Appeals in January of 2022, making her the second Black woman to serve on the Ninth Circuit.
She previously served as a judge on the Los Angeles Superior Court in California and was formerly an assistant counsel at the NAACP Legal Defense and Educational Fund. She also worked as a deputy director of California's housing and employment agency and special counsel to the New York solicitor general.
The San Diego native earned her Bachelor of Arts degree from Stanford University and received a Juris Doctor from Yale Law School in 2004.
Republicans had objected to her nomination to the Ninth Circuit, with Sen. Ted Cruz, R-Texas, accusing her of being an "activist advocate" during her confirmation process.
Michelle Childs
Michelle Childs serves as the district judge for the United States District Court for the District of South Carolina, a position she has held since 2010. She was recently nominated for the United States Court of Appeals for the District of Columbia Circuit. 
According to the White House, Childs served as a state court trial judge on the South Carolina Circuit Court from 2006 to 2010. She was also a commissioner on the South Carolina Workers' Compensation Commission from 2002 to 2006. She served as the deputy director of the Division of Labor at the South Carolina Department of Labor, Licensing and Regulation from 2000 to 2002. 
From 1992 to 2000, Judge Childs was an associate and then partner at the law firm of Nexsen Pruet, LLC in Columbia, South Carolina.
Childs received her L.L.M. in Judicial Studies from Duke University School of Law in 2016. She received both her J.D. from the University of South Carolina School of Law and her M.A. in Personnel and Employment Relations from the University of South Carolina School of Business in 1991. Judge Childs received her B.A., cum laude, from the University of South Florida in 1988.
The Associated Press contributed to this report.