Former NFL quarterback Bernie Kosar sounds alarm on threat of brain injuries after 100+ concussions: 'Tragic'
Former Cleveland Browns quarterback Bernie Kosar spoke out on the threat of traumatic brain injuries and chronic traumatic encephalopathy (CTE) after suffering more than 100 documented concussions, calling the trend being seen among former NFL players, young football players and military service members is "incredibly tragic."
Kosar played 12 seasons in the NFL and has endured dozens of surgeries to treat concussions and broken bones. As a result of his injuries, the former footballer said he experienced seizures and took numerous medications during his treatment. 
Kosar said he was proud to be sitting down for an interview on "America's Newsroom" after what he's been through. 
CONCUSSION CONTROVERSY: TRAUMATIC BRAIN INJURY GETS MORE ATTENTION AFTER NFL PLAYER INCIDENT
"We had been attempting to do this interview a half-dozen years ago," he said Wednesday. "I was on probably 50-plus pills for 25 plus years – this whole century – trying to figure out a protocol and options that allow me to have a healthy lifestyle where I'm able to articulate, enunciate and communicate multiple syllable words. It wasn't always like that."
Chris Nowinski, CEO of the Concussion Legacy Foundation, told 'America's Newsroom' that the sport of football needs to be changed in order to prevent future generations of athletes from getting CTE. 
According to the Alzheimer's Association, CTE is "a progressive and fatal brain disease associated with repeated traumatic brain injuries (TBIs), including concussions and repeated blows to the head." CTE has also been linked to the development of dementia later in life.
HEAD INJURY ASSOCIATED WITH DOUBLED MORTALITY RATE, 30-YEAR STUDY REVEALS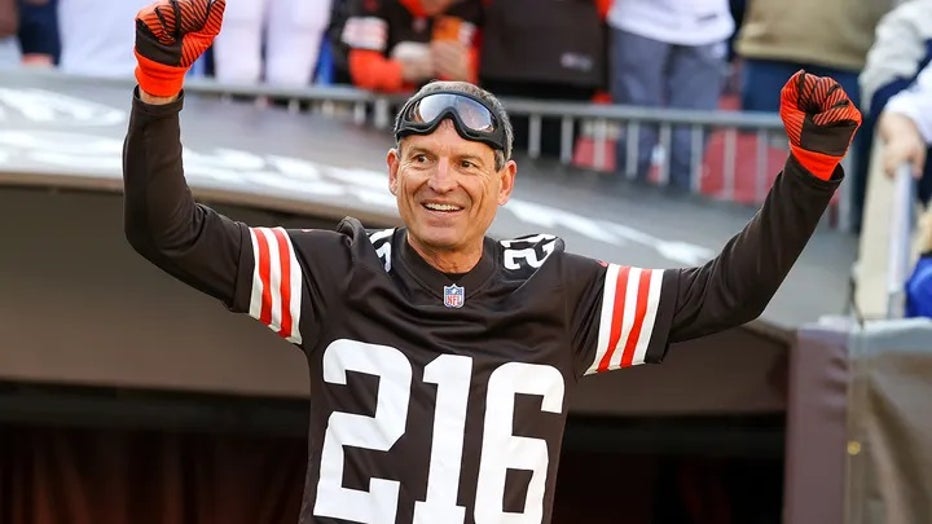 Cleveland Browns all-time great quarterback Bernie Kosar is introduced to the fans prior to the National Football League game between the New England Patriots and Cleveland Browns on October 16, 2022, at FirstEnergy Stadium in Cleveland, OH. (Frank J
Nowinski said that 15 years of focusing on the impact of concussions on the brain led him to a different conclusion. 
"It turns out it's not concussions that are causing CTE. It's the repetitive hits, and it's both the number of them and the strength of them," he explained. 
"And that means if we want to prevent CTE in current players and the next generation, we need to change how we practice, how we play, and how early kids start getting hit in the head hundreds of times a year."
FORMER WRESTLING SUPERSTAR SAYS HE HAS 'SEVERE BRAIN TRAUMA'
Nowinski said the average G-Force per hit experienced by high school players is similar to a car accident at 30 miles-per-hour. 
"It's not a small hit," he said, noting that even the effect of smaller hits will add up over time. 
Nowinski said he believes the most important change that needs to be made to prevent CTE is the age at which young players are allowed to play tackle football.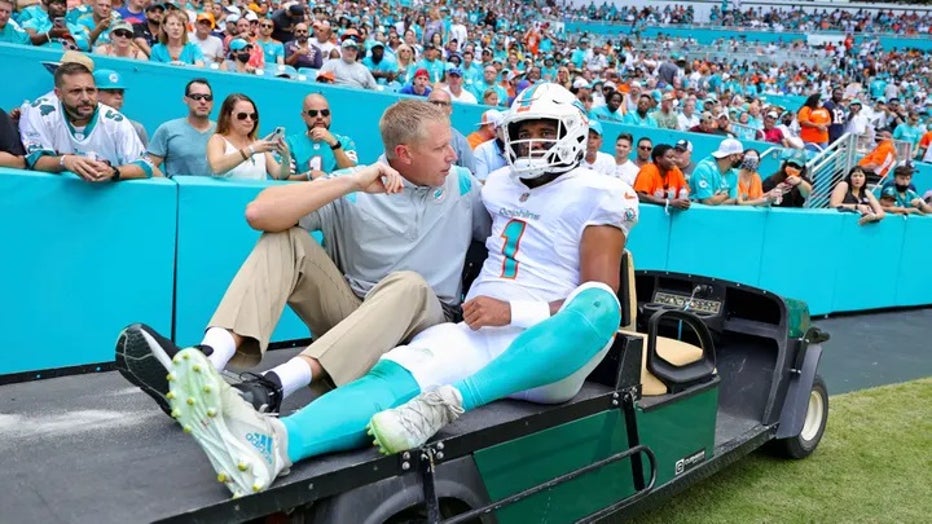 Miami Dolphins quarterback Tua Tagovailoa (1) is assisted off the field during the first half of an NFL football game against the Buffalo Bills, Sunday, Sept. 19, 2021, in Miami Gardens, Fla. 
"There's actually a bill in the state of New York that would ban youth tackle football participation before 12 and force kids to convert into flag football because it's very clear that in flag football you don't get these repetitive hits," he said. "We would never expect to see CTE come out of a flag football player." 
"We need to change how we play football," Nowinski urged.
Kosar said he's proud to see media outlets addressing the serious side effects that years of repeated impacts can have on athletes' brains. 
"Being able now to try to bring awareness for this for guys like myself to try to come out the other side of it is something like I'm really proud to be seeing," Kosar said.