Aspartame sweetener used in Diet Coke, some chewing gum, may be deemed 'possibly carcinogenic': Report
article
Aspartame – one of the most common artificial sweeteners in the world – is slated to be declared a possible carcinogen by the World Health Organization's (WHO) cancer research agency next month, according to a report. 
In July, the sugar substitute will be listed as "possibly carcinogenic to humans" by the International Agency for Research on Cancer (IARC), sources familiar with the matter told Reuters. 
Aspartame – which is 200 times sweeter than table sugar – is found in several products, including Coca-Cola diet sodas, sugar-free Ricola cough drops and certain sugar-free Extra chewing gum products. It is also sold as a tabletop sweetener under the brand names Equal, Nutrasweet and Sugar Twin. 
SUGAR SUBSTITUTES NOT ADVISED FOR WEIGHT LOSS OR DISEASE PREVENTION, SAYS WORLD HEALTH ORGANIZATION
The ruling by IARC, which was finalized earlier this month, is to help determine whether the substance is a potential hazard. 
The U.S. Food and Drug Administration (FDA) first approved aspartame in 1974 for use as a tabletop sweetener and in various products. Since then, the FDA has approved aspartame for other uses, including as a general-purpose sweetener in 1996. 
Aside from people who have a rare genetic disorder called phenylketonuria (PKU), the FDA had concluded that aspartame – which is one of the most studied food additives in the human food supply – "is safe for the general population when made under good manufacturing practices and used under the approved conditions of use," according to its website.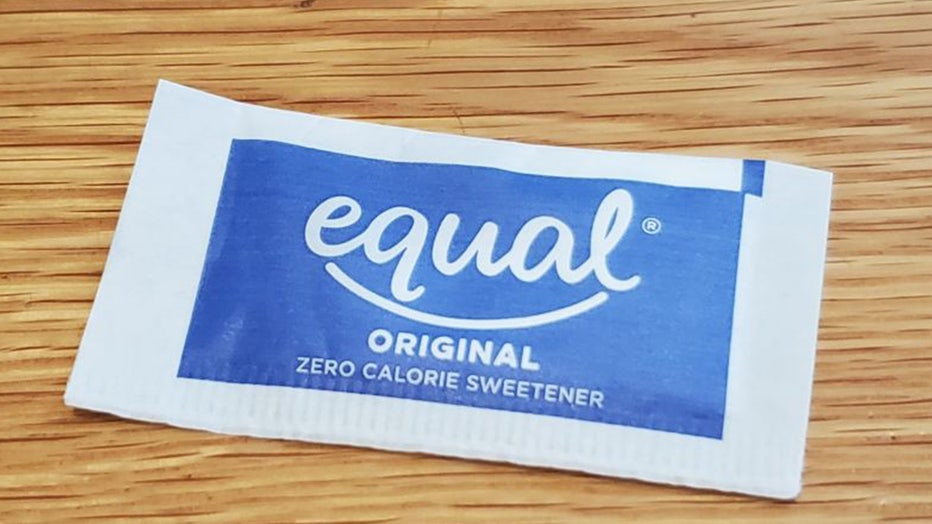 FILE - Close-up of blue colored packet of Equal brand zero-calorie sweetener. (Smith Collection/Gado/Getty Images)
BYPRODUCT OF SUCRALOSE, A CHEMICAL IN SPLENDA, FOUND TO CAUSE 'SIGNIFICANT HEALTH EFFECTS' IN NEW STUDY
The FDA says it also continues to monitor the scientific literature for any new information on aspartame. 
"We stay abreast of published literature and the current level of consumer exposure and participate in international scientific and standard-setting activities related to food ingredient safety," the FDA said on its website. "Other regulatory agencies have evaluated aspartame, and it is approved in many countries."
GET FOX BUSINESS ON THE GO BY CLICKING HERE
Alongside the IARC, the Joint WHO and Food and Agriculture Organization's Expert Committee on Food Additives (JECFA) is also reviewing the use of aspartame this year, according to Reuters. 
The JECFA is set to announce its findings on July 14, the same day that the IARC makes its decision public, the outlet reported.