'Angel Cop': Skid Row officer gets HGTV home makeover after serving community for twenty years
LOS ANGELES - At a time when our first responders are on the front line in the coronavirus crisis, one LAPD police officer goes home each night to a little piece of paradise. Deon Joseph and his family received an HGTV Extreme Home Makeover.
Construction happened this summer with the season finale celebrating heroes airing Sunday, April 5th at 8 p.m.
RELATED: Angel cop pens memoir on working Skid Row
The timing, however, couldn't be more perfect. Joseph is a veteran officer who's worked LA's Skid Row for twenty years. Now he's working with the homeless population he so loves and encouraging them to seek shelter and city housing during this pandemic.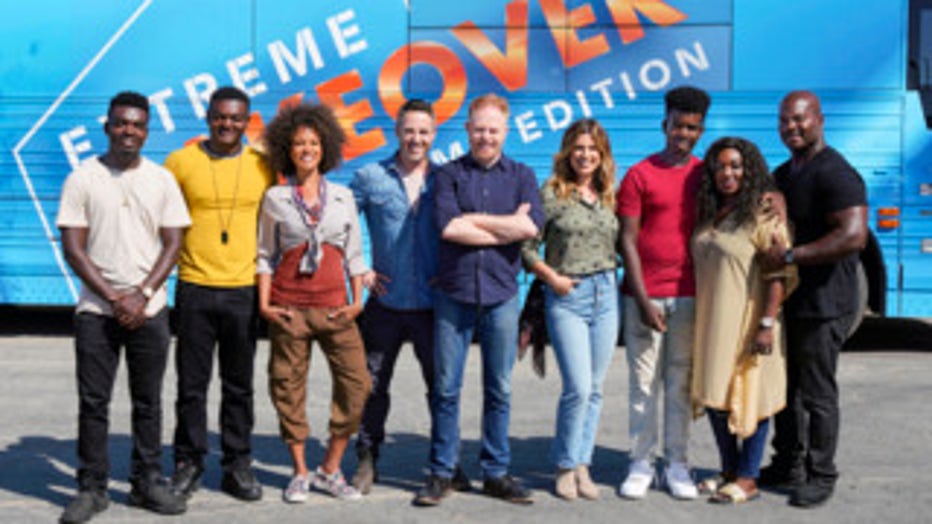 Joseph's good works and love of community earned him that home makeover by HGTV. He's been called the "Angel Cop" of Skid Row. A woman who was once homeless was among the volunteer construction team backed by actor Jesse Ferguson of Modern Family.
Get breaking news alerts in the FOX 11 News app. Download for iOS or Android.
Joseph, his wife Tosha and their three sons living in Long Beach. It's a three-bedroom home, 1600 square feet. HGTV knocked out walls, opened up the kitchen, and added storage space. The Joseph's have lived here for about eighteen years.
RELATED: CoronavirusNOW.com, FOX launches national hub for COVID-19 news and updates.
To hear from Officer Joseph on what it is like to work Skid Row during the pandemic see the Zoom interview with Christine Devine below.
HGTV says "Deon and his wife Tosha, and their three sons do everything they can to give back and help others, but in doing so, their own house has become run-down and neglected." During construction, the family got "a spa-like retreat."
Episode 10 of Extreme Makeover Home Edition is called "To Protect, Serve and Move That Bus."