An exclusive look at Sports Illustrated's limited edition tribute to Kobe Bryant
CHICAGO - Sports Illustrated gave FOX 11 an exclusive look at their newest magazine with Kobe on the cover. This publication will be given to everyone who attends the NBA All-Star game in Chicago this weekend.  
On the cover, you can see a photo of Kobe Bryant from the 2001 NBA All-Star game as he's about to dunk the basketball while wearing his #8 jersey.  

Get breaking news alerts in the FOX 11 News app. Download for iOS or Android.
The wording on the magazine reads, "An All-Star Legacy" followed by "Bryant skied for 19 points in the NBA's 2001 midseason classic, one of his 18 All-Star selections."
In the magazine, there are firsthand accounts by Magic Johnson, basketball executive and former player Jerry West, as well as Bryant's former teammate Shaquille O'Neal. 
The magazine is 24 pages long and it's sure to be the most precious keepsake from the All-Star game this year.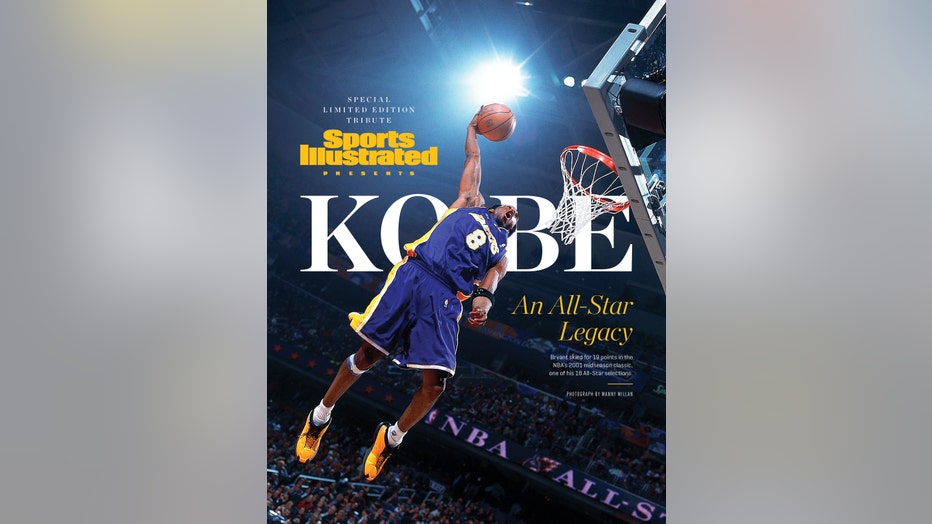 Cover of Sports Illustrated Limited-Edition Tribute for the 2020 NBA All-Star game (used with permission)
A public memorial for Bryant and Gianna, who went by the nickname Gigi, is scheduled at Staples Center for Feb. 24 at 10 a.m. Tickets to the "Celebration of Life for Kobe & Gianna Bryant" will be available to the public through Ticketmaster starting on Wednesday, February 19 at 10 a.m. Pre-registration for tickets to the event began on Friday.
RELATED: Kobe, Gianna Bryant public memorial: Preregister now, tickets to Staples Center event on sale Wednesday

Tickets to the public memorial will be priced at $224 each, two for $224 and $24.02 each, depending on their location. Proceeds for the ticket sales will benefit the Mamba & Mambacita Sports Foundation.Bryant and Gigi were laid to rest during a private ceremony on Friday, Feb. 7 at Pacific View Memorial Park and Mortuary in Corona Del Mar, California, according to their death certificates.
RELATED: News related to the life and death of NBA legend Kobe Bryant