Agreeing at last: Congress sends tax, spending bill to Obama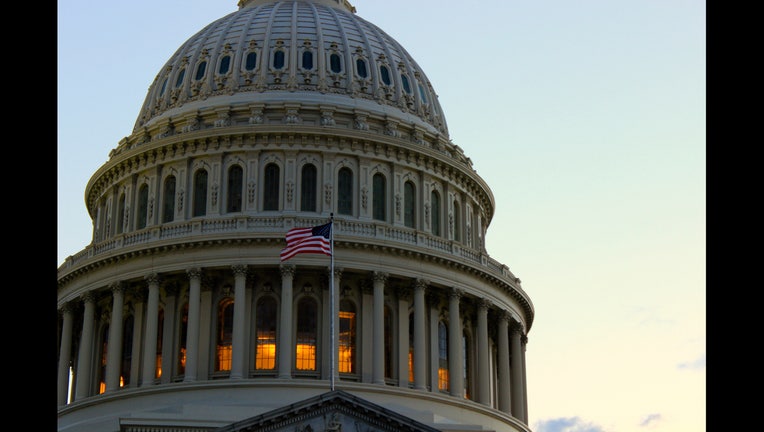 article
WASHINGTON (AP) - Congress ended its chaotic year on a surprising note of bipartisan unity and productivity Friday, overwhelmingly approving a massive 2016 tax and spending package and sending it to President Barack Obama, who promptly signed it.
Obama welcomed the sprawling legislation, a rare compromise product of the divided government. It includes something for nearly everyone, from parents and teachers to Big Oil and small business, from 9/11 first responders to cybersecurity hawks and more.
"There's some things in there that I don't like, but that's the nature of legislation and compromise, and I think the system worked," the president said at his year-end news conference at the White House before traveling with his family on their annual vacation to Hawaii. "It was a good win."
The legislation pairs two enormous bills: a $1.14 trillion government-wide spending measure to fund every Cabinet agency through next September, and a $680 billion tax package extending dozens of breaks touching all sectors of the economy, making several of them permanent and tossing the entire cost onto the deficit.
Republicans and Democrats joined to approve the spending bill on a resounding 316-113 vote in the House, a day after passing the tax bill. The unexpectedly large margin was a victory for new Speaker Paul Ryan, who saw a majority of his GOP lawmakers back the legislation despite complaints by frustrated conservatives whose priorities were ignored.
Not long after, the Senate voted 65-33 to send the entire package to Obama's desk, and lawmakers began rushing out the Capitol's exits to catch flights back home with Congress adjourning until January.
On Capitol Hill, it was a harmonious conclusion to a wild 2015 that was driven largely by tea party lawmakers pushing for showdowns with Obama on immigration, Planned Parenthood and the president's health law. They never achieved their principal goals even with the Senate newly under GOP control, but along the way they forced out Ryan's predecessor, John Boehner, and nearly shut down the Homeland Security Department.
On Friday several hardliners expressed disappointment over a year that ended with passage of a spending bill funding many of Obama' priorities while excluding their own, including curbs on Syrian refugee resettlement in the U.S.
"The product we're delivering this year is awful," groused GOP Rep. Dave Brat of Virginia.
Several of the GOP presidential candidates in the Senate were among those opposing the legislation, though Sen. Marco Rubio of Florida didn't show up to vote. Sens. Ted Cruz of Texas and Rand Paul of Kentucky voted "no."
Yet few conservatives were complaining about Ryan himself, and many lawmakers, Republicans and Democrats alike, proudly touted the accomplishments achieved since the new speaker was sworn in, including bipartisan bills on highways and education and a two-year budget and debt deal that paved the way for Friday's spending and tax legislation.
"Truly historic," Senate Majority Leader Mitch McConnell, R-Ky., boasted on the Senate floor as he and Congress' other top leaders of both parties took turns claiming credit for the holiday-season largesse.
Ryan himself told reporters he fielded a congratulatory call from Obama who thanked him for keeping government working and invited him to dinner at the White House in the new year.
The Democratic leaders, Nancy Pelosi of California in the House and Harry Reid of Nevada in the Senate, complained about a provision lifting the four-decade-old ban on exporting crude oil and the legislation's failure to address Puerto Rico's fiscal woes, which Ryan pledged to tackle next year instead.
But they boasted of using their leverage, veto threats from Obama and the GOP's craving for the oil export ban to extract numerous concessions from Republicans, including five-year extensions of solar and wind tax credits, a top goal for Reid. And they blocked numerous policy "riders" Republicans sought on the environment and other issues.
"They wanted big oil so much that they gave away the store," Pelosi gloated.
The spending measure awards increases of about 6 percent, on average, above tight spending caps that were a relic of a 2011 budget and debt deal, and were opposed by both GOP defense hawks and Democrats seeking boosts in domestic spending. It contains large spending boosts for veterans and medical research.
The bill extends more than 50 expiring tax cuts, with more than 20 becoming permanent, including credits for companies' expenditures for research and equipment purchases, and reductions for lower-earning families and households with children and college students.
Ryan cited the lifting of the oil export ban, the large increase for the Pentagon and curbs on the activities of the Environmental Protection Agency and the IRS as wins for Republicans.
Also crammed into the two bills are provisions trimming some of the taxes that help finance Obama's prized 2010 health care overhaul, including two-year suspension of a tax on medical devices and, in a victory for unions, a two-year postponement of a "Cadillac tax" on higher-cost insurance policies.
The legislation includes an overhaul of the International Monetary Fund backed by Obama, and a cybersecurity bill encouraging companies to share cyber threat information with the government. In place of language on Syrian refugees there's a bipartisan provision tightening controls on visa-free travel to the U.S.
And a health and compensation fund for 9/11 first responders is funded and extended.