Aaron Carter's twin sister Angel blames 'fame and money' for his battle with addiction
Aaron Carter's twin sister Angel is speaking out about her brother's devastating and sudden death.
She opened up about how Aaron "fought to the end" during his battle with addiction and how they grew up in a toxic family environment surrounded by alcohol.
"Fame and money took over our family," Angel shared during an interview with People. "Aaron was already in a bad place, but it was like a domino effect."
The singer died in November at the age of 34 after he drowned, according to the Los Angeles County Department of Medical Examiner-Coroner.
The "effects of difluoroethane and alprazolam" were listed as contributing factors in his death. Difluoroethane is an aerosol propellant found in spray cans, and alprazolam is commonly referred to as Xanax.
RELATED: 
Aaron publicly struggled with addiction throughout his life and previously admitted his sister Leslie, who died from an overdose in 2012, introduced him to huffing, the practice of inhaling fumes from household items.
In August 2019, Aaron took to social media to post videos of himself with the guns he owned, which caused concern from his family, especially his twin sister.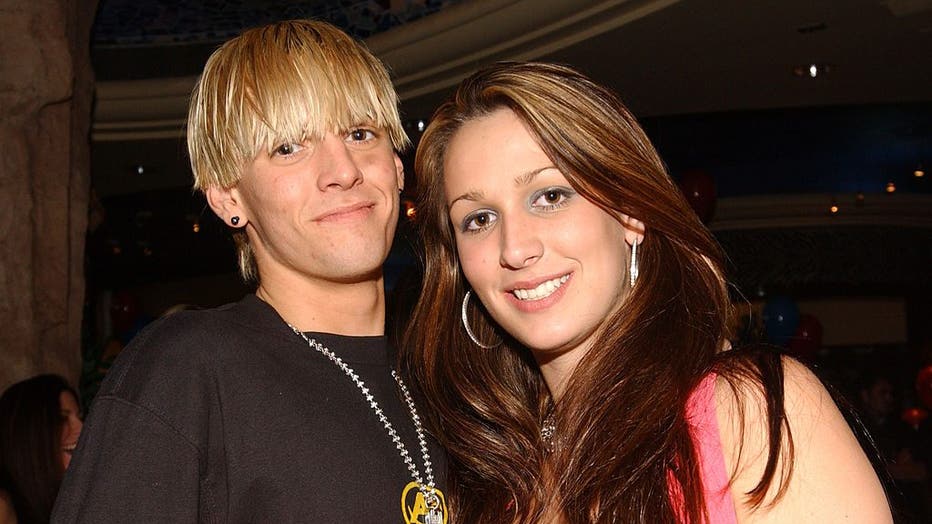 Aaron Carter and Angel Carter at the Planet Hollywood in Las Vegas, Nevada (Photo by Denise Truscello/WireImage)
Aaron additionally shared videos of himself surrounded by weapons and inhaling gas canisters while telling his fans how he thought his family was going to kill him, according to the media outlet.
"I just kept waiting for him to snap out of it," Angel explained. "But he never did."
"He wanted so badly to be happy," she added. "He really fought to the end, but he just had too many problems to be fixed. He'd become this person who we no longer recognized. I don't even think he recognized himself."
After Aaron's death, their mother Jane shared disturbing photos of the bathroom where his body was found on her Facebook page. At the time, Jane insisted Aaron's death be further investigated as a possible homicide.
The photos show the bathtub where Aaron was found, still filled with water tinged green, seemingly from the decomposition, as well as towels and clothes laid across a messy floor.
"It was a true invasion of privacy and something that Aaron would've never wanted the public to see," Angel, who hasn't spoken to her mother since, explained. "Aaron dying was the worst possible outcome for all of us. My brother deserves to be here."
Angel added that their childhood was "filled with emotional abuse, dysfunction and addiction."
"I want Aaron's legacy to be more than those final years of his life," Angel said.
Aaron is survived by his 1-year-old son, Prince, with fiancée Melanie Martin.
Carter, the younger brother of Backstreet Boys member Nick Carter, rose to fame at age 9 after releasing his self-titled debut album in 1997.  
His follow-up album, 2000's "Aaron's Party (Come Get It)," sold over 3 million copies in the U.S. and produced several hit singles, including the title song, "I Want Candy" and "That's How I Beat Shaq."