A New California: Habits developed at grocery stores during pandemic could be here to stay
LOS ANGELES - One of the few places we're allowed to go during the coronavirus crisis is the grocery store.
But the shopping experience has changed dramatically in our new social distancing era.
Are the changes here to stay in "A New California?"
"Some of the habits we've developed are going to be with us to stay," says Ron Fong, President and CEO of the California Grocers Association.
Fong says one of those habits we can continue to expect is the extra cleaning and sanitization stations you may have noticed at your grocery store.
But what about the one-way aisle system many stores have adopted? Fong thinks this practice will fade in the post-pandemic world and we can look forward to what we know: two-way shopping.
As for maintaining social distancing practices, Fong anticipates those habits will remain, even as Covid-19 becomes less of a concern.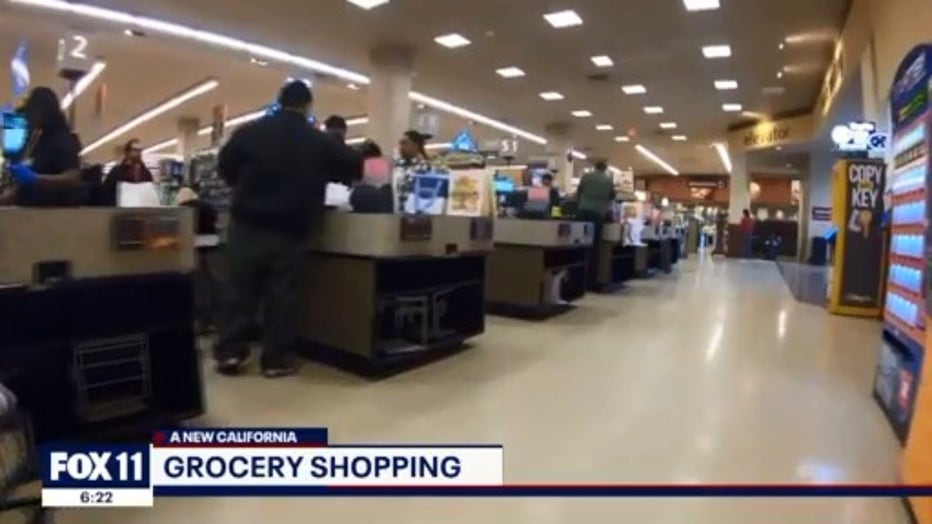 In fact, Fong shares a good tip to help maintain six feet from others explaining that a grocery cart measures three feet so "times that by two and you've got your distance," Fong says.
What about the future of wearing masks and the plexiglass at the checkout stands?
RELATED: Stay up to date on all coronavirus-related information
Fong has an answer for that: "Our employees feel comfortable when they're behind a barrier. I see that as a medium to long term fix that may stay there for awhile.  Masks are mandated by many county and cities so you have to wear a mask to go to the grocery store, but when the orders go away, I see the masks going away."
Fong says the surreal experience of waiting in line to get into the grocery store is a short-term reality, as is the trend of overbuying.  
"If you don't overbuy, your Clorox wipes will come back; your beans and your rice will come back; and we'll get back to a near normal shopping pattern, at some point," reassures Fong.
Get breaking news alerts in the FOX 11 News app. Download for iOS or Android.