2nd annual 'War Heroes on Water' sportfishing tournament to benefit combat-wounded veterans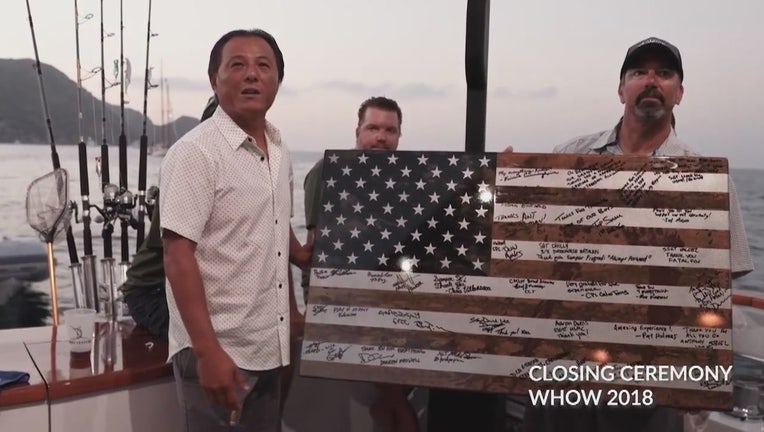 LOS ANGELES - "War Heroes on Water" brings together combat veterans with sports fisherman for days of fishing along the beautiful Southern California coast. The event gives fishermen the opportunity to show their great appreciation to veterans for serving our country.
The Second Annual War Heroes On Water Sportfishing Tournament (W.H.O.W.) to be held on August 15-18, 2019 in Southern California waters. Organized by a local business owner in coordination with the nonprofit veterans association, Freedom Alliance (www.FreedomAlliance.org), this event will host 45 combat-wounded U.S. military heroes on a once-in-a-lifetime adventure aboard 18 of Southern California's top private sportfishers, generously donated by local yacht owners.
WHOW is an annual event conceptualized by Orange County-based loanDepot's Chairman and CEO, Anthony Hsieh, who is also owner and leader of Team Bad Company, a world-class competitive sportfishing fleet. Hsieh drew inspiration for the tournament after hosting several groups of wounded vets on fishing excursions and teamed up with Freedom Alliance to start an annual event. The inaugural WHOW in 2018 saw a fleet of 12 yachts host 27 vets and collected enough corporate and community donations to cover all expenses and provide proceeds to support yearlong veteran programs through Freedom Alliance, which identifies individuals in need across the country through peer-to-peer networking.
"This event is an opportunity to give back to people that are true American heroes, people who have made the ultimate sacrifice so that the rest of us can live free and achieve the American dream," said Hsieh. "War Heroes on Water will not be about any individual or any group – our only focus will be showing these heroes our greatest respect and making sure that they have the time of their lives, having a blast with the sport we all love."
Public donations are being accepted through www.warheroesonwater.com to support the veterans. Honorary entry into the WHOW Tournament is also available to any boater, who will be invited to proudly fly the tournament flag throughout the weekend to show support.
"WHOW has quickly become Freedom Alliance's premier event of the year, and we're going to be able to do more and help more through contributions to this awesome cause," said Josh Miles, U.S. Marine Corps Retired Gunnery Sergeant and Director of Military Programs at Freedom Alliance. "Please join us in the fight to never leave anybody behind—you can make a true impact on the lives of combat veterans."
Following a private kick-off party on Thursday evening, the veterans will board their assigned yachts on Friday morning in Alamitos Bay, Newport and Dana Point and meet up at Catalina Island Friday evening at the historic Tuna Club of Avalon. Saturday morning the fleet will gather in Avalon Harbor for rendering of the National Anthem then start fishing. The Tournament will conclude Sunday evening with an awards dinner back at the Tuna Club of Avalon.
"In this tournament, everyone comes away a winner. It's about bringing battle buddies together to have one last hurrah and coming together as a community to give back to America's heroes," said Rod Halperin, WHOW Tournament Director.
For more information on the event and helping our veterans, you can check out warheroesonwater.com.