13-year-old arrested for beating another student at middle school in Menifee
RIVERSIDE COUNTY, Calif. - A 13-year-old student at Ethan Chase Middle School in Menifee was arrested following a school fight. 
Menifee police confirm the teen is being investigated on suspicion of assault. The fight occurred Monday during nutrition break; the student was arrested the following day. 

One of the students involved in the fight was taken to the hospital by their family for a medical evaluation.
His parents, who explain the boy is on the autistic spectrum, say his injuries include a fracture under his eye bone.
Other parents say student fighting has been a problem for some time now. Several parents told FOX 11 that they have gone to school officials asking them to get involved. Majority of the fights occur at nearby schools and have been filmed and uploaded to social media.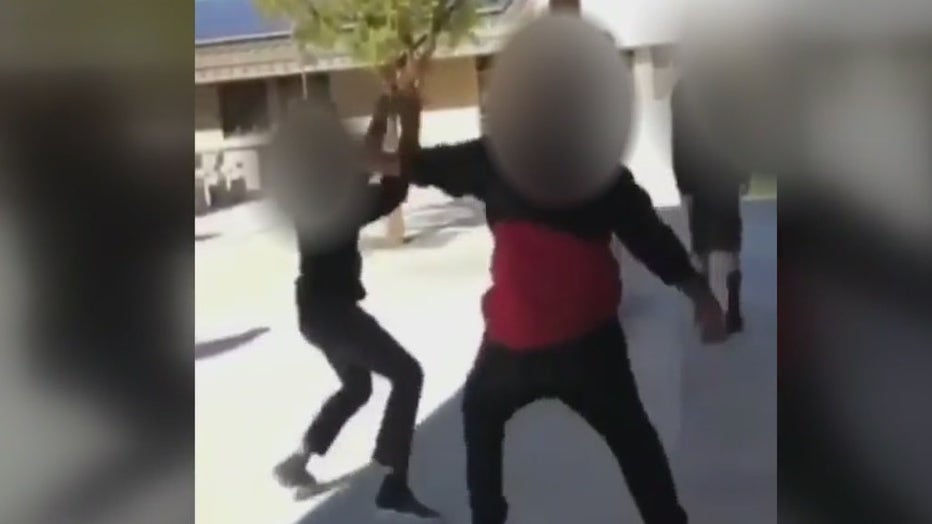 Madison Arreola, with the Romoland School District, released the following statement,
"An altercation occurred between two students on campus at Ethan A. Chase Middle School on Monday, October 25, 2021. The incident occurred during the students' nutrition break. School administrators investigated the incident and disciplinary action was taken. 

After leaving campus, one of the students involved was taken to the hospital by their family for a medical evaluation. The incident was then reported to the Menifee Police Department (MPD) and an arrest was made on Tuesday, October 26, 2021. The MPD investigation is currently ongoing. 

An increased campus security presence has been provided to the school site. Understandably, the display of violence upsets our entire community. It is important to stress with our students that violence will not be tolerated. Harsh words and insults are the catalysts for most confrontations. All of us have a responsibility to prevent violent situations by teaching non-violent problem-solving. 

We appreciate our community's continued support."

Some of the parents who read the statement reacted angrily at the "all of us have a responsibility" part, saying the school should apply that to their staff.
Another student reported that other students were stabbing voodoo dolls on campus and posting videos of it online.
"Someone is going to get killed" says one exasperated father who says he is taking his child out of the school district. Many other parents said they agree.
Get your top stories delivered daily! Sign up for FOX 11's Fast 5 newsletter. And, get breaking news alerts in the FOX 11 News app. Download for iOS or Android.
Tune in to FOX 11 Los Angeles for the latest Southern California news.