Tropical Storm Bret forms in Atlantic, becoming 2nd named storm of 2023 hurricane season
Tropical Storm Bret formed in the Atlantic Ocean on Monday and became the second named storm of the 2023 Atlantic hurricane season.
On Monday, Tropical Depression Three strengthened enough to become Tropical Storm Bret, reaching winds of 40 mph. A tropical storm is a tropical cyclone that has maximum sustained winds between 39 and 73 mph.
The National Hurricane Center (NHC) has been closely monitoring this system, which entered the Atlantic Ocean from Africa last week. The NHC previously dubbed this disturbance Invest 92L before it became Tropical Depression Three on Monday morning. An invest is simply a designation used by the NHC to identify an area of weather that is being investigated for possible tropical development.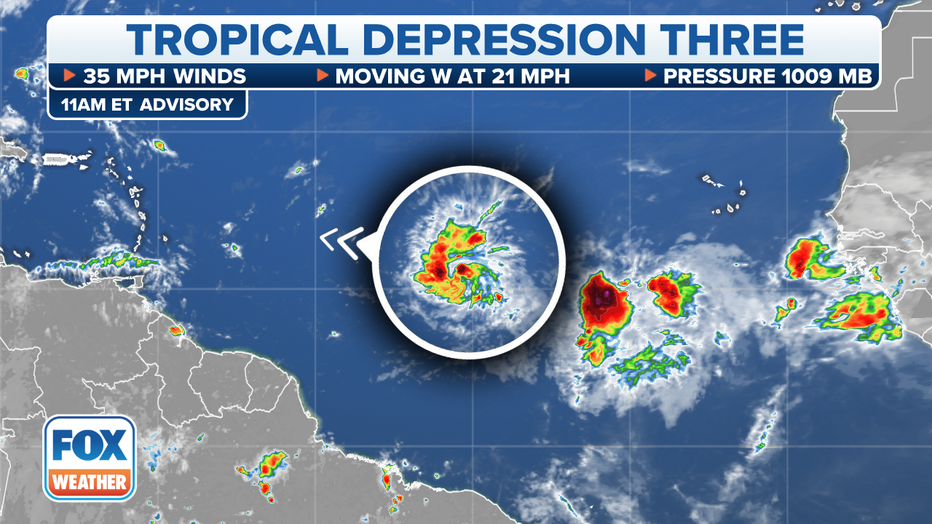 The current status of Tropical Depression 3.(FOX Weather)
Hurricane season officially began on June 1. The first named storm doesn't typically form until June 20, according to the NHC.
Arlene, the first named storm of the 2023 Atlantic hurricane season, formed on June 2.
HOW TO PREPARE FOR HURRICANE SEASON
Where is Bret?
Bret is currently in the central Atlantic, located several hundred miles southwest of the Cabo Verde Islands.
The tropical storm is expected to continue to travel westward over the open Atlantic Ocean.
2023 ATLANTIC HURRICANE SEASON GUIDE: HERE'S WHAT YOU NEED TO KNOW ABOUT THIS YEAR'S STORMS
What is the forecast for Bret?
The NHC says strengthening is forecast, and Tropical Storm Bret is expected to become Hurricane Bret by Wednesday.
HERE ARE THE HURRICANE NAMES FOR THE 2023 ATLANTIC SEASON
Tropical Storm Bret is expected to continue to move west for the next several days. On the forecast track, Bret should approach the Lesser Antilles later this week.
Stay with Hurricane HQ on FOX Weather for the latest information on Tropical Depression Three. Read more of this story from FOX Weather.