Safari West founder stays behind in wine country fire evacuations to save animals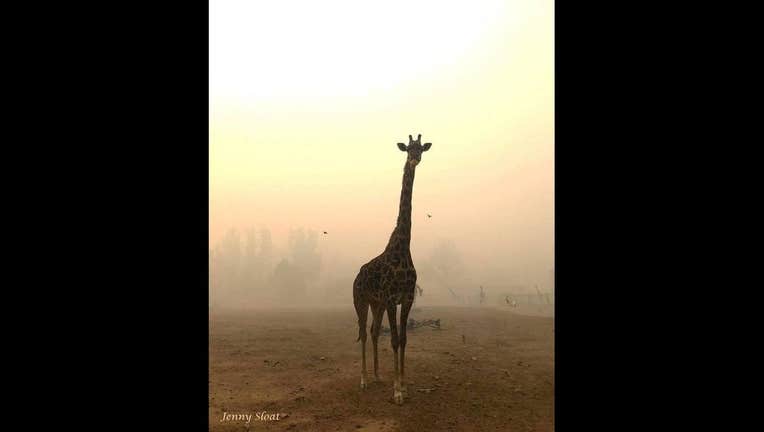 article
SONOMA COUNTY, Calif. (KTVU) - The founder of Safari West is being praised as a hero after staying behind to save the animals on his preserve while his home burned to the ground.
When Safari West, which is a 400 acre animal preserve, was evacuated Sunday night employees scrambled to save what animals they could. The Oakland Zoo tells KTVU they loaded the animals, mostly birds, into their vehicles but had to leave the bigger animals behind.
The Press Democrat reports 77-year-old founder Peter Lang opted to stay behind with the animals. "I have a thousand souls I'm responsible for," he told the Press Democrat.
He worked through the night, at one point stringing 10 garden hoses together, to put out flames that were creeping closer to animal enclosures.
His home burned to the ground while he was working overnight to protect his animals, according to reports.
According to the report, he put out small fires at the preserve as hot embers landed on the ground.
He reported he didn't lose any animals in the fires.
Safari West posted on his Facebook page, "we were able to get some core staff back on site to tend to animals and deal with some of the damage. We are still working to assess the situation and won't have a full idea of where things stand for some time. Towards the end of the day we evacuated most of our personnel back beyond the fire lines. Tonight a skeleton crew including some keepers and a veterinarian will continue to tend to the animals and do what they can to defend the preserve. At this point our fences are still intact with all animals contained, accounted for, and safe."
Safari West is not in the clear yet. Since the fire is zero percent contained and the conditions are constantly changing they're worried to fire could creep onto their property again.
Peter and his wife Nancy have been offered donations for Safari West. They generously want the donations redirected, "rather than raising money on their behalf, you focus your attentions on the greater Safari West family and the fire-affected community at large." However, someone did start a Gofundme for Safari West if you would like to donate.