Hurricane Norma makes landfall near Mexico's Cabo San Lucas as a Category 1
Hurricane Norma made landfall Saturday as a Category 1 cyclone along Mexico's Baja California coast, bringing angry seas, flooding and wind gusts of more than 75 mph.
The once Category 4 hurricane weakened substantially before landfall which helped spare communities around Cabo San Lucas from more extensive damage.
Flooding from rainfall was reported around the peninsula as at least four inches of precipitation had fallen over the last few days.
A restaurant remains closed due to the arrival of Hurricane Norma at Los Cabos in Baja California State, Mexico, on October 20, 2023. Hurricane Norma on Friday once again strengthened to a Category 3 storm as it approaches a tourist hotspot on Mexico's Pacific coast. The hurricane -- which at one point was a Category 4 out of five on the Saffir-Simpson scale -- is now packing maximum sustained winds of 195 kilometers per hour (120 miles per hour), the US National Hurricane Center said in its latest update. It had been a Category 2 storm earlier in the day. (Photo by JOEL COSIO / AFP) (Photo by JOEL COSIO/AFP via Getty Images)
An elevated weather station in the hills overlooking Cabo San Lucas reported multiple gusts over 90 mph with a peak a gust of 102 mph and several retail centers near the coast were closed to due the hazardous weather.
CAN TROPICAL CYCLONES MAKE IT ACROSS THE ENTIRE PACIFIC OCEAN?
What's left of the hurricane continues to weaken as a result of cooler waters and land interaction but is expected to reemerge in the Gulf of California as a tropical storm.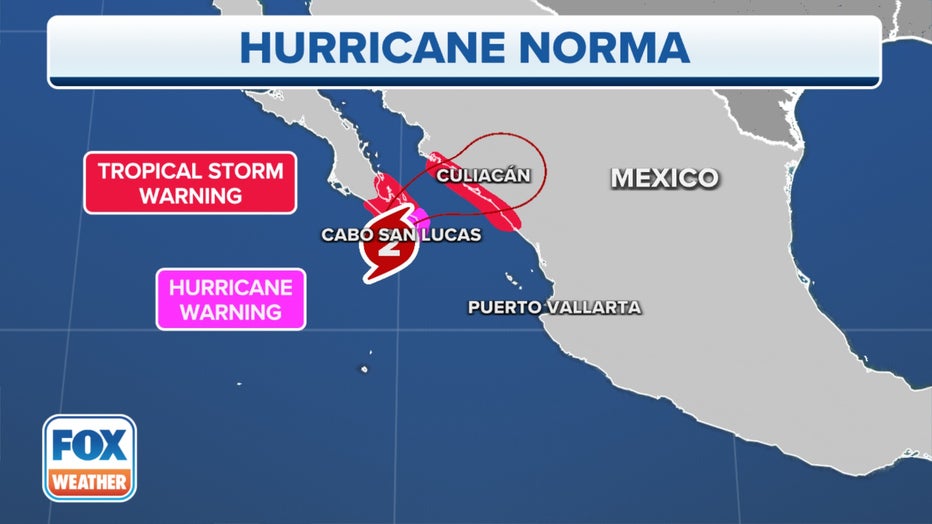 A look at the current watches and warnings issued for Hurricane Norma. (FOX Weather)
Tropical Storm warnings have been issued by the Mexican government for coastal communities in the state of Sinaloa.
Forecasters expect a secondary landfall could take place before the weekend is up near south of Los Mochis but restrengthening is not anticipated. 
DEADLY HURRICANE LIDIA BECOMES ONE OF MEXICO'S STRONGEST LANDFALLING PACIFIC HURRICANES
Rainfall totals were forecast to reach 5–10 inches, with spots around Cabo San Lucas receiving as much as a foot, according to the NHC.
The heavy rainfall triggered local authorities to move pumps to low-lying areas to help protect infrastructure and keep road closures minimal.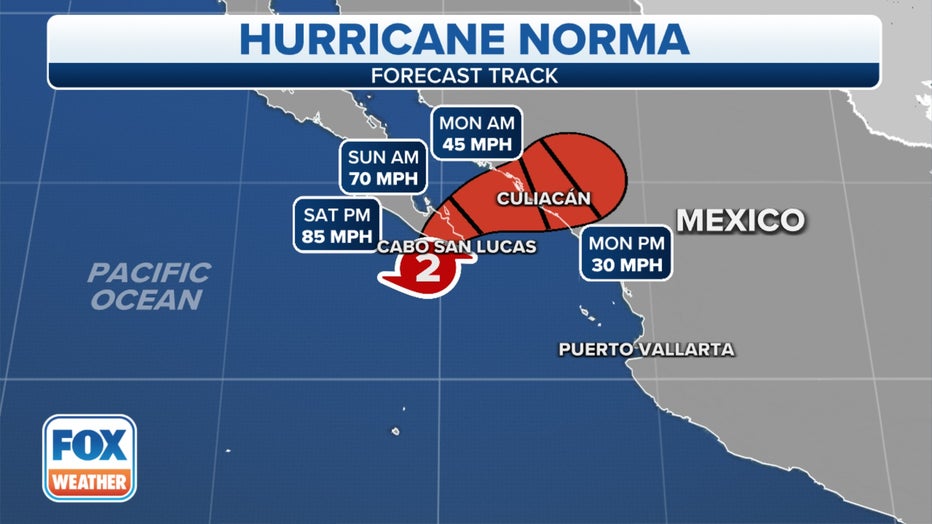 The forecast cone for Hurricane Norma. (FOX Weather)
The government encouraged those in the Norma's path to stay sheltered while the worst of the impacts moved through.
Norma's remnants to eventually soak Desert Southwest, southern Plains
Norma will lose its tropical characteristics Monday after pushing ashore in the mountainous terrain of Sinaloa, but its deep fetch of moisture will live on, pushing into the Desert Southwest early next week and giving the southern Plains a one-two dose of tropical moisture.
"If there's any little baby silver lining in all of this, it's that the remnants of Norman should actually produce some welcomed rain for the Lone Star state of Texas," said FOX Weather meteorologist Michael Estime.
Rainfall is expected to begin in earnest Monday in Texas before spreading northward Tuesday.
REMNANTS OF HURRICANE NORMA WILL HELP BRING DROUGHT RELIEF TO TEXAS, OKLAHOMA
FOX Forecast Center also tracking Invest 91E
Meanwhile, a second tropical disturbance that is several hundred miles southeast of Norma could become the next tropical cyclone in the eastern Pacific.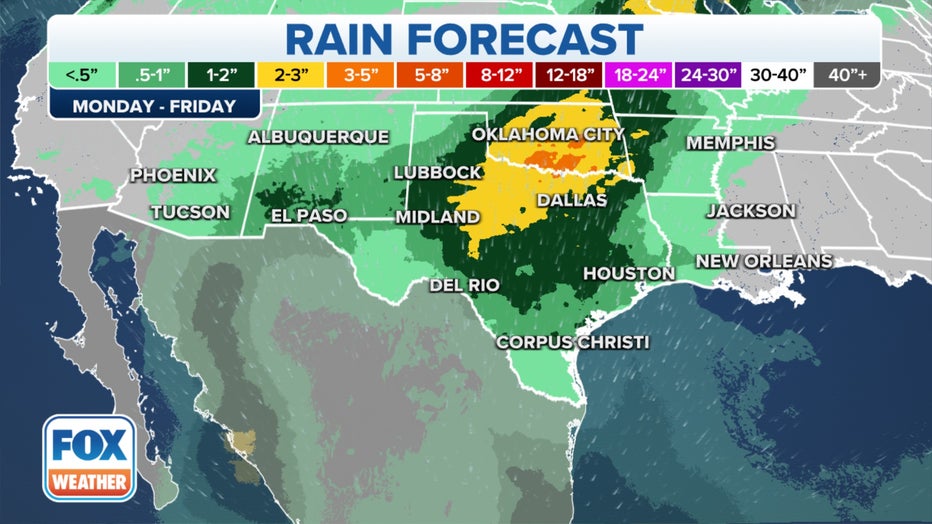 Norma moisture to head into Southern Plains. (FOX Weather)
The NHC has given an area of disturbed weather a high chance of developing over the next few days.

The FOX Forecast Center said due to the system's proximity to the coastline any strengthening should be slow to occur.

If the disturbance organizes into a tropical storm, it would be named Otis.