The Issue Is: Coronavirus and Super Tuesday
LOS ANGELES - This week, new cases of coronavirus have been detected in South Korea, Italy, Iran, the US and 45 other countries; with the threat of a global economic slowdown, the Dow Jones tumbled some 3,600 points, the largest weekly drop ever; and as politicians look to pass the blame, the world is being gripped by fears of a global pandemic.
To put the virus in context, provide advice on staying healthy, and give his policy prescription to world leaders, Dr. Mehmet Oz joins Elex Michaelson for an important conversation.
"It's not as deadly as initially feared," Oz said. "We all have deep in our psyche a fear that our species will be wiped out by an infection... this virus is not it."
However, Oz admitted Coronavirus is incredibly contagious. He claims that while someone with a seasonal flu might infect 10 people, someone with Coronavirus is more likely to infect 45 people in a week - and much of that comes before symptoms are even noticeable.
One reason for that increase, coronavirus lives much longer on everyday surfaces than the seasonal flu does, as long as nine days.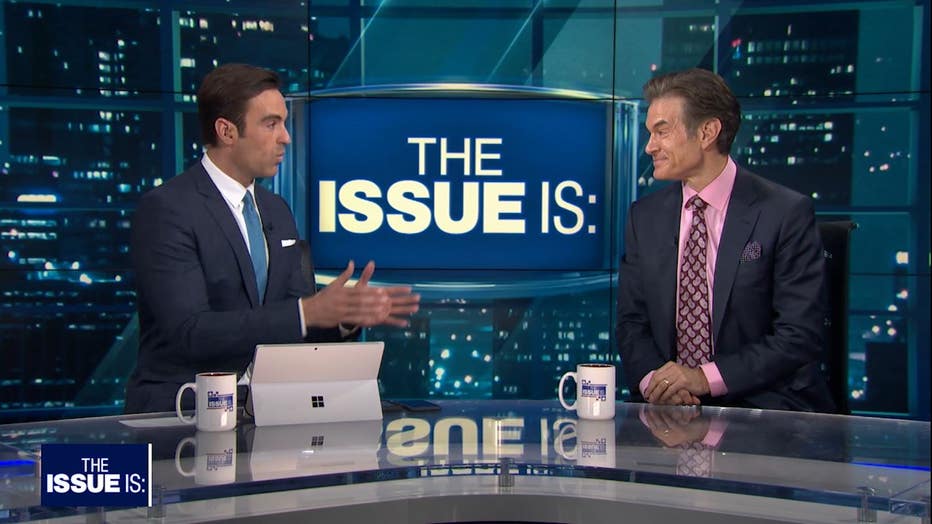 While surgical masks won't protect people, Oz offered three methods of staying healthy while living under the ongoing threat of Coronavirus:
HAND WASHING: However, only 5% of people wash for the recommended 20+ seconds
SLEEP: Helps your immune system recover
DAILY PHYSICAL ACTIVITY: exercise revs up the immune system
From a policy standpoint, Oz said the US government should pour money into testing methods. Alternatively, he questioned the decision of Japan to cancel school and other services, saying there is no endpoint to that strategy, and that such closures only serve to moderately slow the external spread. Those quarantines simultaneously create a massive panic internally.
"In the modern era, we have supportive care to keep you alive, but live your life, do business, travel, do what's important, don't sacrifice your life," Oz said. "We should not be a society that makes decisions based on fear. That's true for politics, that's true in medicine."
----------
From coronavirus, we turn to next week's primaries.
On March 3, voters in 15 states and territories will head to the polls, awarding nearly one-third of the delegates in the Democratic Presidential Primary.
The largest share of those delegates, 415, will hail from California.
This week, as some candidates take their last stands and others jockey for second place, The Issue Is prepares for Super Tuesday.
But first, a look back.
The 2020 Democratic field was the largest in history, some 29 major candidates entering the race. Throughout the primary season, The Issue Is has welcomed most of them, in many cases, multiple times - Senator Sanders and Mayor Buttigieg having appeared three and five times, respectively.
We start with some highlights from the last 18 months, reliving some of the best moments between Elex Michaelson and Sanders, Buttigieg, Mike Bloomberg, Andrew Yang, Kamala Harris, Beto O'Rourke, Amy Klobuchar, Tulsi Gabbard, Jay Inslee, Cory Booker, Deval Patrick, and Tom Steyer.
Making a name for himself on the national stage by rallying millions around the "Need to Impeach," Steyer is looking to justify millions in ad spending with a top-three finish in South Carolina and a solid Super Tuesday showing.
But first, he spoke with Elex, making one last pitch to California voters.
"I am the person in this race who would declare a state of emergency on climate on day one, I'm the only person who takes climate seriously enough to deal with it immediately," Steyer said. "I'm the only person who takes race seriously enough to want to have reparations for slavery. And I'm the only person with the background who takes the economy seriously enough that would give a 10% tax cut to every American who makes under $250,000."
After pumping millions of dollars in advertising into his campaign, Steyer failed to earn a single delegate in the first three state contests. If he is able to make his way through the Democratic primary, his next challenge will be facing off against President Trump.
Trump fired a warning shot on Friday, tweeting:
Steyer's response? "When he tweets at you, the only thing you can say is 'he must be worried about himself.'" This, as Steyer alleged that the Coronavirus was President Trump's Hurricane Katrina.
In a wide-ranging discussion, Steyer also talks about his trademark tie, his love for the Americans he's met on the trail, and says that should Bernie Sanders be the nominee, he would be on the stump, organizing a grassroots movement to get out and vote and help him win in November.
  ----------
Our jam-packed episode comes to a close with an all-star, Super Tuesday-themed panel featuring journalist Jessica Yellin and legendary political consultant Bob Shrum.
"Bernie Sanders is the clear frontrunner of the Democratic party right now - a man who has not been a Democrat when he's not running for President - and the rest of the moderates are dividing the vote," Yellin said, before admitting that many within the party are still passionate about finding an alternative to Sanders.
One of those alternatives could be former Vice President Biden, who after coming fourth and fifth in Iowa and New Hampshire, is seeing his numbers rebound heading into South Carolina and Super Tuesday.
Before things wrap up, the political experts make their predictions for the coming election year.
This, despite the fact that Shrum admitted to having said on television in November 2016 that there was "no how, no way, not in this universe, or an alternate universe" that Donald Trump would be elected President.
Yellin and Shrum predicted that either Klobuchar, or potentially Steyer, would be the next candidate to drop out of the race.
They similarly agreed that Sanders would be the likely nominee, with Biden potentially emerging as a moderate alternative.
The two were less committed when it came to predicting who would win on November 3, with Yellin saying that much of the outcome could depend on what happens in the coming months as a result of the coronavirus.
The Issue Is: with Elex Michaelson is California's only statewide political show. For airtimes and more information, go to TheIssueIsShow.com.