USA-Netherlands showdown giving vibes of World Cup final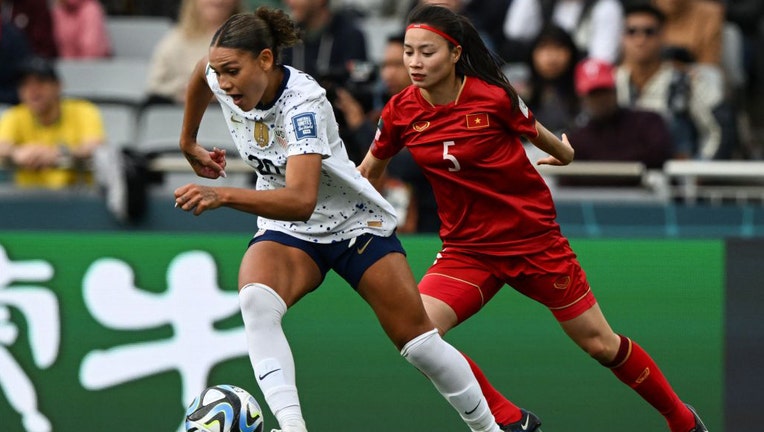 article
WELLINGTON, New Zealand - This was the game everyone circled in Sharpie when the World Cup groups were drawn.
The United States vs. the Netherlands. A juicy rematch of the 2019 World Cup final in the group stage of the 2023 tournament. 
What could be better than that?
The Americans won that game four years ago, clinching back-to-back titles after Megan Rapinoe and Rose Lavelle scored exhilarating goals in a 2-0 result. The two nations ironically meet again in a decisive match Wednesday at Wellington Regional Stadium (coverage begins at 7 p.m. ET, with kickoff at 9 p.m. ET on FOX and the FOX Sports app), which will effectively determine who comes out of Group E on top. 
Winning the group — not just advancing out of it — is what the USWNT would prefer in order to avoid tougher knockout-round opponents. 
Given the recent history, the high stakes, and the tremendous amount of hype, this particular showdown is giving World Cup final vibes. That was evident at the news conference one day before kickoff when a small press room was packed wall-to-wall with media.
"I mean, I wish it was the final," U.S. coach Vlatko Andonovski said when asked if they had been approaching this rematch like it was one. "We understand and are very well aware of the importance of this game and how much it means going forward."
Lavelle told reporters the USWNT is not looking at this contest through the lens of a rematch or defending a title, though. Instead, "we have a mindset that we're attacking something," she said.
The Dutch do not feel that way. They remember four years ago crystal clearly and want to avenge the loss. And not just that loss, but all of them. 
The Netherlands has not beaten the USWNT since a 4-3 friendly in 1991. And while the 2019 final is top of mind, the last meeting between these nations was in the 2021 Tokyo Olympic quarterfinal. After ending regulation 2-2, the U.S. won 4-2 in a penalty shootout. 
Arsenal forward Vivianne Miedema, the Oranje's all-time leading scorer who had both goals in that matchup, was forced to miss this World Cup after rupturing her ACL in December. And less than 24 hours before kickoff, Netherlands manager Andries Jonker said starting forward Lineth Beerensteyn would miss the U.S. match due to an ankle injury.
But the Netherlands, which beat Portugal 1-0 in its opener, still has plenty of talent, depth and team chemistry within a group that has played together for years. 
"They're incredibly organized, they have a very expansive shape in their attack. They don't give you much space at all to receive and turn or get on the dribble. They're very quick to close down space," U.S. co-captain Alex Morgan said, rattling off all the ways in which the Dutch are dangerous. 
Even without Miedema, Morgan called out veteran midfielders Jackie Groenen, Danielle van de Donk and Sherida Spitse as "aggressive" players.
"And they transition very quickly as well," Morgan continued. "Their defenders are very physical and very aggressive in pressing what's in front of them, so I know I'm going to have a lot of pressure on my back. 
"The list can go on for things we know about them, but it comes down to our team chemistry and what we have to bring in the style that we've been working on over the last year or two under Vlatko. And we're feeling really good going into this match."
The USWNT was criticized for not putting away more chances in a 3-0 victory over Vietnam in Game 1. Morgan uncharacteristically missed a penalty kick and of the USWNT's 28 shots, only seven were on target. 
Missed opportunities won't be so easily forgiven against the Dutch, who are ranked No. 9 in the world.
"I think we saw a lot of glimpses of our potential," Morgan said. "But I feel like we weren't always clicking on the field. I feel like some of the plays that we had were a little forced or rushed, so I think it's having a little more patience, switching it a little bit more, having our movements be more synchronized."
Another element to keep in mind are the actual elements. 
It's winter in New Zealand and Australia, and here in Wellington specifically, winter weather is a concern. The climate is always pulling tricks — one minute it's beautiful and sunny, the next it's cold and rainy. 
The wind is a major issue. It's not hard to see the whitecaps in the South Pacific Ocean and Evans Bay upon landing in Wellington. And those gusts have impacted games at Wellington Regional Stadium this tournament.
Andonovski said consideration of the elements was part of his team's preparation.
"In preparation for this tournament, we planned everything," he said. "We knew exactly who we were going to face, the weather conditions, the type of grass, the type of stadiums, the time of the games, the size of the fields — everything comes into consideration in preparation for a tournament like this. 
"We've taken [the wind and ever-changing weather] into account, and we're aware of all of it."
While Andonovski cannot control Mother Nature, he can control the way in which his team approaches this game.
"It may seem like a rematch, but I would say it would have been a rematch if this was the final," Andonovski said. "For us, it's just a very important game in the group stage. And we'll do whatever it takes to be successful in it."
Laken Litman covers college football, college basketball and soccer for FOX Sports. She previously wrote for Sports Illustrated, USA Today and The Indianapolis Star. She is the author of "Strong Like a Woman," published in spring 2022 to mark the 50th anniversary of Title IX. Follow her on Twitter @LakenLitman.