Phoenix to host 2024 WNBA All-Star Game, with US Olympians vs select team format expected
PHOENIX - The 2024 WNBA All-Star Game is headed to Phoenix, setting up as a home game for Brittney Griner and Diana Taurasi and a sendoff to the U.S. Olympic women's basketball team.
WNBA Commissioner Cathy Engelbert announced Saturday that the event would be hosted by the Phoenix Mercury.
"Since I've been in the league, they've done so much," Engelbert said. "They are so great to work with under the new ownership with Mat Ishbia."
Ishbia, who took ownership of the Mercury and the Suns in February, was thrilled to have a chance to host the game that's being played this weekend in Las Vegas. The All-Star skills competition and 3-point contest that was held on Friday saw a record performance from Sabrina Ionescu, who hit 25 of 27 3-pointers, including 20 straight at one point.
"It's a real big deal for our franchise, elevating us and continuing to make it a franchise that has events like this," Ishbia said in a phone interview. "It's big for our community and we're looking to put on a great show for our fans, community and the whole country, and continue to elevate the women's game."
The game is expected to be similar to the 2021 version that featured the U.S. Olympic team playing against players not selected for that team. The All-Star squad beat the U.S. team that year 93-83.
The exhibition contest would give the Olympians a marquee event on home soil before heading to Paris.
"It's challenging because it's an Olympic year, but I was adamant that we needed to have an All-Star Game because the players need to say they are an All-Star in that Olympic year," Engelbert said.
Taurasi has said she hopes to play in Paris and lead the U.S. to an eighth consecutive gold medal and earn her sixth. Taurasi is signed with the Mercury through next season, which would be her 20th in the league.
"Having Diana potentially playing in her last one next year in her hometown is a big deal," Ishbia said.
Playing in Phoenix, which also hosted the All-Star Game in 2000 and 2014, would give Griner a chance to play in front of the Mercury fans as well. Griner, who is a nine-time All-Star, said she would love to play in the Paris Olympics if asked.
"I mean, it's the highest you can get playing with the USA," said Griner, who helped the U.S. win gold medals at the 2016 and 2020 Olympics.
Engelbert said that Taurasi's potential finale and Griner's return weren't big reasons in awarding the game to Phoenix.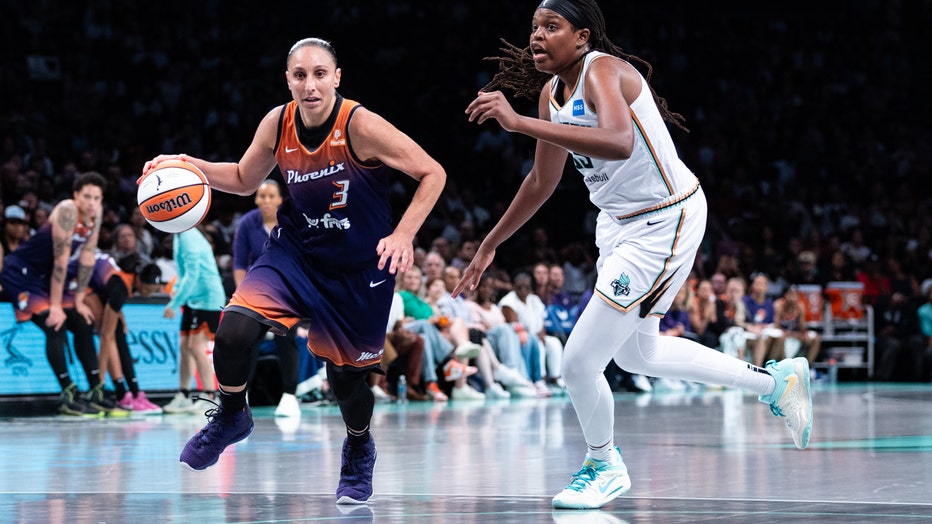 NEW YORK, NEW YORK - JULY 05: Diana Taurasi #3 of the Phoenix Mercuryis guarded by Jonquel Jones #35 of the New York Liberty during the third quarter of the game at Barclays Center on July 05, 2023 in New York City. NOTE TO USER: User expressly ackno
"Those weren't factors, but those are nice to have as part of the storyline next year with it being an Olympic year," she said.
The league started taking bids from franchises to host late last year and knew by December that there were three major contenders. Engelbert said the league hopes to announce the site of the 2025 All-Star Game a year ahead again.
"We'll be talking to different cities, but we have a good idea because we already had seen the interest from this year's bids," she said. "We have a great footprint (in 2025) because there's no FIBA World Cup and no Olympics."