LeBron leaving LA? 'King James' reacts to Bronny's NBA mock draft projection
LOS ANGELES - Is LeBron James planning to take his talents outside Los Angeles?
The Los Angeles Lakers superstar's run of cryptic messages regarding his basketball future continues. This time, it comes after he took a peek at where his son Bronny James may end up in the 2024 NBA Draft.
"King James" shared ESPN's mock draft projection on social media, which listed Bronny as a 17th overall pick with the Atlanta Hawks. The 38-year-old playfully wrote in the post that the family may follow Bronny cross-country to Georgia.
"The #JamesGang will be pulling up!" LeBron James playfully wrote in the post's caption.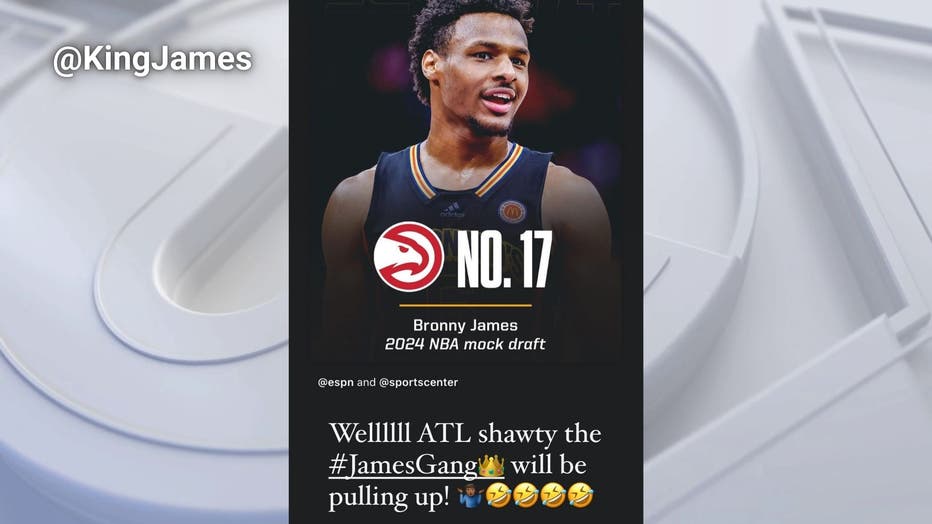 While the post appears playful in tone, LeBron – for years – has gone on-record about wanting to play with his oldest son in the NBA. 
"I need to be on the floor with my boy, I got to be on the floor with Bronny," LeBron James said in an interview with ESPN's Dave McMenamin in January.
The younger James will suit up for USC for the 2023-2024 NCAA basketball season, making it very accessible for the rest of the family to catch Bronny's games in-person.
The social media post comes after LeBron left a cryptic comment during a press conference at the end of the 2022-2023 NBA season. The 19-time NBA all-star said he'll take some time to think about what's next for his basketball career.
"We'll see what happens going forward," James said back in May. "I got a lot to think about, to be honest."
LeBron would be 40 years old by the time his oldest son is eligible for the NBA Draft. Regardless of where James says he'd like to play, the 4-time NBA champ remains under contract with the Lakers for the 2023-2024 season, on top of a player option for the 2024-2025 season.