Kyrie Irving to LA? Could the Lakers trade for star point guard from Brooklyn Nets?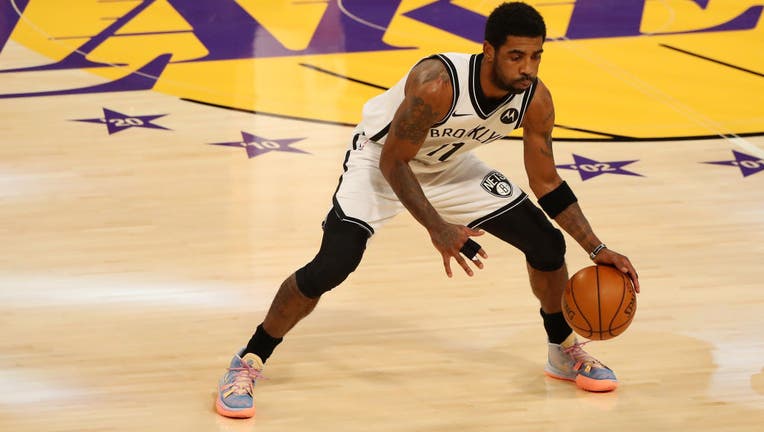 article
LOS ANGELES - Stop us if you've heard this before – NBA star Kyrie Irving wants out from his team. Could the Los Angeles Lakers land the talented, but controversial point guard this trade deadline?
On Friday, multiple reports revealed Irving wants out from his current team, the Brooklyn Nets. Irving had told the Nets he would like to be traded ahead of NBA's Feb. 9 trade deadline, according to reports from the two giants in the NBA insider circles – ESPN's Adrian Wojnarowski and The Athletic's Shams Charania.
As soon as the Irving trade request news hit social media, the Lakers emerged as a possible trade destination in the NBA rumor mill – again. Last summer, the Lakers were included in Irving's "list of teams" he'd consider heading to via trade – all this before the 30-year-old opted into his $36+ million player option.
Now, with Irving once again at the center of leaguewide trade rumors, The Athletic's Charania reports the Lake Show have re-emerged as a possible Kyrie destination.
Laker legend Magic Johnson even chimed in on the Irving saga. Johnson appeared he's all in on a possible LeBron James-Kyrie Irving reunion.
"Personally, I'd love to see Kyrie in the purple and gold," Johnson wrote on social media.
The big question, however, is do the Lakers have enough pieces to trade for the 8-time all-star? The Lakers gave up multiple second-round picks to land Rui Hachimura from the Washington Wizards and – as NBA fans know – the Lake Show gutted their draft capital in the 2019 summer to land Anthony Davis.
Below is the current Lakers roster heading into this weekend (in alphabetical order):
Patrick Beverly
Troy Brown Jr.
Thomas Bryant
Max Christie
Anthony Davis
Wenyen Gabriel
Rui Hachimura
LeBron James
Damian Jones
Scotty Pippen Jr.
Austin Reaves
Dennis Schröder
Cole Swider
Juan Toscano-Anderson
Lonnie Walker IV
Russell Westbrook.
Below are the Lakers' draft picks:
2023: Pelicans can swap picks in the first round; LA owns 2nd round pick
2024: Pelicans own 1st round, but can get the 2025 pick instead; No 2nd round picks
2025: Pelicans own 1st round if they skip the 2024 pick; LA owns 2nd round pick
2026: LA owns 1st round pick; No 2nd round picks