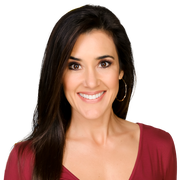 Marla Tellez began working at FOX 11 in January of 2014. She co-hosts the "FOX 11 Special Report" with Elex Michaelson weeknights at 6 p.m. 
Before working at KTTV, Tellez anchored the midday newscast for the NBC affiliate in San Francisco. Her broadcast career began behind-the-scenes first, as a news writer and then, a news producer in the Bay Area, where she was raised. Her on-air career launched when she landed a reporting gig for the CBS affiliate in Salinas. From there, she transferred to the CBS station in San Francisco as a correspondent and producer for the nightly show, Evening Magazine. In 2008, Tellez left California for an anchor opportunity in Albuquerque, New Mexico. That's where she got the chance to appear in the hit AMC show, "Breaking Bad."
Over the years, Tellez has interviewed numerous high-ranking politicians, celebrities and covered the highly publicized Scott Peterson Trial. She's also picked up two Emmy Awards along the way. Tellez has a political science degree from Sonoma State University, where she graduated magna cum laude.
The latest from Marla Tellez