Tickets to 'Wizard of Oz' theme park in North Carolina now on sale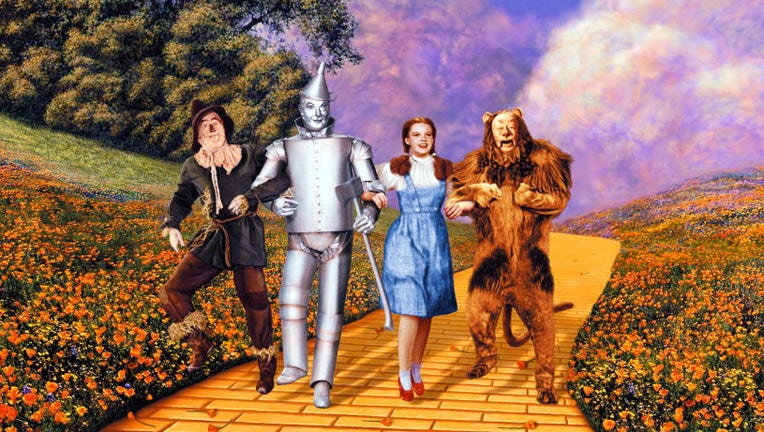 article
"Wizard of Oz" fans can don their ruby slippers and follow the yellow brick road to Beech Mountain, North Carolina — as the Land of Oz theme park officially opened ticket sales for its "Autumn at Oz Festival" set for September 8-10, 15-17 and 22-24.
"We expect to see 20,000 people over the course of three weekends," Sean Barrett, artistic director of the park and executive producer of Autumn at Oz, told FOX Business.
"We see about 2,750 people a day because we realized that was the golden number where everybody gets a good quality experience," Barrett added.
AUCTION HOUSE SELLING 'THE WIZARD OF OZ' HOURGLASS WITH STARTING BID AT $400K
The festival features arts and crafts, Oz memorabilia and food vendors, but the main attraction is an immersive theatrical experience where guests can become part of the story as they travel to Dorothy's family farm, through a tornado experience and then down the yellow brick road to the Emerald City.
Along the way, visitors will meet all of their favorite characters— Dorothy, Toto, the Scarecrow, Tin Man, Cowardly Lion and more — for live performances and photo opportunities.
"You walk through the entire story of 'The Wizard of Oz,'" Barrett said. 
"There's a little section where you have a history and trivia that you can learn about any aspect of Oz from the movie with Judy Garland, to cartoon spinoffs, that kind of thing. But the moment you walk into Kansas, you're living the story and then you go through the whole experience from the Scarecrow and the Lion and the Wicked Witch and the poppy field," he added.
JUDY GARLAND'S LOST 'WIZARD OF OZ' DRESS GOES TO AUCTION, COULD FETCH $1.2M
When visitors arrive in the Emerald City, they find a gift shop, food vendors and the theater.
"We build the Emerald City from the ground up every year because the original no longer exists," Barrett said. "Then we have the finale show where Dorothy clicks her heels and goes home." 
Barrett, who is a former cast member and lives and works in New York City, said he brings in a cast and crew of nearly 60 people a day from all over the country.
'WIZARD OF OZ' REMAKE BEING PLANNED BY NEW LINE CINEMA
"My creative team is a lot of industry people that I have worked with over the years, in New York and elsewhere," Barrett said. 
"There's a lot of great local talent there. I pull people in Orlando from Disney, Nashville, Ohio. So I kind of, wherever I can get them to come from on the East coast they come from," Barrett added. "We do hire a lot of people locally as well. We pull a lot of people from Asheville too." 
Land of Oz does not feature any traditional theme park rides, but Barrett said it's an "emotional ride" that makes an impact on guests of all ages.
"We always say the ride that you go on is like the emotional nostalgic ride of walking through Oz," Barrett said. 
UNIVERSAL ANNOUNCES NEW TEXAS THEME PARK
"Especially the moment when people hit the yellow brick road for the first time, they get very choked up," he added. "It's that moment, and it's the moment that Dorothy [is] singing in Kansas. It's these two moments that you don't expect to hit people as hard as they do. But, we've had grown men wiping away tears."
Land of Oz was a full-time theme park that operated between 1970-1980, and once saw 450,000 visitors each season. In the early 90s, a group of original park employees, known as the "Ozzies," brought the attractions back to life with an annual re-opening they called the Autumn at Oz Festival.
That has expanded to three weekends each fall — and tickets sell out every year, Barrett said.
"I would just say if you are interested in going, I would get tickets as soon as possible because we've broken all of our sales records this year and tickets have only been on sale since Friday," Barrett said.
Tickets are $55 per person (children 2 and under are free) and are available on www.landofoznc.com.