WATCH: Patrol car of San Bernardino County sheriff's deputy goes airborne before dramatic crash
LOMA LINDA, Calif. - The patrol vehicle of a San Bernardino County sheriff's deputy went airborne and was involved in a dramatic crash while the deputy was responding to a pursuit through the Inland Empire, authorities said. 
The chase began just before 8 p.m. Sunday when a deputy attempted to stop a suspect near the intersection of East Baseline Street and Bobbett Drive in Loma Linda. The driver failed to yield and a pursuit ensued, according to the San Bernadino County Sheriff's Department. 
As the chase approached Victoria Ave and Fifth Street in the City of Highland, the suspect's vehicle struck another car and continued at a high rate of speed. 
When a deputy arrived at the Highland location, both vehicles had left the scene. 
Authorities say another deputy responded to the pursuit near the intersection of Fifth St. and Sunnyside Ave. in the East Valley area when the deputy's patrol SUV hit a dip in the road and went airborne. The deputy lost control of the vehicle, before crashing onto a parked pickup truck.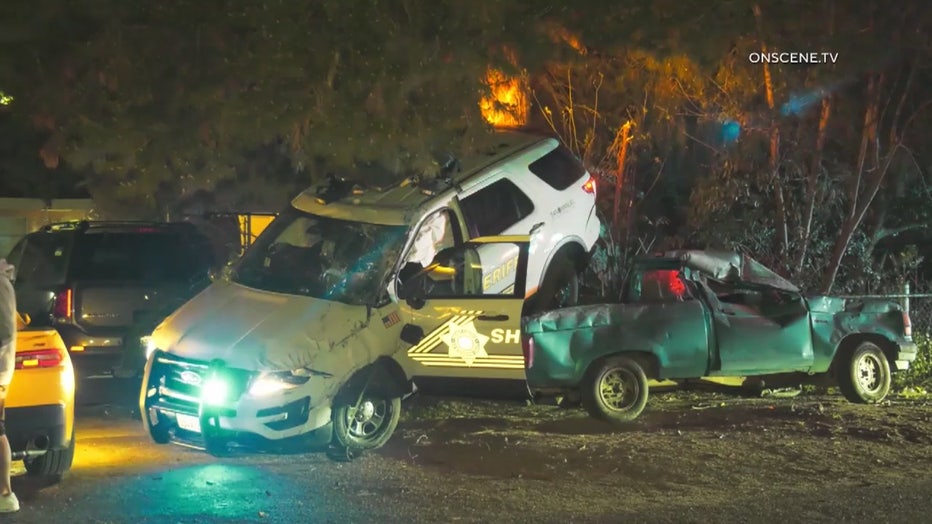 The deputy did not require medical aid and no injuries were reported, according to the sheriff's office. 
The pursuit suspect was able to escape, officials said.