Watch: Oregon grandfather rescues woman from burning hotel during morning run
EUGENE, Ore. - Dramatic video captured a woman's rescue from a hotel in Oregon last month by a grandfather who was out for his routine morning run and came across the flames. 
Greg Spike, 74, was running on Feb. 28 in Eugene, Oregon, when he saw smoke and flames coming from the Valley River Inn and started recording on his phone. He told local news outlets that as he got closer, he heard a woman screaming for help from her second-floor balcony. 
"I said, 'Get out of there, get out of there, get out of there!' And she said, 'I can't, I can't, there's smoke in the hallway'," Spike told KMTR-TV.
Spike put down his phone and began encouraging the woman to jump, but the phone was still recording and capturing audio of the dramatic moments that followed. 
Spike, a grandfather of 16 kids, ran up to the bottom of the woman's balcony, holding up his hands to her feet, and told her to jump on him so he could break her landing, KMTR-TV reported.
"Get out! Get out! Get out!" Spike can be heard yelling out in the video. "Here, hit me! Hit me! Come on. Hurry!"
"Oh my god, is anybody else up there?" Spike can be heard later asking the woman, to which she replies: "I don't know! I was in my room by myself."
"You're OK now. Stop. Deep breaths, deep breaths," he adds.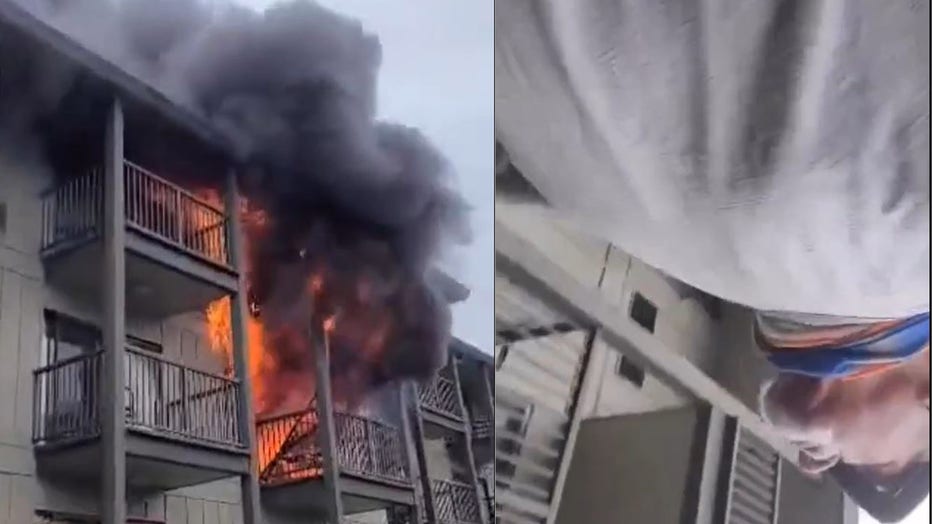 Screengrabs from the video show flames pouring out of the Valley River Inn on Feb. 28, 2023, in Eugene, Oregon. Greg Spike saw smoke and started recording, but put down his phone when he heard a woman calling for help. (Credit: Greg Spike via Storyfu
The local fire department posted about the fire, saying it responded just after 11 a.m. local time and found the fire on the second floor on the south side of the building, which had "quickly spread to the third floor and attic, turning the incident into a three-alarm fire."
Fire officials said the flames were contained by the afternoon and noted how the building was only equipped with sprinkler systems in common areas and not in individual rooms. No injuries were reported.
On Thursday, the Eugene Springfield Fire Department told FOX Television Stations in an email that the fire remained under investigation to determine the cause and origin of the fire.  
"While most crews were assigned to fire suppression, there were crews dedicated to checking every room to ensure the building had been evacuated," the fire department said in a statement. "Crews found one individual sleeping during their primary search of the building, and they were quickly evacuated without injury."
Overall, the fire was contained "to a relatively small portion of the property."
Photos shared by the Eugene Springfield Fire Department show damage to the Valley River Inn on Feb. 28, 2023, in Eugene, Oregon. (Credit: Eugene Springfield Fire Department)
On his part, Spike told local news outlets that physically – he only suffered bruised ribs – but that the incident brought back memories from his time in the Army during the Vietnam War.
"Last night, I couldn't go to sleep because I kept going back there," he told KMTR the next day.
Days after the fire, Spike reunited on Zoom with the woman, who is from Chicago and had flown to the Pacific Northwest to visit family, and was commended for his actions by the local fire department, according to KMTR.
This story was reported from Cincinnati.