Watch: Dozens of dogs rescued from hot U-Haul truck
Harrowing body cam footage shows the moment officers rescued over 30 dogs from a U-Haul truck that was sitting in the Oklahoma City heat during one of the hottest months on record. 
On June 5, Oklahoma City police were dispatched to a Walmart after some employees noticed a U-Haul truck that was parked in the middle of the parking lot, according to FOX 25. 
The employees noted that the truck sounded and smelled as though it was full of animals. 
When officers arrived, they cut off the lock and opened the back of the truck to find 36 dogs stacked inside of kennels. 
The smell of the trailer was "overwhelming," according to officers. 
Oklahoma City Animal Welfare were also at the scene to assist and said the dogs were soaked in urine and feces after being left in such tight quarters for an extended time. 
The temperature inside the truck was measured to be well over 100 degrees. 
Body cam footage shared by the Oklahoma City Police Department showed that one of the cages also had several newborn puppies.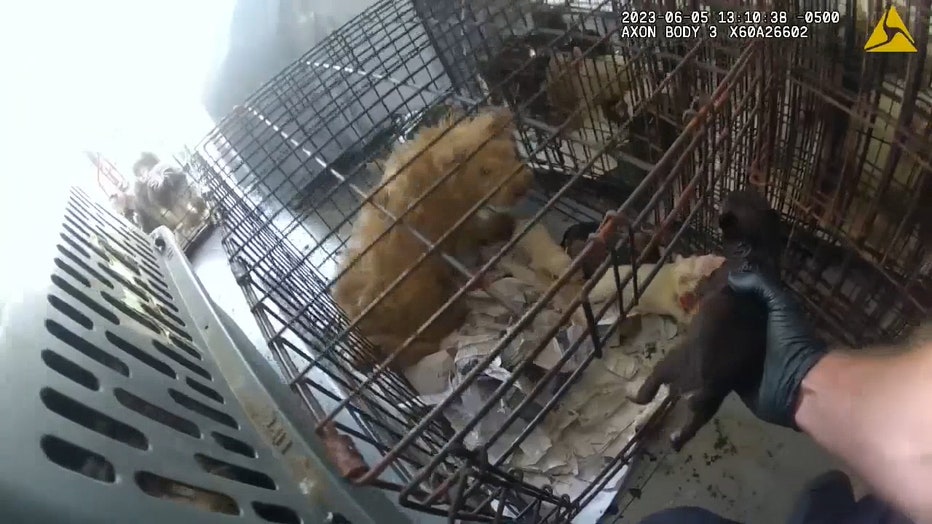 Still image from body cam footage showing officers rescuing dogs from hot U-Haul truck. (Oklahoma City Police )
Officers can be seen taking cages out from the U-Haul and tending to the dogs, giving them water and some much-needed fresh air. 
Most of the dogs appeared to be alright but about three or four were in heat distress, the OKC Animal Welfare told FOX 25, and one dog was later euthanized due to organ failure from heatstroke. 
The dogs were taken by OKC Animal Welfare to be examined and groomed. 
Officers identified Dexter and Linda Manuel as the renters of the truck and both were arrested. 
The Manuels face 36 counts of animal cruelty, a misdemeanor count of transporting animals in a cruel or inhumane manner and a count of violating commercial pet breeders and animal licensing. 
OKC Animal Welfare told FOX 25 that they believed the couple were running a puppy mill. 
June was the hottest month on Earth in recorded history, according to preliminary data from the European Centre for Medium-Range Weather Forecasts (ECMWF). 
Average surface temperatures for both land and ocean across the globe in June were warmer than any year since 1940. 
This story was reported from Los Angeles.