Watch: Deer jumps into pool after wreaking havoc inside New Jersey home
A homeowner in New Jersey was not a happy camper after a deer broke into his home, left behind a path of destruction and then took a dip in the pool after making a run for it. 
Marc Twersky rushed home on June 2 after he received a phone call from his grandmother telling him that a deer had broken into their home. 
When Twersky arrived, he recorded the deer darting from inside the house, out the backyard door and straight into the pool.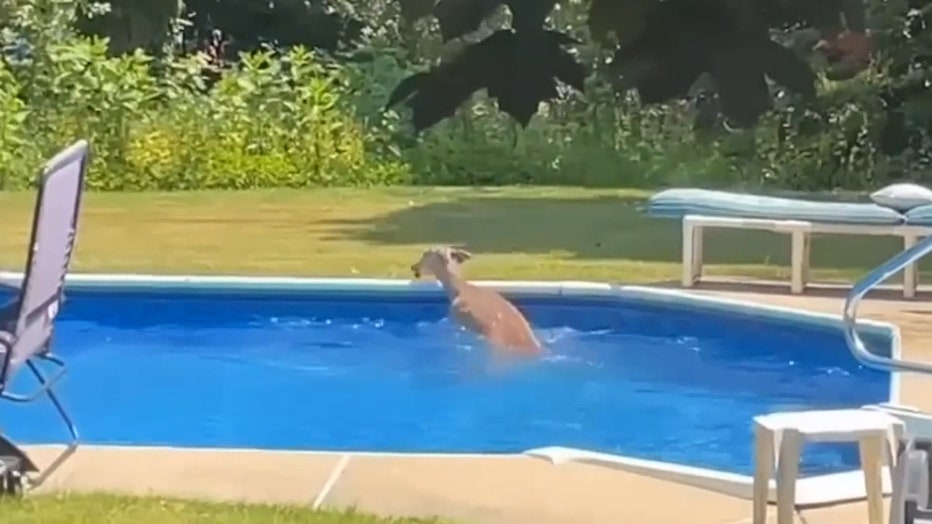 Still image taken from video after a deer jumped into a New Jersey resident's pool. (Marc Twersky via Storyful)
"No, not in the pool!" Twersky can be heard yelling in the video. 
The aftermath inside Twersky's home showed blood on the walls and floor, plants that were toppled over and a broken window. 
Twersky told NBC10 that after diving into their pool, "the deer got one hoof on the ladder when the animal control officers finally got a hold of the animal." 
Although the deer was bleeding, animal control officers reported that the creature appeared to be in fine shape and subsequently released it back into the wild, NBC10 said. 
Storyful contributed to this report. This story was reported from Los Angeles.