Video appears to show rape of passed out homeless woman in Venice, LAPD investigating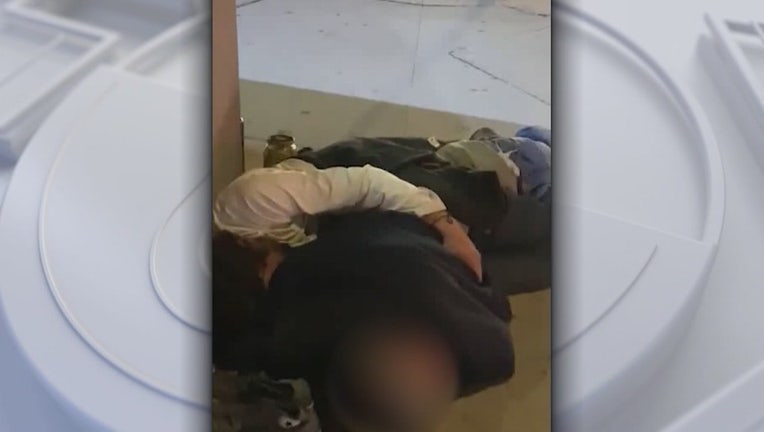 article
VENICE, Calif. - Highly disturbing video appears to show a homeless man raping a passed out homeless woman on a sidewalk in front of a Venice building on Friday evening.
WARNING GRAPHIC CONTENT:
The woman who filmed the video asked FOX 11 for anonymity, but says she was at a store near Lincoln and Rose Friday evening around 7pm when she saw a homeless woman laying out front with a bottle of booze in her hand.
"I looked over and obviously she was pretty drunk," she said.
The witness said that's when she saw a homeless man come running over to the woman from a nearby encampment across the street.
"He basically ran over to her, pulled down his pants, laid down next to her started pulling down her pants and kind of covering them, and having sex with her," the witness said.
She told FOX 11 she at first believed the sex was consensual because the woman didn't resist, but when she stepped outside, she realized the woman wasn't coherent.
"She was in her vomit with her eyes closed like passed out, he was having sex with her like an animal," she said.
"To me it was absolutely rape."
Police were immediately called, but before officers on scene, the witness says a second, much bigger man came across the street, chased the first man away, and began to assault and berate the woman.
 "He said bitch, you get raped you dumb bitch, you're gonna cheat on me, it was awful," she said.
LAPD confirmed to FOX 11 that officers from Pacific division responded and are investigating the circumstances of the video, and also said they have an assault with a deadly weapon case open due to reports the woman was struck in the head with a bottle.
LAPD says the woman was taken to a hospital and later released.
No suspects have been arrested.