Van Nuys business owners begin cleanup efforts after night of unrest across San Fernando Valley
LOS ANGELES - Cleanup efforts were underway Tuesday morning in Van Nuys after several mom-and-pop stores were vandalized following a night of protests. 
Several community members, including parents and teenagers, came together in support of small businesses that fell victim to looting. 
Protests continued across Los Angeles County in response to the aftermath of the death of George Floyd at the hands of police in Minneapolis.
RELATED: Continuing coverage on the death of George Floyd
Officials say protests started peacefully, but that shifted once looters and vandals joined and hit several businesses in the area. 
Multiple small businesses located in a strip mall on the intersection Vanowen Street and Haskell Avenue were in the path of destruction Monday night.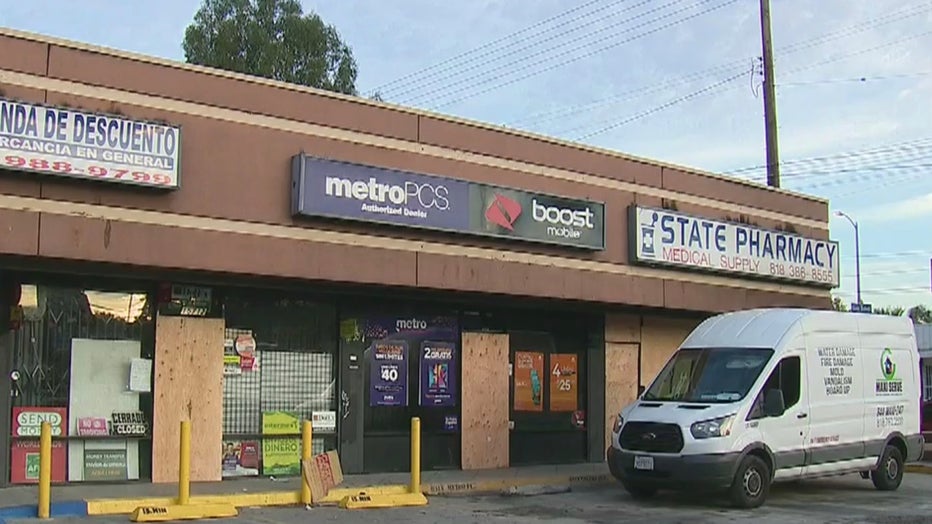 Just last week, stores were given the green light to reopen as the state slowly lifts restrictions on its Stay-at-Home order implemented in March.
RELATED: Garcetti announces Los Angeles can reopen for in-person shopping starting Wednesday with safety protocols
However, as a result of looting and vandalism, some businesses suffered water and smoke damage and will not be able to operate. 
State Pharmacy was looted and set on fire and suffered a total loss, officials said. 
RELATED: Demonstrations held across Southland; looting reported in Hollywood, Van Nuys
In addition, suspected looters were arrested at a Walgreens in Van Nuys. Officials said the looting seemed "planned," as though it was predetermined which businesses they'd hit.
The California Board of Pharmacy is recommending that pharmacies located in areas of civil unrest board up and close.
Get breaking news alerts in the FOX 11 News app. Download for iOS or Android.