USC grad suing LAPD claims she was arrested, hand zip-tied and caged in vehicle for breaking curfew
LOS ANGELES - A recent USC graduate who was arrested for breaking curfew in a downtown Los Angeles George Floyd protest is suing LAPD, claiming inhumane and torturous treatment.
"I do keep having nightmares about it," says Laura Montilla.
Still emotionally impacted by what she says happened to her Monday night, June 1st, Montilla describes a late afternoon of peacefully protesting the death of George Floyd.  Her video outside Staples Center shows the calm before what quickly turned into a chaotic night.
"It was while we were marching through the streets that we got the update that the curfew was being changed," says Montilla.
Montilla says it was precisely 4:21pm when the alert crossed her phone. The 6pm curfew was bumped up to 5pm. She takes note of that in her Instagram post that details her experience; the post going viral with almost 500,000 likes.
Montilla claims she "had no intention of breaking curfew," and police blockades prevented her exit.  A picture she says a friend took from a nearby roof at 5th and Main Streets shows her small group surrounded by scores of officers. One by one, she says each protester was zip-tied.  
Montilla shows a scar on  her wrist to prove how tightly her hands were tied.
She also claims she was inappropriately searched.
The details are graphic: "Both times when the women came and patted my legs and just like grabbed my vagina and grabbed my boobs. I literally had to say my phone's in my pocket," says Montilla.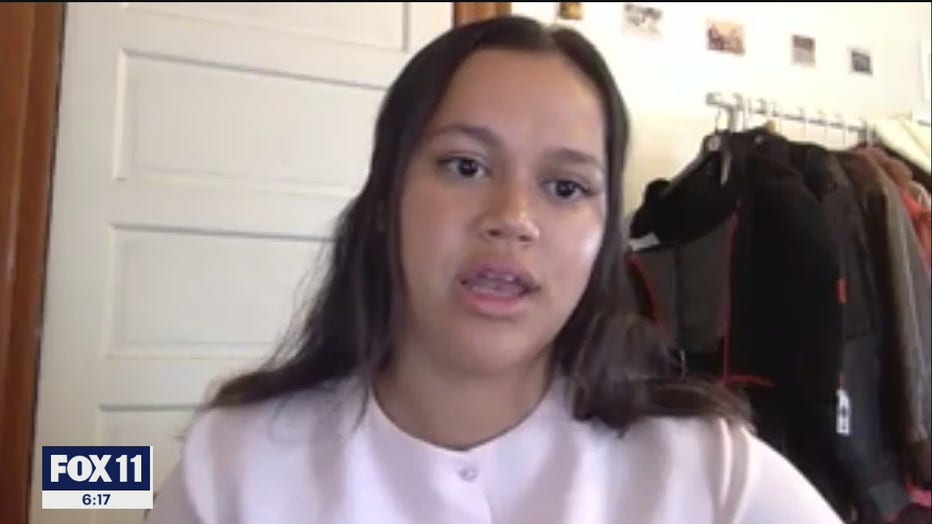 She says she was never read her Miranda rights and eventually loaded onto a bus and put into a cage.
Montilla shares video taken from another protester on that same bus and cries for help from protesters can be heard.
Montilla says she and the others were then taken to where they'd later learn was a parking lot in Westwood. She says they sat on that bus for five hours, without answers, food, water or access to a bathroom. 
By the time she was released it was midnight, her phone was dead and she says one officer gave her only one choice: "You can walk up that hill and there's a neighborhood and hopefully you'll find a safe option."
Montilla hitched a ride with a stranger and made it home safely. But now she wants justice. Her attorney, James DeSimone, filed a federal civil rights lawsuit against LAPD, alleging violation of her constitutional rights.
"Why would you have to inflict torture on these individuals for 5 hours?" asks DeSimone.
The LAPD hasn't addressed specific claims but says the department "continues to investigate allegations of misconduct, violations of Department policy, and excessive force during the recent civil unrest."
Montilla hopes for more officer accountability and transparency and she's fueled to continue her fight, no matter what.
"I'm going to continue in every way to amplify this," says Montilla.